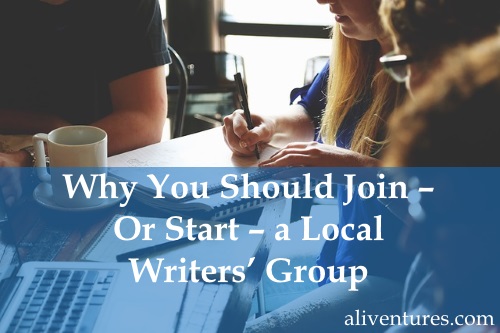 Do you belong to a writers' group?
Some authors don't feel they have much benefit … and I'll agree that if you've got several published books that are selling well, you're probably rather beyond the local writers' circle stage of things.
If you're at an earlier point in your writing career, though, a writers' group can be a very helpful, nurturing part of your writing life.
When you meet with fellow writers on a regular basis, you'll (hopefully!) find that:
You feel supported and understood. It's hard to overstate how critical this can be, as a writer. If no-one in your family or current group of friends "gets" what it is to be a writer, and sees your writing as a weird hobby at best (and a waste of time at worst), then you need the presence of fellow writers in your life.
You get practical help with honing your writing. While not all writers' groups will workshop members' writing, many do, and you can also approach other group members to set up a private manuscript swap.
You set aside time to write. Some groups exist primarily as opportunities to write alongside one another – if you join a NaNoWriMo (National Novel Writing Month) meetup in November, that's how it'll work. Other groups do a writing exercise or two each time, then move on to other activities for the rest of the session.
You'll learn more about great writing. Your group might invite speakers, or members might take it in turns to give a short talk about a particular aspect of creative writing. If you're workshopping one another's works-in-progress, you'll also find you learn a lot from examining other people's mistakes (and strengths).
While there are lots of excellent online groups out there, and these can be a great support, I'm focusing here on local groups that meet regularly in-person. It's hard to achieve that kind of interaction and focus online.
Continue reading »