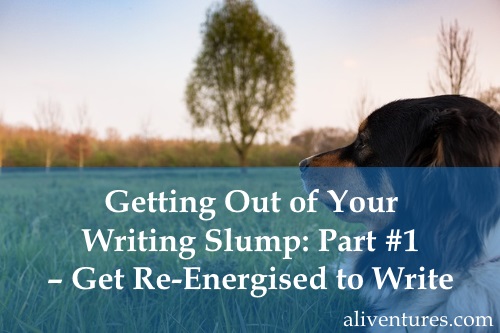 This is the first of two posts about writing slumps; in this post, we'll be tackling some of the non-writing things you can do to get out of a slump … and in the second post, next Monday, we'll take a look at getting back into the writing zone again.
Are you writing?
Do you want to be writing?
Every writer I've ever known has gone through some sort of "slump" at some point, when they do want to write but they simply don't seem to have the time, energy or focus to do so.
Writing slumps are normal. Going through a slump doesn't say anything about your ability to do the work, and I firmly believe that you're still a writer when you're not currently writing.
Your writing slump might come after a long period when you have been writing – or maybe you've never written much at all, even though you want to: you've started off in a slump.
Slumps are often linked to a particularly busy or difficult period in your life, a time when a lot of your energy and focus is being used up by other things.
Maybe:
You've started university and you're living away from home for the first time
You've started a full time job and you're commuting to work
You've had your first child (congratulations!)
You've had a second (or third, or fourth) baby
You're going through a period of ill health (physical, mental, or both)
Your day job has been particularly hectic
You're grieving the loss of a friend or family member
It might be that you've come out of a very busy or difficult period, but you're still not writing. That's normal too: it can be hard to pick up where you left off, if you've not written for months (or even years).
Continue reading »