What's the Best Time of Day to Write (And Does it Even Matter)?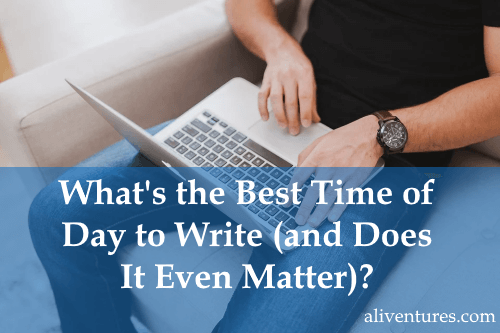 Is there one time of day that's "better" for writing than another?
You might feel that there should be a particular time when you'll be highly focused, or you're most able to access your creativity.
There probably is a "best" time of day – but it won't be the same time for every writer.
Personally, I'm a big fan of mornings. I'm writing this post at 5.30am before the rest of my family get up, and before I spend the best part of 7 hours writing for my day job! This is the time of day when I'm at my most focused.
However, writing at 5.30am might sound like the last thing you'd want to do. Maybe you're at your most creative in the evening hours, when the day is behind you. Or maybe you find you can focus really well when you write during your lunch break, because you've only got a short amount of time and you want to use it well.
What's YOUR Best Time of Day?
You probably already have some idea of what times of day do (or don't) work for you. Perhaps you're emphatically not a morning person, and you struggle to get anything done before 10am. Or maybe – like me – you find it really hard to stay focused in the evenings.
Chances are, your best writing time has been fairly constant over the course of your life. I've always been a morning person. Twenty years ago, I used to far prefer to get up at 6am to finish my maths homework than to do it late in the evening the night before.
If you're not sure what your best time of day is, you might want to experiment. Try writing at 7am one day and 7pm another; try writing in your lunch break; try writing on a weekend afternoon. See what works best for you.
You might find that one particular time stands out for you, or you might find there are several different times that work just fine.
Either is great! So long as you can easily fit writing in at your best time of day, do that.
There's a problem here, though. What if you can't normally write at your best time of day?
When Your Best Writing Time is Already Taken
For many writers, it's simply not possible to arrange your life around your perfect writing times.
I'd definitely encourage you to rearrange things where it is practical to do so, but in many cases, it simply won't be.
Let's say your best writing hours are from 9am – 11am. If you have a 9am – 5pm day job, that's not going to help you much.
Or maybe, like me, you love to write in the early mornings – but you have a toddler who wakes up at 5am every day.
So what can you do?
Use your best time of day at weekends or during days off from your day job. This might mean rearranging other commitments a bit, or negotiating with your partner/family members so you can clear the time you need.
Try a time as close as possible to your ideal time. Maybe you'd like to write from 9am – 11am, but that clashes with your day job. Writing from 7am – 8am could work instead.
Write at the "wrong" time of day. This can work better than you might think.
Writing at the Wrong Time of Day
Over the years, I've found that I've become a lot more flexible about when exactly I write. I still use the early mornings where I can – but plenty of my writing happens at other times of day.
At the moment, I'm writing fiction on an evening or two each week. It's not my most focused time, so I've found it takes me a bit longer to write 1,000 words than it normally does. I've also had to get more deliberate about setting a clear goal for what I want to accomplish during a writing session, and I've been planning my scenes out a bit more than I sometimes would.
You might find that the only realistic time available for your writing is in the evenings, or at another time that you'd normally not choose. Try it anyway. Even if you write a bit more slowly or get distracted a bit more often than you otherwise would, you'll still be getting words down on the page.
In this Thursday's newsletter, we'll take a deeper look at how to write at the wrong time of day, and how to shake up your writing routine.
Just click to get on the newsletter list so you don't miss out on that.
Writing at the best time of day can certainly make a difference to how creative and focused you feel, and to how much you actually enjoy your writing. But most writers can manage to get in the habit of writing at a time that works with the rest of their schedule – even if it's not quite perfect.
When could you fit in some writing this week? If you can use your best time of day, great – but if not, go with whatever works. You'll still see those words add up.
About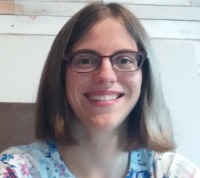 I'm Ali Luke, and I live in Leeds in the UK with my husband and two children.
Aliventures is where I help you master the art, craft and business of writing.
My Novels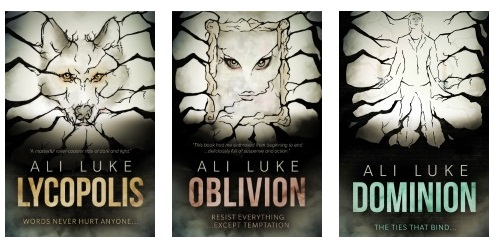 My contemporary fantasy trilogy is available from Amazon. The books follow on from one another, so read Lycopolis first.
You can buy them all from Amazon, or read them FREE in Kindle Unlimited.