Best Software for Writers: Seven Apps to Help You Get More From Your Writing Time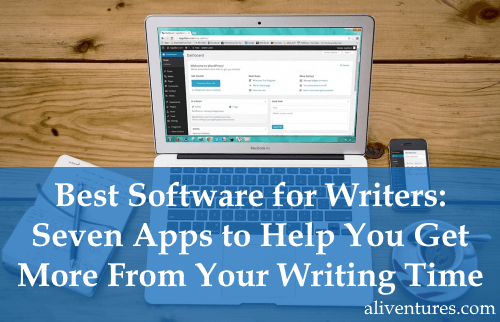 Are you taking advantage of the best apps and software out there to help you write?
Of course, you can absolutely write with a pen in a notebook, or you can use MS Word or whatever word processor came with your computer.
But if you're struggling to get your writing done as smoothly and easily as you'd like, then these tools might help.
Some of them are tools you use for the actual writing itself; others are tools that help you focus or support you with writing-related tasks.
All the tools on the list are ones that I've used a lot over a period of years. They've worked really well for me – and I hope that at least one of them will be the perfect tool for you, too.
Note: Just click on the name of any tool, or the image directly below its name, to go straight to its website.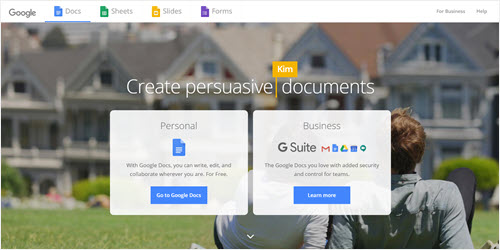 Google Docs is an online word processor. It's free, plus there's a good chance you already have a Google account, so you won't need to sign up again to use it.
It's a great tool to use if you write from a couple of different computers: I use a desktop PC running Windows, and a Chromebook laptop. You can also use it on your phone or tablet.
When you write in Google Docs, your writing is automatically saved. That means that even if your computer crashes or your internet connection goes down, you won't lose your work.
Google Docs is fantastic for collaborating with other people, too. You can share your document with others (or even make it public). I've found this really handy for working with freelancing clients, and I've also seen a lot of people use it as a way to get feedback on their work.
Of all the apps on this list, Google Docs is probably the one I use most. It's where I draft my blog posts for Aliventures, and I've even been using it to work on a new novel (though I'm finding it a little unwieldy for that).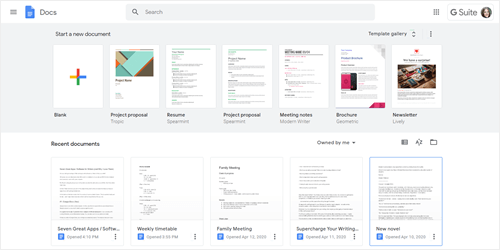 Google Docs is part of a whole suite of office tools, including Google Sheets (a spreadsheet application), Google Slides (for making slide presentations), and more.
Best for: Blog posts, documents you want to share with others, short stories or excerpts that you're seeking feedback, work you're producing collaboratively.
#2: Evernote (free or $7.99/month)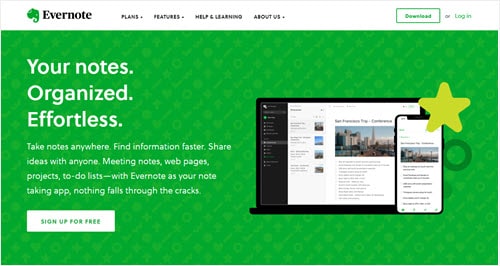 Before I discovered Evernote, I had a bunch of different ways to keep notes – but none of them ever quite worked for me.
Evernote is a fantastic tool for creating and storing all sorts of bits and pieces of information. I use it for my blog post calendars, post outlines, newsletter article drafts, meal planning for my family, and all sorts of other things.
With Evernote, you can create a new note and type or paste in whatever you want. You can organise your notes into Notebooks, but I have to confess that I very rarely do that! Instead, I just use the Search feature to find whatever note I want.
Evernote is free to use through the web version. You can also install and use the software on up to two of your devices for free. I have it on my desktop and my phone, and I just use the web browser interface for everything else.
Pricing: Evernote's Premium version costs $7.99/month, though you may well find the free version does all you need. There's a 14 day free trial of the Premium version available, too. It's cheaper if you pay annually.
Best for: Notes relating to your writing projects, as well as general organisation. You can make as many notes as you like and it's really easy to search them. (There are also lots of ways to tag and organize your notes if you want to do that.)
#3: Scrivener ($45 one-time fee)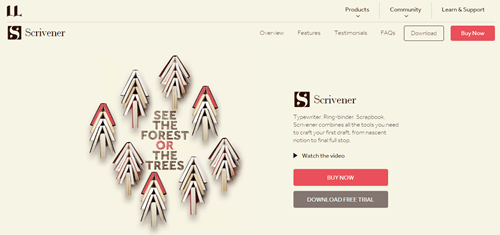 I don't think any list of writing tools would be complete without Scrivener! It's a hugely popular tool with all sorts of writers, particularly novelists.
Scrivener works a bit like a word processor, but it's specifically designed for big writing projects. That means it has a whole bunch of useful tools (like the index card view) that let you easily see and sort your project.
With a novel, for instance, you can create each chapter or scene as a separate little piece. You can then move these around easily, or mark the index cards with different colours to indicate what stage that piece is in. I've found this really helpful during the rewriting stage.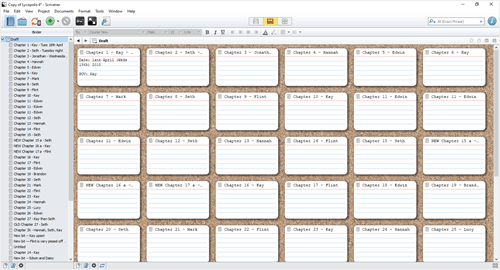 Scrivener has a lot of different features, and while I probably use less than 10% of them, I've still found it a great tool for writing novels.
There's a generous free trial, where you get to try the software for 30 non-consecutive days. I've not come across with this any piece of software other than Scrivener, and it means that if you use it to write (say) three times a week, you can keep using it for a full 10 weeks before you neeed to pay for it.
The main drawback to Scrivener is that you can only access it through the software: there's no web version. If you use more than one computer, I'd recommend using Dropbox or a similar cloud storage tool so you can keep your Scrivener files in the cloud, rather than on one device.
Pricing: $45 one-off fee for the Windows version; Mac is a little pricer; educational licenses (for students and academics) are a little cheaper. Generous free trial available.
Best for: Novelists, or anyone working on a book-length project. I've known bloggers who use it to organise their content, too.
#4: Nozbe (free or $10/month)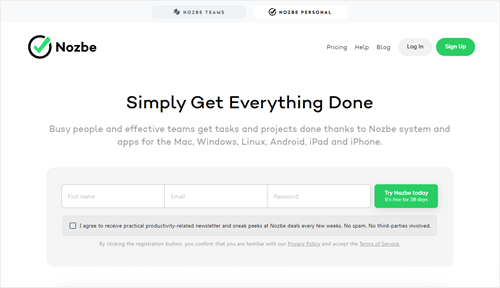 Do you find yourself writing out endless to-do lists? Nozbe is a fantastic piece of software that lets you create a digital to-do list, which you can divide up by projects, categories, and more.
It's particularly well geared up for the GTD (Getting Things Done) method of time management popularized by David Allen. However, as someone who's only ever dabbled with GTD, I've still found Nozbe really useful and easy to use.

You can create as many tasks as you want in Nozbe, and you can assign them to a date if you want to (you don't have to). With the free version, you can have up to 5 different projects: this may well be all you need, especially if you group together some projects – I put all my fiction writing in one, for instance.
The paid version lets you have unlimited projects, and you can also add another person to your account if you want to collaborate on some projects with a family member, friend, or business partner.
Pricing: The cheapest plan is $10/month. If you pay annually, it works out a bit cheaper.
Best for: Keeping track of all the administrative tasks that go hand in hand with writing; managing tasks for multiple different projects.
#5: Canva (free or $12.95/month)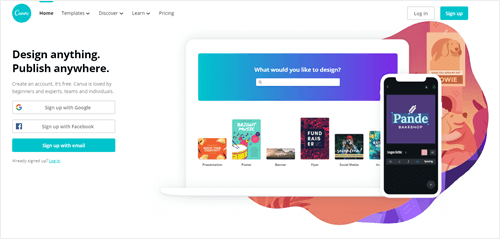 If you ever need to create anything visual, Canva is a brilliant tool to use. I've used it for a lot of the graphics on Aliventures, and it's an easy, intuitive piece of software with absolutely loads of templates you can use.
This is one tool where I would recommend getting a paid subscription if you're going to use it to any extent. The paid subscription gives you access to tons of stock images and extra elements for your designs that you'd otherwise have to pay for individually. It also means you can upload fonts and set your brand colours, so it's really handy if you run a blog.
Canva has lots of pre-set templates for things like Facebook covers, Instagram posts, business cards, logos, and much more. Some writers even use it to create their book covers.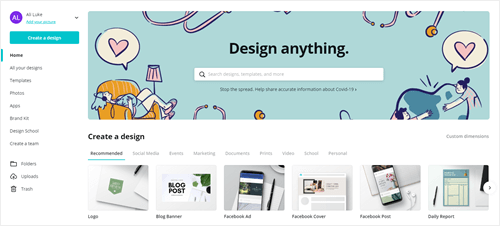 It's easy to drag and drop different elements, change colours, and change the text. As a complete non-designer, I find it easiest to start with a template that I like the look of. I can then tweak and change it till it looks just how I want.
Pricing: The free option may do everything you want; if not, the paid version is $12.95/month. You can save money by paying annually.
Best for: Making great-looking graphics for your blog, free ebook covers, or pretty much anything you want to do some visual design for.
#6: RescueTime (free or $9/month)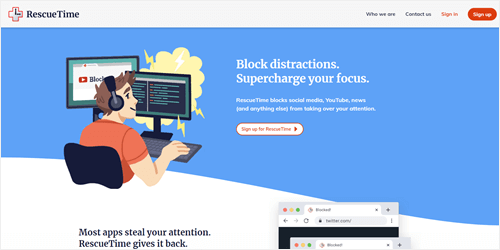 Do you sometimes get up from the computer and wonder just where all your time went? RescueTime is a piece of tracking software that records what apps you're using on your computer. You can view this information in all sorts of different ways (e.g. hour by hour, or as a pie graph for the day or week).
With RescueTime, you can categorise different websites and apps on a scale from "Very Productive" to "Very Distracting" – and you'll get an overall score based on where your time went.
If you often end up on Facebook when you should be writing, or if you feel like you're spending too much time dealing with emails, or if you just want a clearer picture of where your time is going, then RescueTime could be a great way to get some insights (and accountability).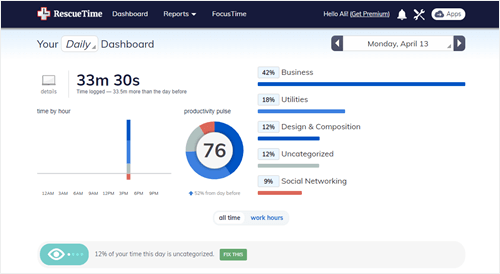 The free version is useful, but to get the most from RescueTime, you'll probably want a paid subscription. This lets you log offline time (e.g. if you were interrupted with a phone call, or if you spent 20 minutes making notes on paper). You also get additional reports about daily patterns and you can create reports that pinpoint how you were using your time during specific periods of the day.
Pricing: RescueTime Premium is  $9/month. Iit works out better value if you pay for a year upfront. You can get a 14 day free trial of Premium, if you want.
Best for: Improving your focus when you're writing, figuring out where your time is actually going, and adding some accountability.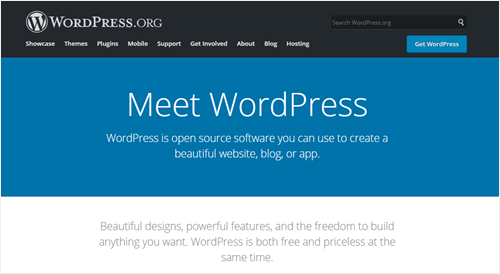 If you want to create a website or run a blog, WordPress is a great piece of software to use. It powers over a third of all the websites in the world, and the software itself is completely free. (You'll need to pay for web hosting and a domain name for your website, though.)
With WordPress, there are a huge number of ways you can add to and extend your site. This gives you way more flexibility than a lot of basic website builders (like Wix) offer. If you just want a simple website or blog, though, you can easily use WordPress to create pages and posts for your site.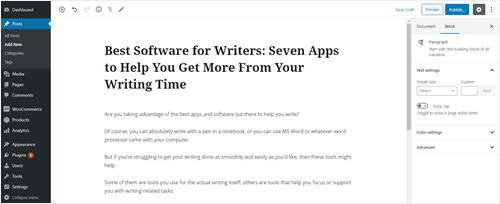 While WordPress has a bit of a learning curve when you're getting started, it's really powerful and offers a lot of flexibility. I first used it in 2008, and I've built at least a couple of dozen websites using it since.
If you want more hands-on support, then there's also WordPress.com, the commercial version of WordPress. It uses the same underlying software, but your site is hosted and maintained for you (for a fee). I definitely think that the regular WordPress (from WordPress.org) is the best option, but if you're not feeling very confident with the technological side of things, then WordPress.com is a good alternative.
Currently, I'm a full-time writer for the blog WPBeginner, which has a huge range of step by step tutorials on every aspect of WordPress if you want to learn more about it. They also offer free blog/website setups if you buy hosting through one of their recommended providers, and they have a free Facebook group where you can get help with using WordPress, WPBeginner Engage.
Pricing: WordPress itself is free, though you'll need to pay for hosting and a domain name in order to use it. I recommend Dreamhost for both web hosting and domain registration: I've been using to host a whole bunch of websites for well over a decade now.
Best for: Any kind of website. While WordPress was originally developed for blogging, it's now used by all sorts of sites – including some very large ones.
---
Almost all these tools have a free version that covers all their essential features. The only one without a free version is Scrivener – and even that has a generous 30-day free trial.
Why not pick one to try out this week? Watch a tutorial video to help you get started, or dig in and play around with it. You'll hopefully find it helps you to get more out of your writing time.
Note: Some of the links in this post are affiliate links. This means that if you buy one of the products I've recommended, I get a small commission. This doesn't influence what I recommend – these are all tools I use and love – and it doesn't affect what you pay.
About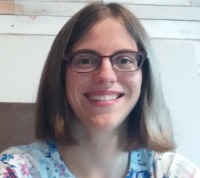 I'm Ali Luke, and I live in Leeds in the UK with my husband and two children.
Aliventures is where I help you master the art, craft and business of writing.
My Novels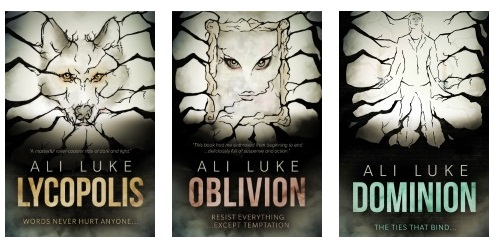 My contemporary fantasy trilogy is available from Amazon. The books follow on from one another, so read Lycopolis first.
You can buy them all from Amazon, or read them FREE in Kindle Unlimited.