Five Different Approaches to Developing Characters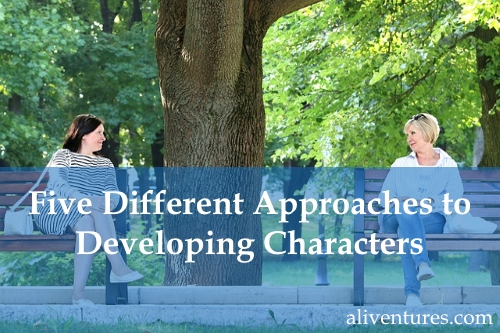 This post was first published in April 2019 and updated in April 2022.
Whether you consider plot to be more important than character or you believe they're just two sides of the same coin, it's clear that character matters.
Readers want characters who are engaging and interesting: characters who seem real. Novelists often talk about these as "three dimensional" characters – ones that are fully developed, rather than being little more than a physical description and maybe an interesting quirk.
At some point during the writing process, you need to develop your characters. You need more than just a name and a note about their hair colour or favourite food: you need characters who have a certain depth to them.
There are lots of different techniques that authors can use to develop characters – either before they begin on a story, or during the process of writing (or even rewriting) that story.
But whatever method you use, there's one important thing you should establish as early on as possible: (more…)
Staying Motivated to Finish a Novel … or Even a Short Story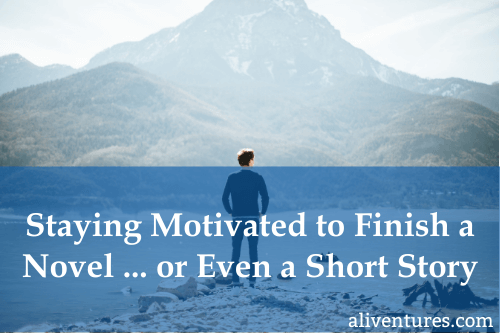 In the last Aliventures survey the subject of "motivation" came up quite a few times, and one reader specifically asked for a post about staying motivated to finish a short story or novel.
I'll be the first to admit – this is tough!
My unfinished short stories and novels outnumber my completed, published ones. And I wouldn't be surprised if that's true of most writers.
Just starting work on a story, of any length, can feel like quite a challenge. But, often, an initial burst of inspiration and enthusiasm for the idea gets you going.
Plus, when you're getting started, there's tons of room for things not being quite right yet. You can write in an experimental way, trying out characters and storylines. You can write scenes that consist only of dialogue, because you know you're going to have plenty of chances to rework that material.
When it comes to finishing … that's a lot tougher.
There are so many things that can derail you. Like:
Getting 10,000 words or 20,000 words into a novel … and running out of plot, because that was as far ahead as you could see in your story.
Getting halfway through a short story … only to realise you're already over the word limit for the competition or market that you're aiming for.
Writing regularly for a few weeks – until life gets in the way and you end up skipping one session, then a whole week, then a month… and it feels like a huge effort to getting started again.
Making it part-way through your novel or story, only to find your interest in your characters and plot slowly ebbing away.
Enjoying the writing itself, but having a sense that it's not really going anywhere: you don't think your story will sell to a publisher or (if you're self-publishing), you don't think readers will want it.
Constantly feeling "this isn't good enough" as you write.
… and probably a whole lot more.
So what can you do about it?
About
I'm Ali Luke, and I live in Leeds in the UK with my husband and two children. Aliventures is where I help you master the art, craft and business of writing.
Archives
Want to see
all
the posts on Aliventures?
Just head on over to the Archive:
My Novels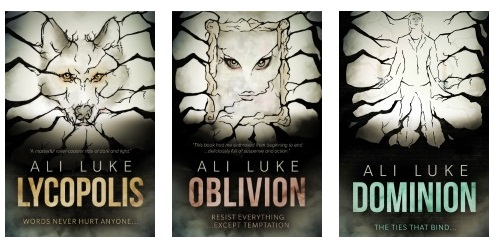 My contemporary fantasy trilogy is available from Amazon. The books follow on from one another, so read Lycopolis before the others.
You can buy or sample them on your local Amazon, or read all three FREE in Kindle Unlimited.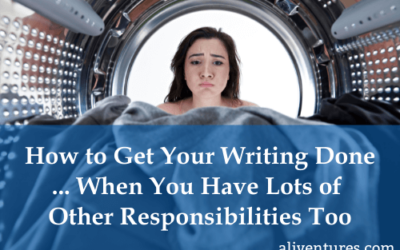 Writing can be tough. It takes time, energy, and focus – all of which are in short supply for many of us. It can be tough getting any writing done around a full-time day job, especially if you work long hours. But even if you only work part-time…
read more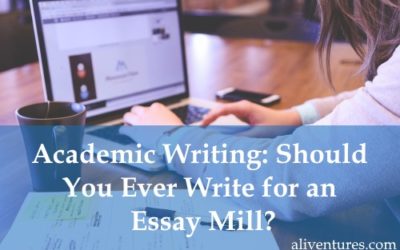 If you've been freelancing for any length of time, you've probably come across sites that sell essays to university students. These are "essay mills". Briefly, in about 2008, I ran a blog about student life, and I was constantly approached by this type of site, wanting to advertise…
read more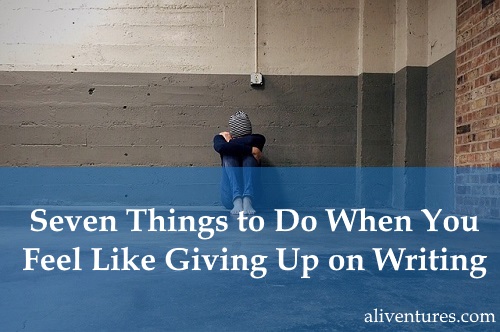 Should you just stop writing? Maybe it feels like it's taking up a lot of your time and energy, and you're not getting much (if anything) in return. Most writers go through times when they feel like giving up. It's a normal and natural, if difficult, stage in the writing life…
read more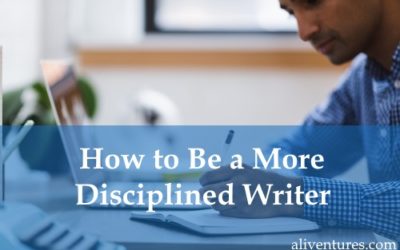 While some people like to imagine writers working in bursts of frenzied inspiration, the reality doesn't generally look like that. There might be wonderful moments of flow – I've certainly had writing sessions where I lost track of time because I was so focused on putting words on the page…
read more