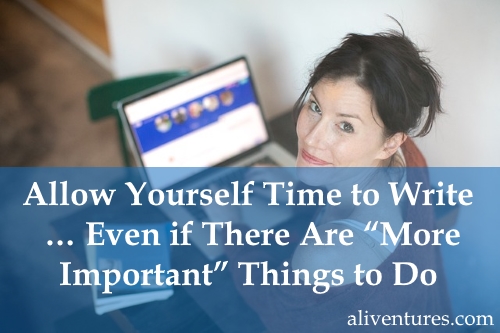 This is the second post in a month-long series about procrastination. You can find the first post here: Three All-Too-Common Writing Fears Holding You Back … and How to Beat Them.
---
In the Aliventures survey a couple of weeks ago, one reader wrote:
"When I have the time and get my butt in the seat, my brain turns on me and says that I don't really want to be doing this work anyway. I convince myself that writing isn't for me and that there are more important things to be doing with my time."
I think this sense that there are "more important things to be doing" is a stumbling block for a lot of writers.
I had a dig around online to find some other writers describing this type of writing guilt, and I found plenty of examples. Here are just three:
I feel selfish and indulgent when I take time out to write my fiction. I find myself doing my paid writing first (which of course should come first) and everything else that needs doing before I allow myself time to write. By this time, it is usually 10pm at night and my bed is beckoning!!

(Writer's Guilt: You feel?, Jodi Gibson, JFGibson.com.au)
I recently spoke with a fellow writer who also shared her concerns around spending her limited free time "luxuriating" in writing. The struggle of doing more of other activities, attending to more chores, or doing something that others find "a better use of her time." She was recently told that because her writing isn't being compensated then it isn't really a good investment. That's a shame.

(Writing When You Don't Want To Write, Kimberly Charleston, KimberlyCharleston.com)
For the past three years, I've been putting the heat on myself to find an agent and a publisher because I thought I couldn't justify spending time writing when I should be cleaning the kitchen unless I got a publishing contract.

(Greta Marlow, in a blog comment)
A couple of things jumped out to me here:
I couldn't find any

male

writers talking about feeling guilty about writing. (All the discussion I could find by men was

on the topic of feeling guilty for

not

writing

.)

Often, the "more important" things these writers think they should be doing are household chores, like Greta's sense that she "should be cleaning the kitchen".
While chores need doing, I don't think most of us would say that chores are the most significant thing going on in our lives. (more…)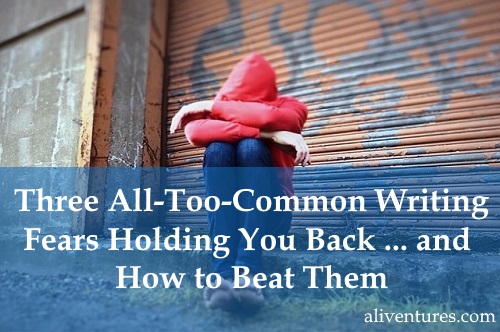 This post was originally published on Aliventures in April 2017, but I'm re-running it as the first post in a new series on Aliventures about overcoming procrastination … one of the most popular topics/problems, by far, in this year's Aliventures survey.
(If you haven't taken the survey yet, there's still time: it's open here till the end of this week.)
"Fear" might seem like a slightly odd place to start … but I think that at the root of a lot of procrastination lies some type of fear.
---
I never like to admit that I'm afraid.
But as a writer, fear comes with the territory. I don't think I've ever met a writer who wasn't, at least sometimes, afraid … and for many writers, that fear can block progress.
Here are three very common fears (I'd go as far as to say that every writer experiences these at some point) … and what you can do about them:
Fear of Rejection
Fear of Negative Feedback
Fear of Failure
About
I'm Ali Luke, and I live in Leeds in the UK with my husband and two children. Aliventures is where I help you master the art, craft and business of writing.
My Novels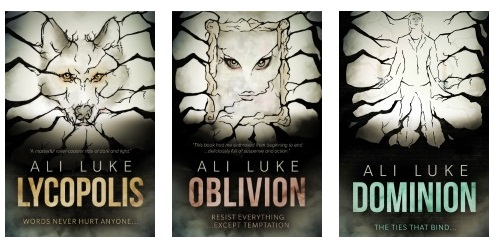 My contemporary fantasy trilogy is available from Amazon. The books follow on from one another, so read Lycopolis before the others.
You can buy or sample them on your local Amazon, or read all three FREE in Kindle Unlimited.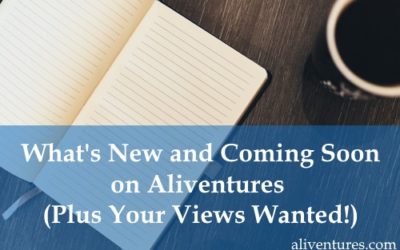 I'm working on some new things for Aliventures ... and I thought you might like to know what's coming up over the next few weeks. The Annual Aliventures Survey About once a year, I run a survey to find out what you want from Aliventures (and then I do my best to...
read more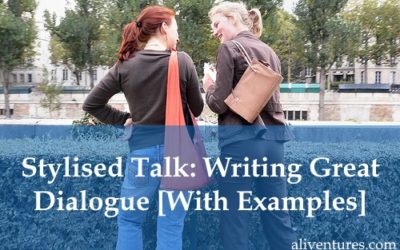 If you're a fiction writer, unless you're writing a very short story or something decidedly experimental, you're going to have to write dialogue. For some writers (me included), dialogue comes easily. It may even be a little too easy – sometimes, the first words you think of aren't necessarily the best…
read more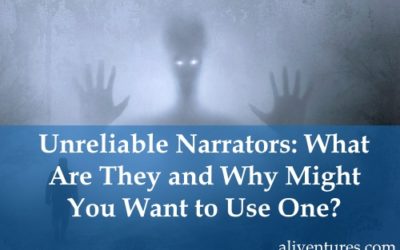 An unreliable narrator is a first person narrator who doesn't entirely tell the truth. That might be because they're biased or deluded – or it could be because they're outright lying to us (or, at the very least, deliberately omitting the truth). We could argue that...
read more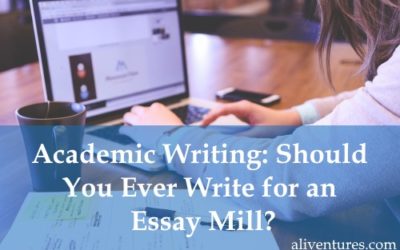 If you've been freelancing for any length of time, you've probably come across sites that sell essays to university students. These are "essay mills". Briefly, in about 2008, I ran a blog about student life, and I was constantly approached…
read more