Split Narratives: Dividing Your Story Between Two or More Narrators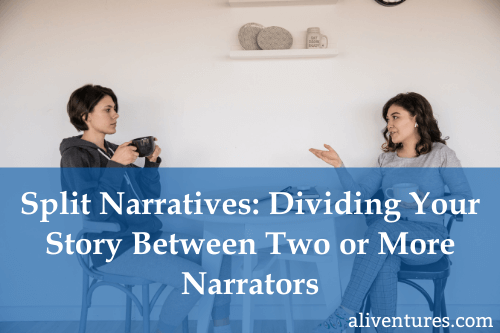 This post was originally published in June 2015 and updated in January 2022.
There are several perfectly good ways to structure a story in terms of viewpoint, but (probably) the more common ones are:
A single first-person narrator, as in Florence and Giles or 600 Hours of Edward.
A main third-person narrator plus occasional omniscient narration, as in Harry Potter.
Several third-person narrators, as in The Song of Ice and Fire series, some getting considerably more "screen time" than others.
A slightly more unusual choice is to use two (or more) first person narrators. Here are a few examples:
Gentlemen & Players by Joanne Harris – the narrative is divided between two first-person narrators; the identity of one of these is concealed, though hinted at.
The Chaos Walking trilogy by Patrick Ness – a particularly interesting one as the first book has one first-person narrator, the second book has two, and the third book has three.
The Help by Kathryn Stockett – with three first-person narrators, Aibileen, Minny, and Skeeter, all with a different voice.
Gone Girl by Gillian Flynn – with two first-person narrators, their narratives combining to give two sides of the story.
Me Before You by Jojo Moyes – this one is much less of a "split" narrative as it has one main narrator (Lou) and occasional brief chapters from other first-person narrators (Treena, Camilla Traynor, and Nathan) as well as a third-person prologue
Those are all first person examples. Of course there are plenty of third-person narratives split between multiple viewpoint characters, too, but these often use the omniscient viewpoint or follow some characters a lot more than others. A good third-person example that works in a similar way to the first person ones above is my friend Nick Bryan's Hobson & Choi series, where the third-person limited viewpoint switches back and forth between the two titular characters.
Character Flaws: Why They're So Important to Your Story [With Examples]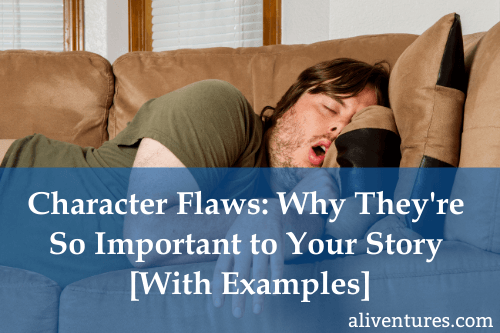 Maybe you've heard that your characters "should" have flaws. Or maybe you've come across terms like "tragic flaw" or "fatal flaw" in literature. 
So what exactly is a character flaw … and why's it important to your story?
What is a Character Flaw?
There's no single definition of a character flaw – but in general, we could say that it's some kind of imperfection or undesirable quality in your character.
Character flaws can stand in the way of your character reaching their goals – and they may well be issues that your character needs to overcome as they develop throughout the story.
Character flaws come in different sizes. Think about:
Tragic flaw (or fatal flaw) – this is an issue so big that it brings about the character's downfall – and may well kill them. For instance, in Shakespeare's Hamlet, the titular Hamlet's tragic flaw is often seen as indecisiveness: he weighs up different courses of action and possibilities to the point where he's unable to take action.
Major flaw that changes during the character arc – this might well be similar to a tragic flaw: the difference is the outcome. Your character manages to overcome their major flaw during the course of the story.
Minor flaw that makes the character easier for us to empathise with. This flaw might be more of a quirk – they talk too loud, bite their nails, eat too much chocolate, are always running late, or similar.
(more…)
About
I'm Ali Luke, and I live in Leeds in the UK with my husband and two children. Aliventures is where I help you master the art, craft and business of writing.
Archives
Want to see
all
the posts on Aliventures?
Just head on over to the Archive:
My Novels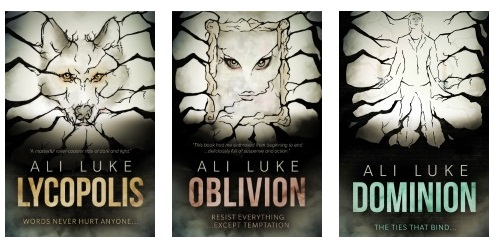 My contemporary fantasy trilogy is available from Amazon. The books follow on from one another, so read Lycopolis before the others.
You can buy or sample them on your local Amazon, or read all three FREE in Kindle Unlimited.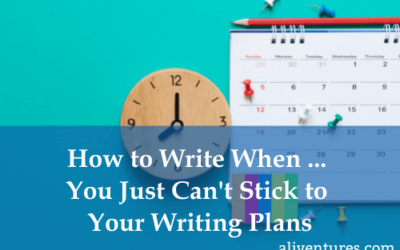 It's often said that no plan survives contact with the enemy. And as a writer, you might sometimes feel like the whole world is against your writing. Whether you're working overtime at your day job, dealing with an unexpected family crisis…
read more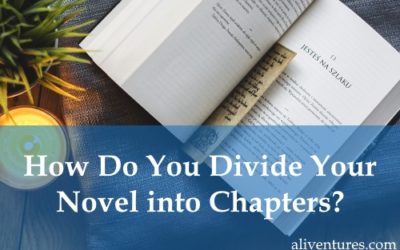 This post was inspired by an email conversation with Emma from the brilliant blog Science at Your Doorstep and by a question from an Aliventures reader. It was first published in April 2018 and updated in October 2021. Pick up the nearest book. Whether it's fiction or...
read more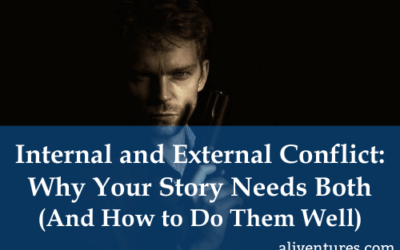 All stories, however short, need conflict: a clash between two (or more) people, ideas, or even motivations. Conflict is the engine that powers your story, driving it forward. Without conflict, there's not much of a story. Your main character…
read more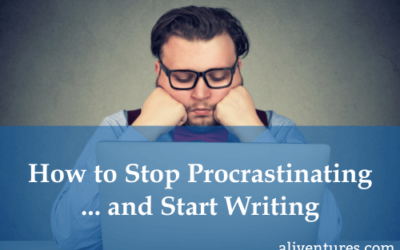 One theme's come through already in the survey responses: procrastination. It's the bane of many writers … or would-be writers. Some people spend months, even years, trying to get round to writing, but never quite manage to…
read more