Four Powerful Ways to Protect Your Writing Time (From Yourself and From Other People)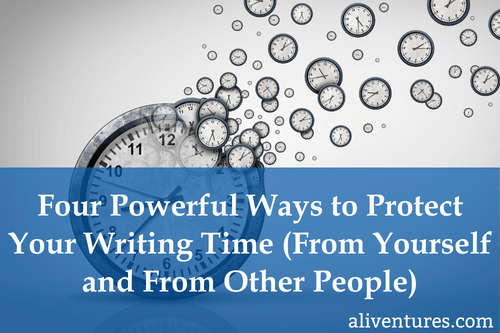 You almost certainly don't have all day, every day, to write.
In fact, you might only have little pieces of writing time – half an hour here, 15 minutes there, maybe a full afternoon if you plan ahead.
When you do get time to write, it's all too easy for that time to end up disappearing. Someone comes to interrupt you. Or your phone beeps. Or you remember you meant to put some laundry on. Or you're simply distractible, pausing every sentence or two to look at Facebook.
It's frustrating to find your writing time disappearing, especially if it's been a challenge to carve out that time in the midst of a busy life.
So what can you do about it?
(more…)
How to Write When … You Have So Many Other Things to Do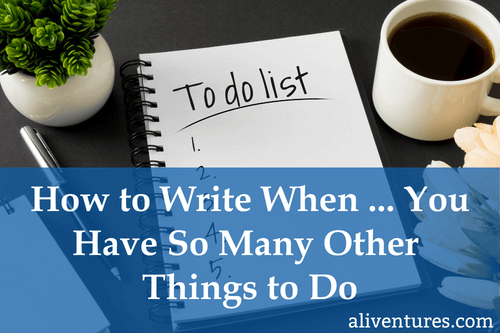 This post is part of my ongoing "How to Write When…" series.
How do you write when you have so many other things you need to get done?
This comes up a lot for writers. I've been going through the results of the 2023 Aliventures survey (which closes today). A number of writers mentioned issues like
"I'm distracted by so many other things" or struggling with "motivation to complete my novel when I have very little spare time."
Some writers have hardly any time to write because they work long hours in their day job. But for a lot of writers (me included), the problem looks a bit different. It's not about having a 50 or 60 hour a week job … it's about the many, many little things that take up your time.
For me, at this stage of life, a lot of my time goes on things like:
Taking care of my kids: walking them to school, playing with them, monitoring their screen time, feeding them…
Household chores: decluttering, tidying, cleaning, laundry, dishes, buying groceries…
Life admin: booking appointments, organising vacations, sending birthday cards…
None of these tasks are huge ones in themselves. The school run takes me about half an hour in the morning and half an hour in the afternoon. Laundry takes up perhaps 15 to 20 minutes a day. But when I look at the sum total of tasks I'm tackling on a daily and weekly basis … it adds up to a full-time job and more.
Perhaps your life looks similar, if you have kids at home. Or maybe your challenges are quite different from mine. You might be spending a lot of time caring for an elderly relative or you might have several volunteering roles. You may be facing a particularly busy or stressful life situation, like moving house and organising all that goes with it.
Whatever your situation, the result looks something like this: after you get through your to-do list for the day (or even half your to-do list on a bad day), it's well into the evening. You're low on time and even lower on energy. The last thing you want to do is sit down and write.
Some days, perhaps you do manage to get in some writing time … but the thought of all those other things you "should" be doing makes you feel guilty and unfocused.
So what can you do about it? 
(more…)
About
I'm Ali Luke, and I live in Leeds in the UK with my husband and two children. Aliventures is where I help you master the art, craft and business of writing.
Archives
Want to see
all
the posts on Aliventures?
Just head on over to the Archive:
My Novels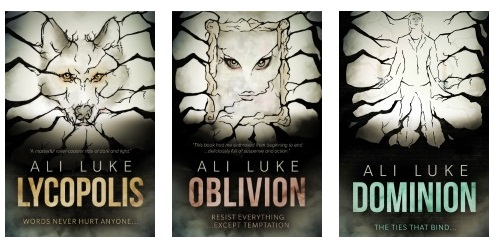 My contemporary fantasy trilogy is available from Amazon. The books follow on from one another, so read Lycopolis before the others.
You can buy or sample them on your local Amazon, or read all three FREE in Kindle Unlimited.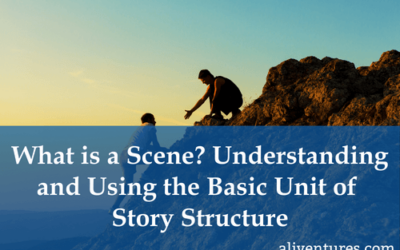 Scenes are the building blocks of your novel. When you plan (if you plan!), you're thinking in scenes: individual little chunks of story that build on one another as they work towards the conclusion. Like me, you probably feel you have an intuitive…
read more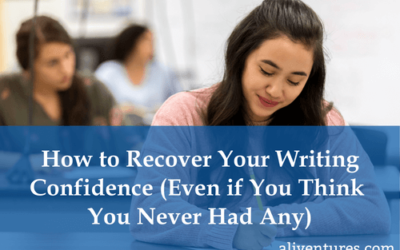 I don't think I've ever met a writer who felt completely confident about their writing. Whatever stage you're at, it's normal to go through some times when you doubt yourself or your words a little. In fact, a small degree of self-doubt…
read more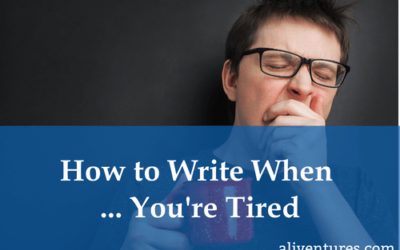 This post is part of my ongoing "How to Write When..." series. Are you tired today? Perhaps you slept well, you're full of energy, and you're raring to go. But even if that's the case today, you likely have days when you're just feeling worn out. Or maybe you're tired...
read more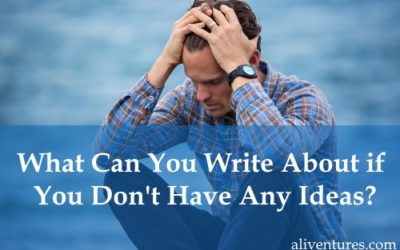 This is a familiar situation for a lot of writers. You want to write – but you don't have an idea to actually write about. Whether you're working on blog posts, novels, short stories, or something else entirely, you need ideas. And it can sometimes feel that ideas are…
read more