What to Do When Your Writing Goals Seem a Long Way Off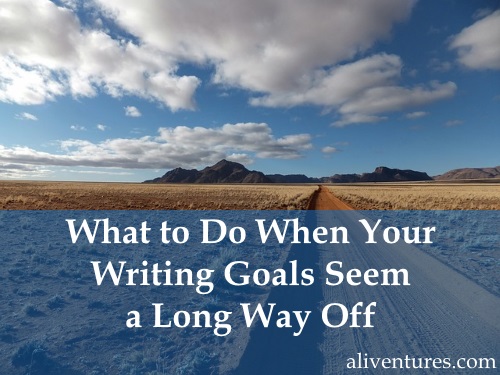 This post was originally published in September 2017 and updated in October 2020.
What do you want to achieve with your writing?
You might have all sorts of goals. Perhaps:
You want to win a short story competition.
You want to make an extra $500/month freelancing.
You want to make a full-time living as a fantasy novelist.
You want to sell 100,000 copies of your latest book.
You want to get a book onto the New York Times bestseller list.
Some goals are more "realistic" than others. Some goals might take years or even decades to achieve.
Whatever your writing goals are, you might feel that they're a very long way off. If you've currently written a total of two short stories, ever, then making a full-time living writing fiction is going to take a while.
When your goals seem so far away, it's easy to get discouraged – or even to give up entirely. And yet, if you don't set goals for your writing, you'll end up feeling that your time needs to go on something "more important" than writing.
To stick with writing even when you have big, tough goals that are going to take a lot of work, it's important to:
Set intermediate goals for your writing
Get support from other writers
Review your progress regularly
Getting Out of Your Writing Slump: Part #2 – Re-entering the Writing Zone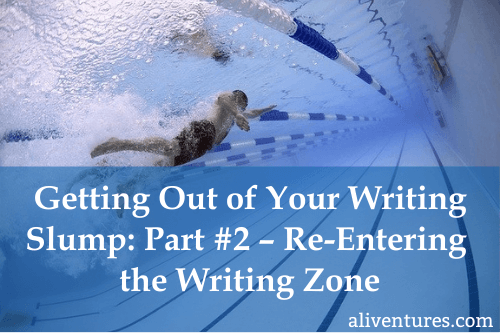 This post was originally published in June 2017 and updated in October 2020.
Last week, we looked at some of the practical things you can do to clear some space in your life for writing.
Simply having the time and energy to write, though, isn't enough. You need the desire to write too … and that's what today's post is all about.
When you've not been writing for a while, you may feel unsure whether you even want to write. I felt this way back in mid-2008: I was exciting about making a living from freelance writing (I'd just left my day job) … but I was also about to start an MA degree in creative writing! I felt like I'd lost all interest in writing fiction.
Twelve years on (and with three novels and a novella out there) … you can probably guess I got out of that fiction slump. 😉
For me, the cure was – in retrospect – a bit obvious. I needed to start surrounding myself with fiction writers and with material on fiction writing again. From day one of my Masters course, that urge to write fiction was back! (more…)
About
I'm Ali Luke, and I live in Leeds in the UK with my husband and two children. Aliventures is where I help you master the art, craft and business of writing.
Archives
Want to see
all
the posts on Aliventures?
Just head on over to the Archive:
My Novels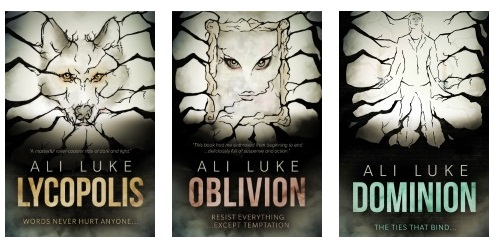 My contemporary fantasy trilogy is available from Amazon. The books follow on from one another, so read Lycopolis before the others.
You can buy or sample them on your local Amazon, or read all three FREE in Kindle Unlimited.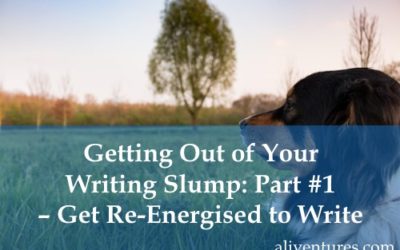 Are you writing? Do you want to be writing? Every writer I've ever known has gone through some sort of "slump" at some point, when they do want to write but they simply don't have the time, energy or focus to do so. Writing slumps are normal. Going through…
read more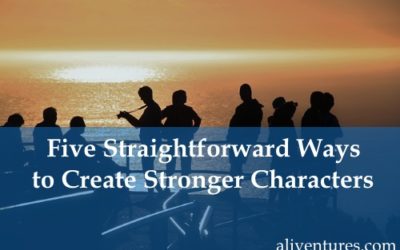 If your story doesn't have strong, compelling characters … you'll struggle to get readers. However intricate your plotting or however exotic your setting, if your characters are flat and uninteresting, there's nothing for the reader to invest in. We read stories because we're interested in…
read more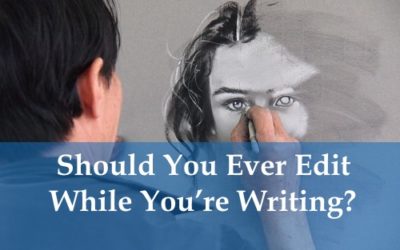 This post was originally published in October 2017 and updated in August 2020. A lot of writers will say that you should never, ever edit when you're writing. You can even get software that disables the backspace key or that starts eating your words if you don't type...
read more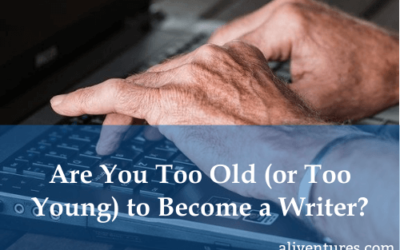 This post was originally published in March 2016, and updated in August 2020. An email from an Aliventures reader landed in my inbox with the subject line, "Am I too old to become a writer?" I opened it up, assuming she was in her 70s or 80s. No. She was 37. Here's...
read more