Getting Out of Your Writing Slump: Part #1 – Get Re-Energised to Write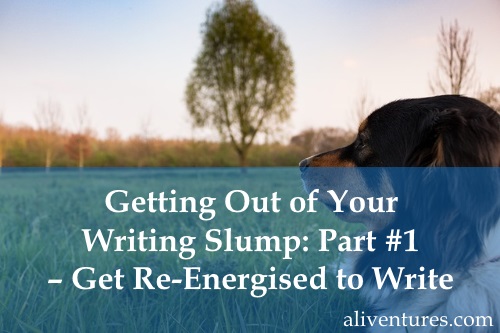 This post was originally published in June 2017, and updated in October 2020.
This is the first of two posts about writing slumps; in this post, we'll be tackling some of the non-writing things you can do to get out of a slump … and in the second post, next Monday, we'll take a look at getting back into the writing zone again.
Are you writing?
Do you want to be writing?
Every writer I've ever known has gone through some sort of "slump" at some point, when they do want to write but they simply don't have the time, energy or focus to do so.
Writing slumps are normal. Going through a slump doesn't say anything about your ability to do the work, and I firmly believe that you're still a writer when you're not currently writing.
Your writing slump might come after a long period when you have been writing – or maybe you've never written much at all, even though you want to: you've started off in a slump.
Slumps are often linked to a particularly busy or difficult period in your life, a time when a lot of your energy and focus is being used up by other things. And let's face it, that's how 2020 has been for pretty much the whole world.
Your slump may not be specifically related to Covid-19 lockdowns and disruption, though. There could be all sorts of other reasons why you're in a slump:
You've started working full-time instead of part-time
You've had your first child (congratulations!)
You've had a second (or third, or fourth) baby
You're going through a period of ill health (physical, mental, or both)
Your day job has been particularly hectic
You're grieving the loss of a friend or family member
You've started on a demanding course of studies
It might be that you've come out of a very busy or difficult period, but you're still not writing. That's normal too: it can be hard to pick up where you left off, if you've not written for months (or even years).
Why Getting Started (Again) Feels So Tough
Whether you've already begun on a writing project or have yet to start, it can be really hard to get going again.
It's natural and normal to find it tough to "get started" with your writing. If you haven't begun on the project at all yet, it probably exists in a perfect (if nebulous) form inside your head. Getting started means turning all that perfect potential into imperfect reality!
It also means pushing past resistance and that inertia that all of us feel before making a start on something.
Even little projects can be tough to get going on. When my daughter was one and I was pregnant with my son, I wanted to write a sentence-a-day journal for each of them. It took me weeks just to get round to buying notebooks, and weeks more to actually begin writing in them. (Six years on, though, I'm still keeping those journals.)
In next week's post, we're going to take a look at some writing-related things you can do to make getting started a bit easier: in the rest of today's post, I want us to look at laying the groundwork. Writing is, after all, just one part of your life … and it doesn't always make sense to look at it in isolation.
Do You Need to Take Some Deliberate Time Off from Writing?
Sometimes, if you're going through a temporary rough patch, it may be best to simply take some time off from writing.
Maybe you're having to self-isolate with two small children for 14 days. Or your day job is manic this month, but it's going to calm down in a few weeks. Or you've got a big non-writing project going on that'll be finished soon.
If it feels right to you to have a proper break from writing, have a break! Whatever you might hear from some writing gurus, you do not need to write every day, and there's nothing at all wrong with having time off.
If, though, you feel like you'd miss writing too much, look for ways to do a little bit of it. Maybe you can set aside one hour each weekend to play around with your writing: I know it's not much, but it could be an opportunity to step away from the pressures of the rest of life and do something just for fun.
Practical Non-Writing Things to Re-Energise You to Write
If you're stuck in a slump, try some of these to pull you out:
#1: Make More Time for You in Your Life
If you've got your kids home from school, or you have a new baby, or if you're working long hours, or if you're caring for a relative, or anything similar, it can be very hard to find not only the time but also the energy to write.
If it's possible, hire someone to help (a babysitter, a cleaner, a gardener, whatever makes sense for you).
If you can't afford that, sit down with family members or friends to figure out how they can support you. I've found that people are often more than willing, they just won't necessarily think to offer!
#2: Make Space for Your Writing
I find that decluttering can really lift my mood – and I find it much easier to relax when I'm not surrounded by mess.
Can you set aside a special place in your home for writing? Maybe it's a little desk in the corner of your bedroom. Try to keep the desk as clear as possible so that it's a welcoming, enjoyable place to sit and write.
(If you've got a shed or garage that might make a decent writing space, can you set aside a weekend to clear it out?)
#3: Get Organised with Day to Day Life
Since having kids, I've been forced to become more organised: if I'm not, my 30 minutes writing each day all too easily gets eaten up by emergency trips to the shops / laundry loads / etc…
Whether or not you have children, being organised can help you find the time and energy for your writing.
These are a few things that work well for our family:
Batch cook where possible – I make four batches of chilli at a time, because it hardly takes any longer than making one.
Have one central location for incoming papers and other admin: we use a letter rack in the kitchen. Next to this, we have a charger with three USB ports (thank you, IKEA!) so we can plug in phones and tablets in one place.
Keep to a simple morning and evening routine for regular chores (dishes, laundry, etc). This avoids things piling up and getting in the way of writing time.
Find a to-do / calendar system that works. We have a family calendar in the kitchen, and for the past few years, I've been using a planner/diary to keep track of tasks. There are so many different styles of calendars, planners, apps, and more out there that you're sure to find something that suits you.
If you take one thing away from today's post, make it this: you can improve things so that you have the time, energy and focus to write.
You might not be in a position to make those improvements overnight, and you may have to settle for spending less time writing than you'd ideally like … but every little step you take to move forward will make it easier.
About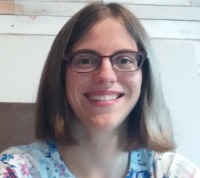 I'm Ali Luke, and I live in Leeds in the UK with my husband and two children.
Aliventures is where I help you master the art, craft and business of writing.
My Novels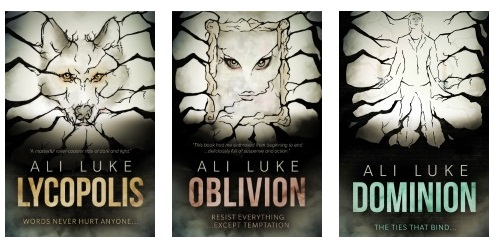 My contemporary fantasy trilogy is available from Amazon. The books follow on from one another, so read Lycopolis first.
You can buy them all from Amazon, or read them FREE in Kindle Unlimited.