Six Inspiring Writing Quotes to Boost Your Creativity [Guest Post]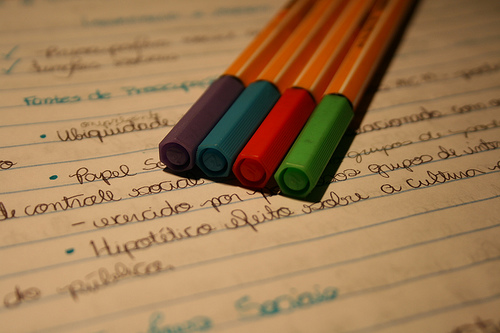 Image from Flickr by lethaargic
Last month, I featured Six Powerful Quotes to Get You Writing from Barry Demp, who's a great business coach from Troy, Michigan.
Several readers mentioned how much they'd enjoyed those quotes … and I'm thrilled to be welcoming Barry back for a follow-up post. Do check out his site The Quotable Coach, where he now has more than 500 people receiving a daily quote straight to to their inboxes – I highly recommend joining them!
#1: "Writing became such a process of discovery that I couldn't  wait to get to work in the morning. I wanted to know what I was going to say."
– Sharon O'Brien, author
As a coach, I get to speak with and listen to some pretty interesting people. During some particularly engaging conversations, a client will often ask me to repeat an idea or thought I have shared. In these cases, something I said must have resonated as valuable with their inner voice.
It is this inner voice of creative self-expression that often provides insights in these discussions to support my clients in taking new actions that produce better results.
One way I find things to write about is by exploring the meaning of powerful quotes and answering some deep and meaningful questions. In these questions, I simply see what I have to say on the subject and I project this inner voice in my writing.
Exercise:
How can you use your most creative and reflective inner voice to provide content for your authentic self-expression in your writing?
#2: "Concentrate all your thoughts upon the work at hand. The sun's rays do not burn until brought to a focus."
– Alexander Graham Bell, inventor
When I was very young, I remember using a magnifying glass to focus the sun's rays and burn small holes in a piece of paper. I bet you did too.
With this idea in mind, I began to take interest in the concept that greater focus is also the source of greater achievement.
In his book Outliers, Malcolm Gladwell established that it takes 10,000 hours of focused practice to achieve personal mastery.
Exercise:
What must you do less of (or stop altogether) in your life, so you can start or do more of other focused activities? Think about what matters to you most on your journey to personal and professional excellence.
#3: "The beautiful part of writing is that you don't have to get it right the first time, unlike, say, brain surgery."
– Robert Cormier, author and journalist
Someone once told me the best way to writing something good is to write something not so good and fix it. Ali Luke, the author of Aliventures, has been my coach and sounding board to assist me in improving my writing.
With her help, I've written three ebooks and more than 180 blog posts for The Quotable Coach. We must be doing something right – we now have over 500 subscribers.
Exercise:
Consider writing as a multiple-step process, where your own second or third look at the material, or your use of some outside resource, can lift your work to the next level.
The sheer amount of writing you do provides the added practice needed to further improve your skills.
#4: "Creativity involves breaking out of established patterns in order to look at things in a different way."
– Edward de Bono, doctor and author
Years ago, I read A Whole New Mind by Daniel Pink. The premise of this book was based on the importance and value of right-brain/non-linear thinking. Pink pointed to some of the critical limiting factors related to left-brain or linear thinking: the value of this type of thinking has been decreased due to the advent of technology.
Exercise:
How much of your day do you spend on right-brain versus left-brain activities?
How can you break some of your established patterns and look at your world differently, to develop your creative mind?
#5: "When love and skill work together, expect a masterpiece."
– John Ruskin, artist and art critic
We have all heard the quote, "When you love what you do, you'll never work a day in your life." A by-product of this mixture of love and work is mastery, due to the amount of practice we experience over time.
Think about famous artists, top athletes, and great entertainers as examples of this synergistic combination.
Exercise:
What are your greatest skills, where you lose yourself in love?
It would be wonderful if these included your vocation. They may be hobbies or similar avocations – and hopefully, they can include building extraordinary relationships, in all areas of life.
What masterpieces have you built to this point and what future works of art are on the way?
#6: "If you want to write, you can. Fear stops most people from writing, not lack of talent. Who am I? What right have I to speak? Who will listen to me? You are a human being with a unique story to tell. You have every right."
– Richard Rhodes, author and journalist
About 18 years ago, I was given an unusual assignment in a course called "The Wisdom Course." This year-long program focused on accomplishing more by bringing a greater sense of play into our personal and professional lives.
The assignment we all received was to write an autobiography of our lives that included photos and thoughts for each single year – even if we had to make some of it up. As participants in the program, we often shared our stories and thoughts with one another with great interest and fascination.
Exercise:
Select two to five individual years of your life and write your own autobiography for them.
Expand this exercise by increasing the number of years, and by sharing the exercise with close friends and family.
If you enjoyed these, head over to Barry's site The Quotable Coach for many more inspiring and thought-provoking quotes.
Barry and I would love to know if any of these quotes struck a chord with you – or if you have any great inspirational quotes of your own to share. Just pop a comment below!
About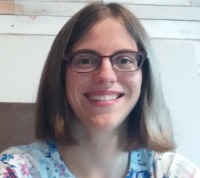 I'm Ali Luke, and I live in Leeds in the UK with my husband and two children.
Aliventures is where I help you master the art, craft and business of writing.
My Novels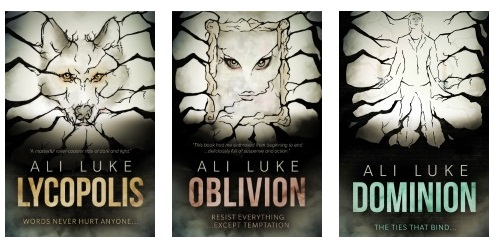 My contemporary fantasy trilogy is available from Amazon. The books follow on from one another, so read Lycopolis first.
You can buy them all from Amazon, or read them FREE in Kindle Unlimited.