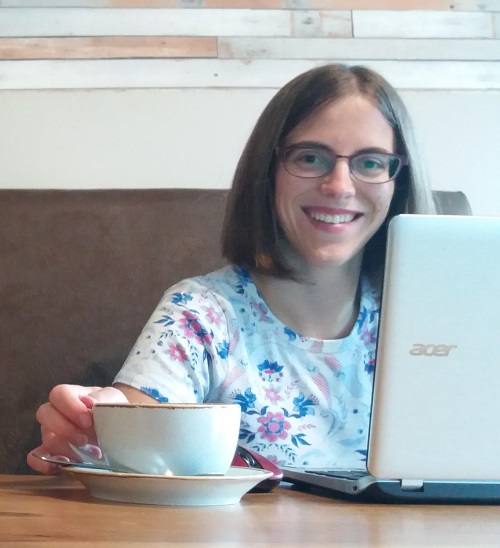 Hello! I'm Ali Luke, and Aliventures is my blog (and the name of my business).
My husband Paul and I live in Leeds with our 5-year-old daughter, Kitty, and 3-year-old son, Nick. I write blog posts, non-fiction ebooks, and fiction: keep reading for more on all of those.
I love writing, but I also love working with writers to help them take their work further. I no longer take on clients for one-to-one mentoring or editorial support, but you can join one of my online courses (or join the waiting list, if the one you want isn't open), or you can download one or more of my self-study seminar packs to work through at any time.
What's Aliventures about?
Aliventures covers the art, craft, and business of writing (both fiction and non-fiction). You'll find specific tips and techniques in posts like The Four Essential Stages of Writing and more motivational content in posts like Eight Secrets Which Writers Won't Tell You.
I've written for quite a few popular blogs like Copyblogger, The Write Life, Write to Done, The Creative Penn, Craft Your Content, ProBlogger and Daily Blog Tips. I've also written for Writers' Forum magazine.
One of the biggest questions that crops up when I'm working with writers is "How do I find more time for my writing?" If that's something you're struggling with, I've got a free ebook to help you make time to write: you can find out about it (and a bunch of other freebies) here.
If there's a particular question, topic or problem you want me to tackle either here on Aliventures or on another blog, just let me know. (Email ali@aliventures.com or use the contact form.)
My Online Courses
I run a number of online courses, each lasting for six weeks (with a further four weeks of support at the end of the course):
Start Freelancing: a beginner-friendly course where you'll set up your website and social media profiles, and get started as a freelancer (we take everything step-by-step).
Freelance Confidence: a slightly more advanced course than Start Freelancing, which will help you find clients, market yourself, raise your rates, and much more.
On Track: a flexible course that will help you progress with any big writing project, whether you've just begun or you've stalled part-way through.
Blogging Basics: a beginner-friendly course that walks you through the process of setting up your blog, covering everything from choosing a name for it to writing your very first post.
Blog On: a hands-on course for new(ish) bloggers that will help you write better posts, create crucial pages, get to grips with blog formatting and more.
Successful Guest Blogging: a more advanced course suitable for bloggers, freelancers or even authors wanting to promote their books, by writing for large blogs.
You can find out about the courses, and join the waiting list for any that you're interested in, on the Courses page here.
My Blogger's Guides
I'm the author of four writing-related ebooks, all aimed at bloggers:
The Blogger's Guide to Effective Writing: advice on all aspects of writing for a blog, covering idea-generation, planning, structuring, editing and much more.
The Blogger's Guide to Freelancing: my tried-and-tested tips for making real money blogging, from day one.
The Blogger's Guide to Irresistible Ebooks: everything you need to know to write and sell an ebook, from coming up with a great idea to creating your sales page.
The Blogger's Guide to Loyal Readers: how to get your blog into great shape and attract new readers (who'll stick around).
You can find out all about these ebooks (and see what other readers had to say) from the Blogger's Guide website. You can also get free samples of all four, and a 35% discount on any/all of them, by joining the Aliventures newsletter.

My Self-Study Seminar Packs
If you'd like to go further with your writing, take a look at my self-study seminar packs. Each pack contains four seminars (with audio/video, plus a full edited transcript, and a handy worksheet). They're available to buy at any time, and you can work through them at your own pace.
Each pack costs $20 at full price (hint: sign up for the newsletter and you'll get a 35%  discount code, making them $13 instead).
Want (Free) Help With Your Writing?
First off, make sure you're getting my blog posts by RSS or straight to your inbox (there's a box below where you can put your email address).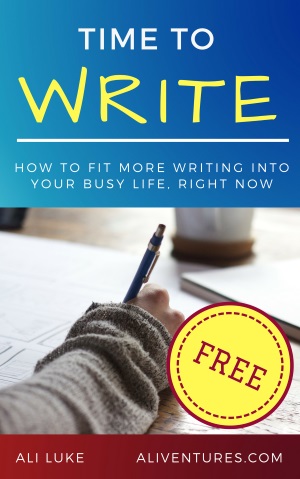 You'll also want to join the Aliventures newsletter to get access to my mini-ebooks Time to Write and The Two-Year Novel (and more!) plus exclusive quick weekly tips straight to your inbox.
You can find out all about the newsletter and the mini-ebooks here.
I usually publish a new post every Monday on Aliventures, looking at different aspects of writing. I'm always very open to topic suggestions: if there's a particular question you'd like answered, or a post you'd love me to write, just get in touch.