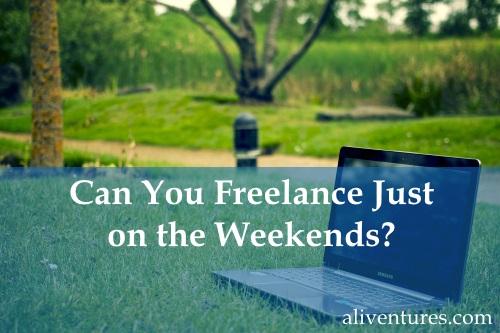 I had a great question in from a reader last week. He explained that he was in a full-time job and asked if it was possible to freelance just on the weekends.
I'll give you the good news first:
Yes, it absolutely is.
Many freelancers start out working around a regular day job (or working around other commitments, like caring for kids). This often means they're freelancing at unusual hours. When I began freelancing, I used to work on my clients' blog posts from 6 – 7am, for instance.
Of course, there are some freelance roles that do require you to be at a desk during standard office hours. If you do the sort of freelancing where you need to have meetings (phone or face-to-face), obviously it'll be tricky if you can't ever take a weekday off.
A small number of freelancers also work "in house" – they go into a client's workplace to do the actual work on site. That's the exception rather than the norm, though: most freelancers can and do work from anywhere, and usually at any time.
Continue reading »