What is Content Writing … and How Can You Make Money From It?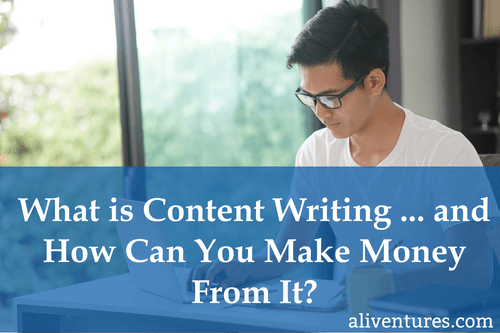 If you've been looking for freelance work online at any time in the last decade or so, you've probably found plenty of companies looking for "content writers."
But what exactly is content writing?
Although content writing can cover a wide range of types of content, it most commonly refers to blog posts.
Big websites need content. Not just sales content (that's usually called copywriting) – but marketing materials to bring visitors to their website and to grow a loyal following.
To put it in very simple terms, if a website has 200 blog posts, they have 200 extra opportunities for someone searching on Google to find their site. If they have 20 blog posts, that's only 20 extra opportunities.
So most online businesses are never "done" with creating content. Even if they don't have a regularly updated blog and get great search engine traffic to their sales pages instead, they'll likely need a steady stream of content for social media.
This is great for freelance writers, because it means that there are lots of opportunities out there. The downside is that the huge content writing market also includes plenty of very low-paying opportunities where short-sighted businesses want lots of cheap content rather than quality content. It can be tricky to find the best-paying jobs.
We're going to take a closer look at content writing and how to make money doing it. Whether you're already a content writer looking to go further, or you're just interested in finding out more, this should help you get a better understanding of what it involves.
Is Content Writing Right For You?
I've been a content writer since 2008 – though it was more often called "paid blogging" or "staff blogging" back then.
I love content writing. It's a great fit for me, but I do recognise it's not necessarily the right option for every freelance writer.
Content writing is probably going to be enjoyable for you, too, if:
You like writing fairly fast. You don't want to spend ages agonising over word choices or tweaking sentences again and again.
You don't mind writing about the same topics multiple times: clients may well want several pieces of content tackling slightly different angles of the same idea (without just repeating chunks of writing).
You're looking for a steady stream of smaller pieces of work, rather than big one-off projects.
You don't mind if your name doesn't go on your work. While some content writing opportunities will be under your own name, many others may involve ghostwriting as someone else or simply writing without a byline at all.
You're quite thick-skinned about your writing: you don't mind if an editor changes things. Once your content is handed to your client, you may find they make edits without consulting you or getting your approval.
You're organised and good at meeting deadlines. This is especially important if you're writing content for an agency who'll be delivering that content to their own clients.
If content writing sounds like it might be a good fit for you, great! If not, there are plenty of other types of freelancing – or other money-making writing opportunities – that might be just right instead.
How Can You Make Money as a Content Writer?
With plenty of other freelancers competing for content writing opportunities, making money as a content writer can seem tricky – especially if you're just starting out.
Here are five simple steps you can follow to start making money.
Step 1: Get Some Experience of Content Writing
Almost every client or publication you want to write for will ask to see samples of your previous work.
This means it's essential to get some experience of content writing before applying for paid gigs or pitching editors. Having 3 examples to send to editors is ideal.
One easy way to do that is to create your own website and publish a few blog posts that show how well you can write. You can make a free website on WordPress.com, if you don't already have one.
Another option is to write free guest posts for large blogs. (Some blogs pay for guest posts, but you're likely to find those are quite competitive to write for, when you're just starting out.)
Guest posting is also a great way to get your name out there and to improve your own website's search engine optimisation – as you can normally link back to your blog from your guest post bio.
There's a handy list of blogs that take guest posts here.
Tip: Don't discount past experience. Perhaps you wrote an article for a friend's blog a few years ago: assuming you're reasonably happy with it, then that could be a great piece for your freelance writing portfolio.
Step 2: Find Your First Client(s)
Once you've got some examples of your content writing, it's time to seek out clients. 
There are three main ways to find content writing clients:
Through Job Ads
Some large websites (and agencies) will advertise when they're looking for freelance writers.
These opportunities may get dozens or even hundreds of submissions, so make sure yours stands out by following all the application guidelines (e.g. including samples of your work if requested, answering any questions posed). If you've guest posted for any big blogs in your niche, definitely mention those, too.
Some good (and free) places to look for content writing jobs online include:
The ProBlogger Jobs board – this has been around for many years, and has continued to be one of the best places to find blogging opportunities. You may find that you have to send out quite a lot of applications to hear back, however.
The BloggingPro Jobs Board – this doesn't have all that many opportunities posted, but they tend to be better paid than those on the ProBlogger jobs board.
The All Freelance Writing Jobs Board – some of these jobs aren't content writing, but there are a lot of opportunities posted each day, and the pay range is shown prominently.
By Pitching to a Large Blog or Online Magazine
Some online publications will consider unsolicited articles from freelancers. A good sign is a "write for us" or "submission guidelines" page.
While some publications won't pay, many others will. Again, there can be a lot of competition – but if you have a strong idea and good writing samples, you're in with a great chance.
You can find lists of publications that are open for submissions here:
Get Paid to Write: 23 Sites That Pay Freelancers $100+ (The Write Life)
19 Lifestyle Blogs That Pay Writers $100+ Per Article (Peak Freelance)
30 Websites That Pay Up To $700 For a Blog Post (Twins Mommy)
The Write Life also has multiple lists of blogs/websites that accept freelance submissions, including this list of parenting blogs and this list of travel magazines and websites.
Through Clients Contacting You
After you've been freelancing for a while, word-of-mouth may well start to bring clients straight to you.
Guest posting is a great way to speed things along. I've had several of my best clients find me through guest posts that I'd written for large blogs.
In your early days of content writing, though, you'll likely have to seek out content writing gigs and publications to write for.
Step 3: Complete Your Pieces Well and On Time
Once you've landed a client – or perhaps even several clients – the next step is to do the actual work that they've asked you for.
I invariably find that my first piece for a new client takes quite a bit longer than my next few pieces for them. This means I always allow twice as long as I think I should need for the first piece – just to be sure I'll meet the deadline.
Do your best with the pieces you've been assigned, making sure your work matches up to what's been requested. (You might have a brief from the client, for instance, asking for specific keywords to be included.)
It's really important to hit deadlines, especially when you're just getting started with a client. If you're waiting on them for edit requests or approvals, make sure those aren't ending up in your spam folder or a neglected Gmail tab … I've learnt this one the hard way!
Step 4: Take Feedback On Board
Your client may well have feedback for you, especially on your first few pieces. Perhaps you didn't quite capture the voice they wanted, or your introduction wasn't gripping enough.
Take any feedback on board and do your best to address it in subsequent pieces. Ask about anything that you're unsure about – though even if you think your way of writing something was better, don't quibble over stylistic editorial decisions.
All the content writing clients I've worked with like to have writers who are open to feedback and who'll adjust accordingly. As a content writer, you can't be too precious about your writing. (It's a different situation from being, say, a novelist, where you might have a lot more room to push back against editorial suggestions.)
Hopefully, by delivering good work on time, and by responding to feedback, you'll find that your content writing clients offer you a steady stream of new pieces to write.
Step 5: Continue to Build Your Content Writing Business
Once you've got your first few clients, it's easy to get caught up in completing their pieces – and of course that should be your priority.
But, once you've celebrated your first few paid pieces, it's important to keep building your content writing business too.
That means carving out time for marketing yourself, in whatever ways feel like a good fit for you, your personality, and your business. (Don't be afraid to step outside your comfort zone – but equally, don't force yourself to market in a way that feels inauthentic to you.)
A few great ways to continue building your business are to:
Create a website where you can showcase your writing and advertise your content writing services. (Try to get some testimonials from happy clients, if possible, to add here.)
Set up a Facebook page or Twitter account for your content writing business, and post regular content – links to your own work and links to other interesting resources that your target audience might enjoy.
Write free guest posts occasionally for large and well-known websites in your topic areas. In your guest post bio, mention that you're a content writer, and include your email address.
Take a few minutes each day to glance through job ads on your favourite content writing jobs boards – you never know when your dream job might come up!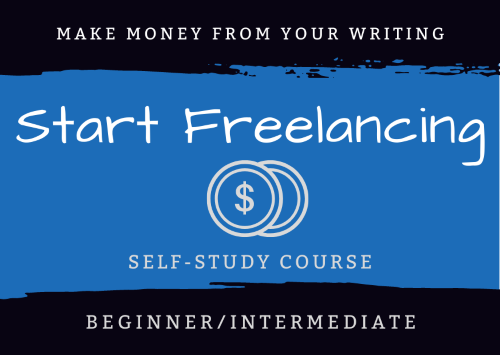 If you're serious about content writing, check out my Start Freelancing course.
Through six different modules, this course takes you through everything you need to know about becoming a freelance writer, including how to decide what to write about, how to create your website and social media accounts, how to get experience and testimonials, what to charge, plus how to apply for writing gigs and pitch editors.
Start Freelancing normally costs $50, but it's currently on offer at just $30 as I'm planning to launch the follow-up course, Freelance Confidence, in a few weeks' time.
You can find out all about the Start Freelancing course here.
About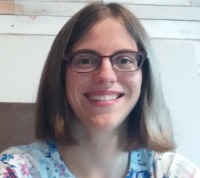 I'm Ali Luke, and I live in Leeds in the UK with my husband and two children.
Aliventures is where I help you master the art, craft and business of writing.
My Novels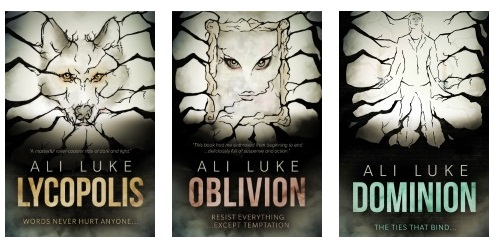 My contemporary fantasy trilogy is available from Amazon. The books follow on from one another, so read Lycopolis first.
You can buy them all from Amazon, or read them FREE in Kindle Unlimited.