Seven Crucial First Steps for Your Writing Career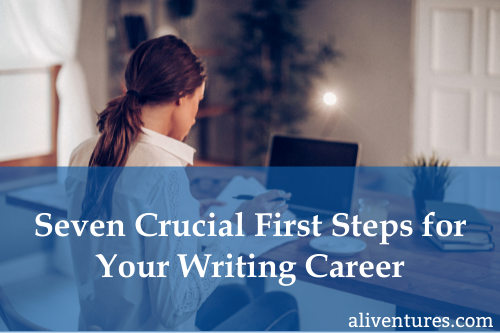 This post was first published in July 2014 and updated in May 2022.
Have you ever thought about – or daydreamed about – turning your writing into a career?
Perhaps you've already made some progress or perhaps you're feeling stuck, not sure where to begin.
The good news is that it's probably not as complicated as you think. If you have visions of creating a complicated business plan, or spending hours doing market research, or investing loads of money in expensive courses … you don't need to worry about all of that.
There's really not too much you need to do to start making money as a writer.
Back when I talked to Thursday Bram for a Writers' Huddle seminar (which you can now find in The Freelancing Pack, #4 of the Self-Study Seminar Packs) we discussed was what new freelance writers need to do when they're getting started.
Thursday said, and I agree with her, that the two most important things are to:
Get a website set up.
Write pieces for your portfolio.
These apply to pretty much every writer. A very simple website is fine initially, unless you're actually specialising in writing for the web.
Of course, these aren't likely to be the only two things you do, so let's take a look at them in context of other steps you'll likely want to take.
Step #1: Decide What Your Focus Will Be
Hopefully, you've already had some writing experience – enough to let you know what area you want to focus on.
It's tempting, when you're just starting out, to offer any type of writing that someone might be willing to pay for. This is a mistake: it's much better to choose a specific area and specialise.
That doesn't mean you can't take on other work if a client asks you to, but it does give you a focus for your website copy and your marketing.
When you're choosing what to focus on, you might want to consider:
Is it an easy area to break into? Making a living from fiction, for instance, could take years of hard work for little initial reward. (That's not to say you shouldn't try it; just make sure you have another way to support yourself until the money's coming in.)
Is it something you enjoy? I could make more money doing copywriting instead of content writing, but I'm not so keen on writing sales pages and adverts.
What extras will the work involve? You might prefer to work with small businesses rather than large ones, for instance, if that means quick turnarounds and less admin.
Step #2: Figure Out Your Business Model
Before you can go very far with setting up a business, you need to figure out how you're actually going to make money. Unless you're applying for funding, you're unlikely to need to write a whole business plan – but it's important to be clear on this before you set up your website, get tweeting, etc.
Some possibilities are:
Working with clients and charging them per project (e.g. $60 for an 800-word blog post).
Working with clients and charging them per hour.
Selling an ebook (and/or print book).
Selling an online course – this might be related to writing, or another specialist interest you have.
Offering coaching or consulting – particularly in conjunction with editing.
Selling advertising or affiliate products through your website.
Of course, lots of writers have more than one income stream: I've done all of the above at some point in the past 14 years. However, it's a good idea to get clear on how you'll be making money when you start out.
Personally, I found the easiest thing to get started with was working directly with clients: while I love writing ebooks and running online courses, these are easier once you've built up an online audience.
Step #3: Set Up Your Website
Your website doesn't need to be anything fancy. If you're going to be mainly working on offline projects (e.g. magazine articles), then a very simple site using a website builder like about.me could be enough for you.
Ideally, though, you'll want to have your own website domain – either your own name (aliluke.com) or your business name (aliventures.com). It costs about $10 – $15 per year for a .com domain name.
You'll also need website hosting: I use Dreamhost for all my websites and have found them very helpful and responsive whenever I've needed to contact customer service. (You can read my review of Dreamhost here.) You can register your domain name through them, which keeps life simple.
Once you've got a domain name and hosting, the next step is to create your website. I always recommend WordPress for this, which is free. Dreamhost, and many other web hosts, have a "one-click install" process for WordPress.
There are tons of WordPress tutorials online – I particularly recommend the articles at WPBeginner.
I know setting up a website may seem pretty techy and daunting, but you can take it a step at a time, and if you have a problem or get stuck, a quick Google search will almost always find you a useful blog post or video explaining things.
Step #4: Build Your Profile on One Social Media Site
It's tempting to get involved with every social media site going, but it's much more effective (especially in the early days of your business) to pick one site to focus on.
Which one?
That depends on your target customer. For instance:
If you want to work with writers or journalists, you'll often find them on Twitter.
If you're targeting middle-aged women, you probably want to hang out on Facebook.
If you want to write business-to-business materials, try LinkedIn.
If you're seeking a Gen Z audience, you'll likely find them on TikTok.
Of course, you might have an even more specific audience: if you want to work with crafters, for instance, Pinterest is probably the way to go.
Once you've chosen your social media site, sign up for an account, and make sure you completely fill in your profile – in particular, add a profile image (otherwise you'll look like a total newbie). Search for any of your existing contacts on that site, then look for people whose blogs or newsletters you read.
It can be tough to know how to join in when you're new to a social media site: I've  found it's best to watch what other people do (particularly people you admire) and use a similar strategy. For instance, I love the way Joanna Penn from The Creative Penn tweets lots of useful links to other people's blog posts.
Step #5: Start Building a Portfolio
Naturally enough, potential clients will want to see evidence that you can write well before they hire you. This means having a portfolio of "clips" – pieces that you've written for other people.
When you're just starting out, this can seem like a bit of a Catch-22 situation: you can't get hired because you don't have any clips, but how can you get clips when you don't have any work?
The easiest solution is to write for free, just for your first couple of pieces. When I started out freelancing, I wrote a simple website for a small charity. You might look for a non-profit to help or, if you're interested in writing articles or web copy, you could guest post on well-regarded blogs.
Another option is to have a blog of your own, which can showcase your writing. While this may be enough, I always think it's a good idea to have at least one piece published elsewhere (either online or offline).
Step #6: Gather Testimonials
What you say about yourself matters … but what other people say about you can have a lot more influence.
If you've worked for free for a non-profit, or maybe even a friend or former colleague, there's a good chance they'll be happy to write a testimonial for you. Don't assume they'll do this without prompting – most people simply won't think of it (or they won't get around to it).
Here's a sample email you could use:
Hi [name],
It was great to work with you on [project]. As you know, I'm setting up as a freelancer [or setting up a business, etc] and I'm just getting my website online.
I'm including some testimonials from people I've written for, and I wondered if you would mind writing a sentence or two for that?
Thanks very much,
[your name]
If you and your contacts are active on LinkedIn, another option is to ask them to recommend you through LinkedIn. You can then copy and paste these onto your website or take screenshots of them.
Step #7: Tell Your Existing Network
Finally, once you have a portfolio and testimonials to impress potential clients, it's time to spread the word.
Before you start building new connections, make sure your existing network of contacts know that you're in business as a writer. (And don't assume that because you've mentioned it on Facebook, they must know – not everyone sees every update!)
It's a great idea to email round your family, friends, past colleagues, and any other contacts who you think will be interested in hearing what you're up to. Don't worry about this being seen as spam, or as blowing your own trumpet. Obviously, you don't want to be constantly sending them promotional emails – but one email to share the exciting news about your new career is fine.
Make sure you clearly explain:
What you do (e.g. "I write blog posts and articles for websites")
How they can help (e.g. "If you know anyone with a small business who wants some help with building their web presence, please do pass on my details.")
And that's it! You're in business … and you're ready for your first client.
---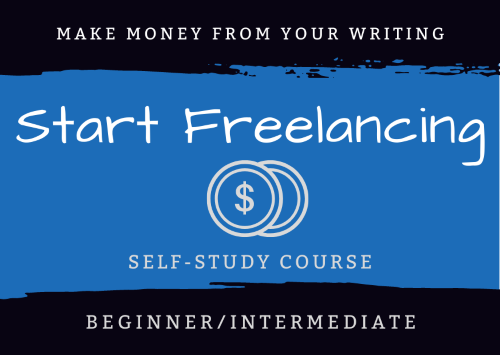 If you'd like a bit more help getting started with your writing business, check out my online course Start Freelancing. It's aimed at new freelance writers and takes you, in detail, through everything we've covered here. The six modules cover things like:
Figuring out what type of freelancing would suit you best … and what you could write about
Deciding what to call your website and what suffix (e.g. .com, .net) to use
Setting up your website (even if you're not "techy" at all)
Getting writing experience even if you're starting from scratch
Deciding what to charge for your writing
Pitching articles to editors (including real-life examples)
… and lots more. You can take a look at all the details of Start Freelancing here.
About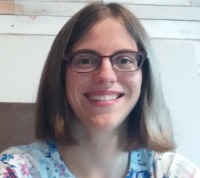 I'm Ali Luke, and I live in Leeds in the UK with my husband and two children.
Aliventures is where I help you master the art, craft and business of writing.
My Novels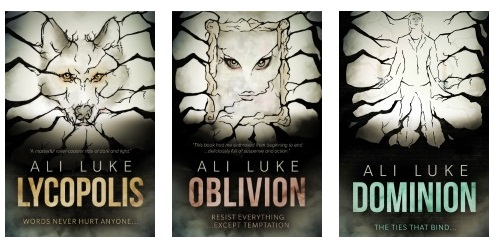 My contemporary fantasy trilogy is available from Amazon. The books follow on from one another, so read Lycopolis first.
You can buy them all from Amazon, or read them FREE in Kindle Unlimited.