Get Paid to Write: How to Become a Freelance Writer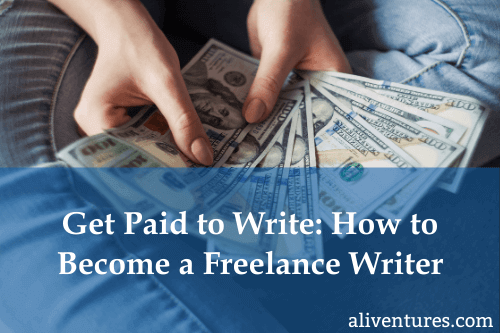 There are several different ways to get paid for your writing … but one of the most straightforward is to become a freelance writer.
I've written quite a bit about freelancing before, but today, I wanted to cover the basics of how to actually get started with freelancing.
And if you're not sure whether freelancing is for you, maybe I can persuade you to give it a go! There are lots of great reasons to freelance, plus it's a fast and flexible way to make money from your writing.
What Experience Do You Need to Become a Freelance Writer?
You don't need any specific qualifications to be a freelancer. It doesn't matter whether you have a degree or whether you've previously worked in a writing-related field.
What you do need is the ability to write – and the evidence to prove it.
This means having some writing samples, often called "clips". If you're just starting out, these might be pieces that were published in your high school or college magazine, pieces you've written for a local newspaper, or work you've done for a friend's website.
If you don't have any clips that you can use, then a great way to get some is by guest blogging. Choose a large and reputable blog that takes guest posts, and pitch them an article. Most blogs don't pay – but your guest post is a great opportunity to get a published piece you can use as a sample of your work.
If you don't want to write a guest post, you could create your own website or blog and write some articles for it. Another option is to offer to write website content (or anything else!) for a non-profit organization.
Key Takeaway: You normally need writing samples to get hired as a freelancer. It's fine to write some pieces specifically to use for this.
Setting Yourself Up as a Freelance Writer
Some would-be freelancers worry that it'll be complicated, time-consuming, or even expensive to get things set up correctly.
In most countries, you don't need to go through a complex process to become a freelancer. Where I live in the UK, most freelancers are registered as "sole traders" – which just means filling in a form to tell HMRC that you'll need to pay self-assessment tax each year. The US equivalent is a "sole proprietor".
You don't need to set up a limited company as a freelancer, though you may want to do so at a later stage.
Another worry for new freelancers is whether you need a detailed business plan, business cards, contracts, and so on. You don't need these things – at least, not from day one!
It's definitely a good idea to have some kind of online presence, ideally a website, where you can share the details of what you offer. This makes it easy for friends and family to refer people to you. But if you don't want to set up a website straight away, any kind of public online presence (such as a Facebook page) is fine.
Key Takeaway: Don't shy away from freelancing because you think it'll be a hassle to get set up. Look into what's actually required in your country – it may be far less work than you're imagining.
How to Find Your First Clients as a Freelance Writer
You become a freelance writer as soon as you get hired to write a piece for money. But how do you go about getting your first clients?
First, be very wary of websites that offer to match you up with clients. You need to create an account in order to see the jobs that are available. The problem is, most of the jobs won't pay very much at all – and you can easily get stuck writing for very little money.
It's generally best to work directly with clients. That way, you have a lot more control over what work you take on – and what rates you charge.
To find your first clients, you can:
Ask family and friends for referrals. Someone you know might be looking to hire a freelancer, or they may know someone else who'd be a great fit for your services.
Use reputable online job listings for freelancers – there's a great list of blogging job boards here, if you're interested in writing for blogs and websites.
Contact former colleagues to let them know that you're now freelancing, and to ask them to pass your details on if they know anyone who might be interested in hiring you.
Key Takeaway: You need to be proactive about putting yourself out there as a freelancer. Try different ways to find clients – keep going until you get hired.
---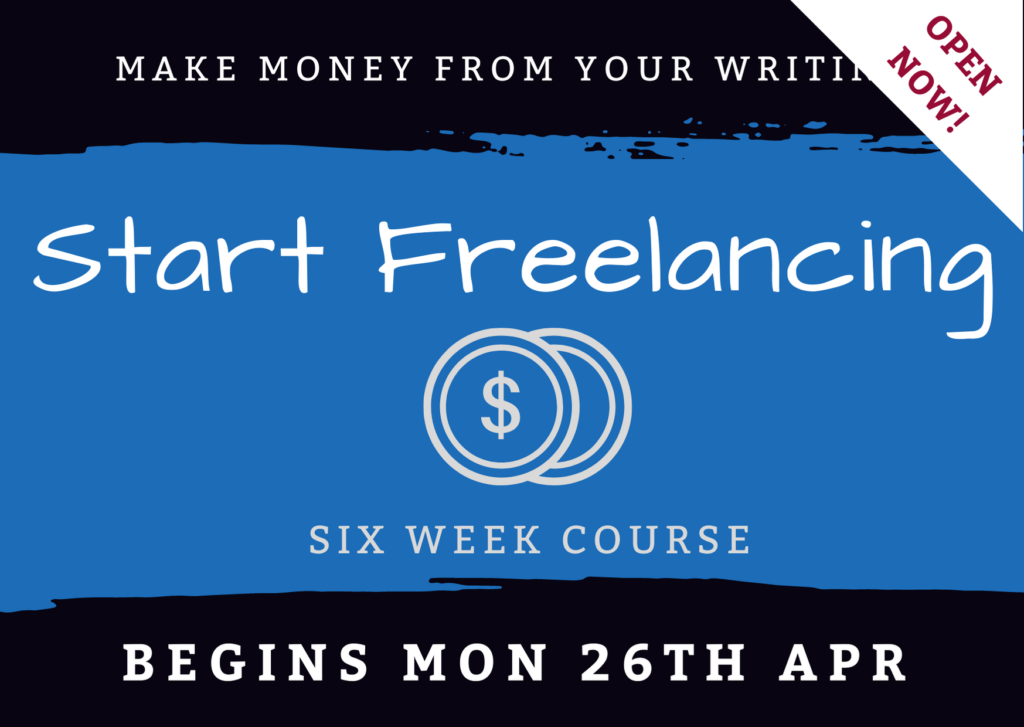 If you're interested in freelancing and would like some support, check out my course Start Freelancing.
Registration is open from today (Monday 19th April) and the course begins next Monday, 26th April.
You can tackle the course at your own pace or you can work through it alongside other new freelancers, focusing on one module each week – with help and support from me along the way.
Start Freelancing covers everything you need to know to get your freelancing career off to a great start. We look at your goals and experience, how to create your online presence, setting up your website, getting writing samples and client testimonials, what to charge for your writing, how to find freelance writing gigs, and more.
Sounds like it could be for you? Check out all the details here.
About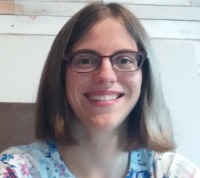 I'm Ali Luke, and I live in Leeds in the UK with my husband and two children.
Aliventures is where I help you master the art, craft and business of writing.
My Novels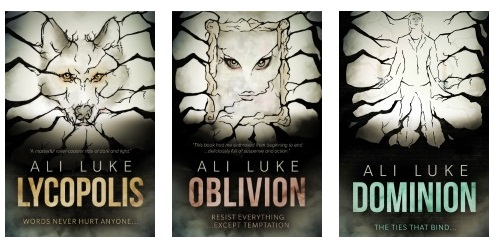 My contemporary fantasy trilogy is available from Amazon. The books follow on from one another, so read Lycopolis first.
You can buy them all from Amazon, or read them FREE in Kindle Unlimited.