How Long Does it Take to Write 1000 Words?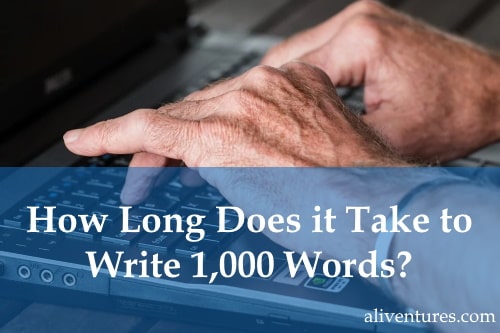 This post was first published in April 2020 and updated in May 2023.
Whether you're working on a novel, blog post, academic essay, or any other big project, it's really helpful to know roughly how long it takes to write 1000 words.
Maybe it's your daily target for your novel. It's a nice round number, after all, and it makes it easy to figure out how long it's likely to take you to complete a draft. If you're aiming for an average-ish novel length of 80,000 words, then that'll take you 80 days, writing 1000 words per day.
Or maybe you're working on a 3000 word non-fiction piece—a blog post, an article, an essay, or an assignment of some kind. You want to plan your time carefully and make sure you hit your deadline. This means you need to know roughly how long it'll take per 1000 words.
How Long is 1000 Words (in Pages)?
On 8-1/2" x 11" paper (US) or A4 paper (UK), in 12 point type, 1000 words is about 4 pages double-spaced or 2 pages single-spaced. 
If you have a lot of dialogue (e.g. in fiction) or very short paragraphs (e.g. in a blog post), your 1000 word piece will probably be 3 pages single-spaced or 6 pages double-spaced.
Here's an example piece, single-spaced in 12 point Times New Roman, that's 1005 words long. (I used my post What Can You Write About if You Don't Have Any Ideas, with the final paragraph removed.) It takes up most of 3 pages.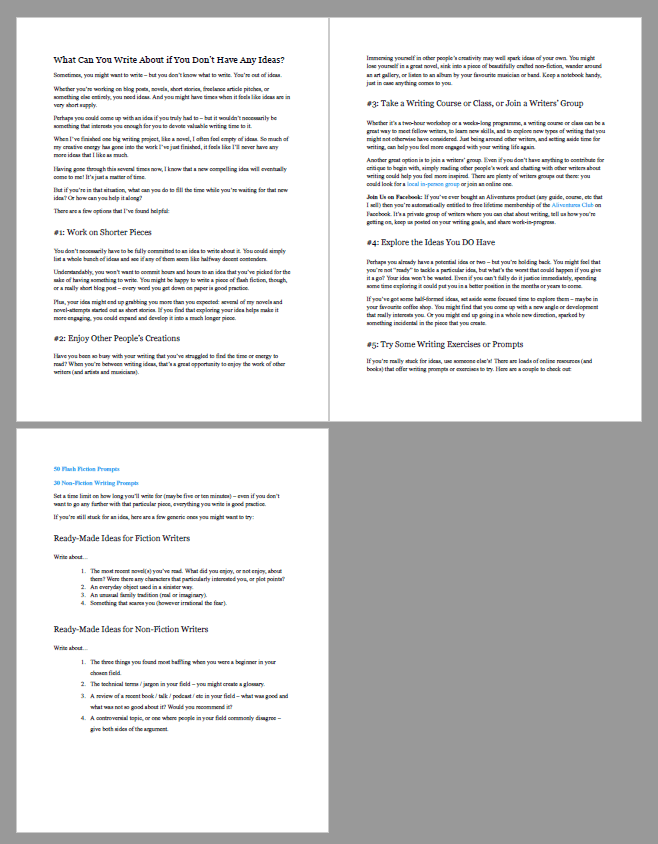 Here's the start of that same piece double-spaced – it ends up running onto 6 pages.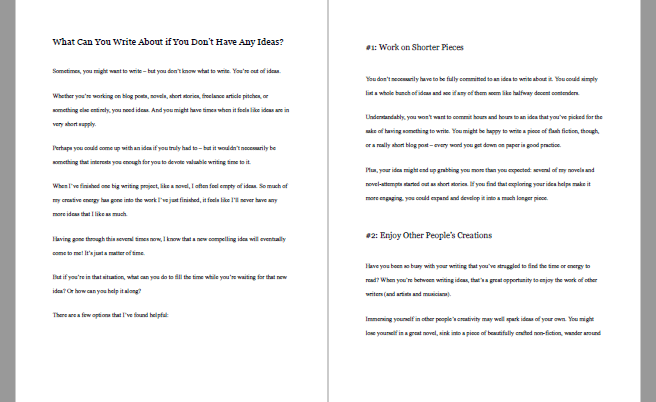 These days, if you have a length requirement from a writing competition, freelancing client, or university assignment, it's likely to be in words, not pages. But if you are given a pages target (e.g. "bring 4 pages to share at our next meeting") then it helps to know that 1000 words is about 4 double-spaced pages.
Is 1000 Words/Day a Realistic Goal?
Over the years, I've seen quite a few writers aiming to write 1000 words a day. It's a nice round number (and, incidentally, it's what Stephen King advises as a target in On Writing).
But I think 1000 words a day is often too high a target. Obviously, if writing is your job (e.g. you're a freelancer) or you're an English Literature student, you might have hours available to write – but if you're writing fiction around a day job, kids, or other commitments, a thousand words is going to take up a hefty chunk of your free time.
Which brings me to…
How Long Does it Take to Write 1000 Words?
If you want a very rough rule of thumb, it takes 1–2 hours to write 1000 words.
How quickly you write, though, depends on how experienced you are, what you're writing, and how your own personal writing process works.
Experienced writers tend to be faster than first-time novelists. The more you do something, the faster and more efficient you become.
Academic writing tends to be significantly slower than other types of writing (especially if you're stopping along the way to look up references).
Some writers (like me) draft fast but rewrite and edit extensively; others draft more slowly but don't need to rework things as much.
For some writers, 1000 words is a great working day. For others, 1000 words is something they can easily dash off in less than an hour. It depends on so many different factors—which I discuss in my post on Why Some Writers Are Much Faster Than Others.
What really matters is how long it takes you to write 1000 words.
Figuring Out How Long It Takes You to Write 1000 Words
Personally, I can normally draft 1000 words of fiction in an hour. Sometimes it takes a little longer; sometimes I'm a little faster. But that gives me a good sense of how long it'll take to draft, say, a 3000 word chapter.
When it comes to my freelance content writing, I can normally produce 1000 finished words in an hour. So if I'm writing a 2,500 word blog post, I'd expect to have it complete, edited, and optimized for SEO in 2.5 hours. But that's after 15+ years of freelancing, and it also assumes I already have a full outline and only need to do limited research.
To figure out your own "average time to write 1000 words" you first need to:
Record the total length of your writing sessions across a week.
Record the total number of words you wrote that week.
For instance, let's say you're working on a 3000 word essay. You've already planned it out and noted some key quotes you want to use, with their references—so you just need to draft the whole thing.
You work on it for 2 hours on Monday, 1.5 hours on Tuesday, and 1.5 hours on Wednesday, for a total of 5 hours. Your draft is complete, and for simplicity's sake, let's say it came to 3000 words exactly.
It took you 5 hours to write 3000 words. That's a rate of 600 words per hour.
So how long did it take you per 1000 words?
First, divide the total number of words (3000) by 1000 = 3
Then, divide your total time (5 hours) by 3 = 1 hr 40 minutes
It takes you 1 hour and 40 minutes to write 1000 words.
Tip: You might want to track your average over time to see whether it changes. You may also want to track whether you're faster at certain times of day – e.g. whether you tend to write faster in the mornings or evenings.
How Long Does it Take to Type 1000 Words?
It takes about 25 minutes to physically type 1000 words. (That's based on an average typing speed of around 40 words per minute.)
If you're hitting that speed when you're writing a story, article, blog post, etc, that's a really fast pace! It probably means you're working on something that you've already outlined in lots of detail, or that you're producing stream-of-consciousness writing.
For most writers, what limits us isn't our typing speed. It's how quickly we can come up with ideas and convey them in words.
However, if your typing speed is fairly slow (say, 20 words per minute) that may be holding you back from writing faster. You might want to check out your typing speed here and try out some typing speed games to help you speed up a bit.
Why Does it Matter How Long it Takes to Write 1000 Words?
Knowing how long it usually takes you to produce 1000 words of whatever you're working on is helpful for almost all writers.
If you're a novelist, knowing that producing 1000 words of draft material takes you about an hour gives you a clearer picture of whether or not that's a realistic daily (or even weekly) goal.
If you're a freelance writer, knowing how long 1000 words takes you (on average) to write lets you give freelance clients more accurate quotes – and may even prompt you to raise your rates.
If you're a blogger, having a clear idea of your writing speed lets you figure out how much time you need to write a 1500 word blog post every week.
If you're a student, knowing that you have a week to write a 3000 word essay and knowing that it'll take 5 hours to draft (if 1000 words takes you 1 hr 40 minutes) lets you plan your time.
How Can You Get Faster at Writing?
There are lots of ways to improve your writing speed – but the absolute biggest factor is how focused you are when you're writing.
If you stop writing every 5 minutes to check social media or reply to texts, then you're not only losing actual writing time, you're having to spend extra time getting back into the flow of what you were working on.
You might find it helps to have shorter writing sessions, at least initially: you might manage 1000 words in a truly focused hour-long session even though you normally spend 3 distracted hours writing that much.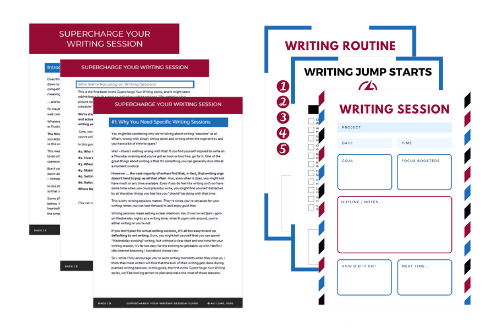 My guide Supercharge Your Writing Session is designed to help you make the most of the time you have – whether that's a short or long period. It's fluff-free and packed with tips you can put into action straight away, plus it comes with several printables to help you craft a quick getting-started routine, plan your writing sessions in advance, and more.
It's just $8 for everything (including both coloured and black-and-white versions of the printables) and you can get all the details here.
About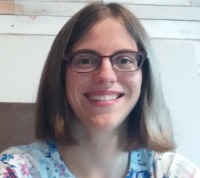 I'm Ali Luke, and I live in Leeds in the UK with my husband and two children.
Aliventures is where I help you master the art, craft and business of writing.
My Novels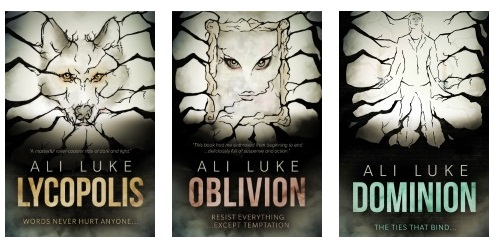 My contemporary fantasy trilogy is available from Amazon. The books follow on from one another, so read Lycopolis first.
You can buy them all from Amazon, or read them FREE in Kindle Unlimited.