The Three Stages of Editing (and Nine Handy Do-it-Yourself Tips)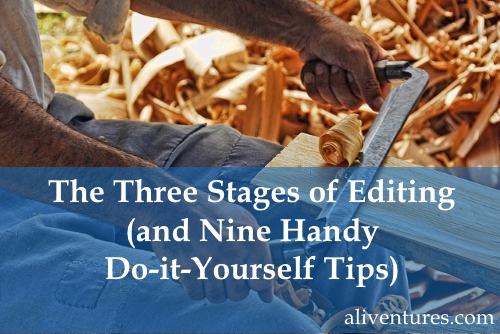 Note: This post was originally published in 2014, and was last updated in May 2021.
Whether you love editing or hate it, if you're a writer, there's no way to avoid it.
You may well have support – from beta readers, your spouse, your writing group or a professional editor – but a fair amount of editing needs to take place as part of your own writing process.
I find that editing encompasses three distinct stages. If you're writing a blog post, each of these types of editing might take minutes; for a novel, they might take months … but however long or short your work, they're all important.
Different writers divide these up in different ways, but for me, the key stages of editing are:
Rewriting – adding and cutting whole chunks (scenes, chapters, paragraphs), and moving and reworking material.
Copy Editing – this is what I think of as "true" editing: reworking individual paragraphs and sentences, adding or cutting smaller sections.
Proofreading – checking that what you think you wrote is what you actually wrote, and fixing typos and spelling mistakes.
Each type of editing requires a different approach. Here's how I suggest you tackle them.
Stage #1: Rewriting
This stage is sometimes called "revising" or "developmental editing". When I'm working on fiction, this type of editing normally means starting from scratch with a blank document and with draft one on my Kindle beside me. Back when I was writing essays in college, I often printed out my first draft and began again from scratch. You may not need to go quite that far, but do be prepared to make big changes at this stage.
Three Rewriting Tips
#1: Get Some Distance From Your Work
Take a break from your work-in-progress after drafting it – the longer your project is, the longer you'll need away from it. I recommend taking at least a few days off. This makes it much easier to go back and see it with fresh eyes: you'll have a clearer idea of what's working really well, plus what needs changing.
When you read through your work, you may find that it's not long enough or that it needs to be longer. In a novel, the pacing might be off, or the characters may not seem well-developed enough. In non-fiction, you might notice that you've left something out or not explained something very clearly.
#2: Don't Be Afraid to Cut Large Chunks
I've cut whole chapters – even whole characters – out of novel drafts. I took out a large chunk of one chapter of Publishing E-Books For Dummies when it was clear it wasn't working.
It's always painful to delete a big chunk of your work, whether it's two paragraphs of a blog post or two chapters of a book. But if the work as a whole is stronger for it, then it needs to be done. Don't think about wasted words or wasted time – you needed those words and that time in order to get to a finished draft.
#3: Try Moving Chapters or Sections Around
Even if you had a clear plan before you started work, you'll probably still find that some elements will work better in a different order.
In fiction, simply moving a crucial scene that contains an argument or revelation to an earlier or later point can make a huge difference to the shape and pacing of the whole story. With a blog post, reordering a couple of sections may make for a much better flow.
Stage #2: Copy Editing
Copy editing means going through your work line by line. It may overlap a little with the rewriting stage, but it uses a different set of skills and involves lots of little changes rather than a few major ones. This stage can be very satisfying – it's the point where a handful of little tweaks can turn bad writing into good writing. You may well end up going through this stage more than once, particularly with a long project like a novel or nonfiction book.
Three Copy Editing Tips
#1: Make Your Words Pull Their Weight
If you have a tendency to be a little wordy (I know I do!) then the editing stage is where you make sure every word pulls its weight. Watch out for common sentence-level mistakes, like awkward or clumsy phrasings. Look for strong verbs and precise words that say exactly what you mean.
Adjectives and adverbs are definitely allowed, whatever some writers might tell you … but do be careful that you're not over-using them.
#2: Fix Common Hallmarks of Bad Writing
All my first drafts are full of clumsy passages of writing. And while some of these get refined during the rewriting stage, many will still be present when I copy edit. I've got a post detailing what bad writing looks like: take a look at the errors there (like chit-chat dialogue, irrelevant details, poor dialogue tags, and over-explaining) and see whether you need to fix any.
#3: Get in Late, Get Out Early
My wonderful editor Lorna Fergusson taught me this. Start a scene once the action has begun, and get out straight after the climax: don't begin with scene-setting and end with a trailing-off. With non-fiction, you do need introductions and conclusions to your blog posts / book chapters / etc – but keep them focused and to-the-point.
Stage #3: Proofreading
All writers need to proofread, especially if they're self-publishing. This stage is important for traditional publishing, too, as editors and agents will be put off if your manuscript is riddled with typos.  Proofreading is definitely not my favourite stage of editing: it means being patient and going slowly – two things I'm not great at!
Three Proofreading Tips
#1: Work in Short Bursts
If you find proofreading a bit tedious, work on it for 20 – 40 minutes at a time. If you try to stare at the text you've written for hours, you'll find yourself missing mistakes as your eyes glaze over. Remember, at this stage, you're checking for problems with things like grammar, spelling, and punctuation. Try to resist the urge to endlessly rewrite sentences that don't have anything wrong with them.
#2: Read Out Loud
While I cringe at the thought of this one, I know that reading out loud is a brilliant way to make mistakes leap out from the page. You might do this during the editing phase, too. It forces you to slow down, and it can also help you spot moments where the rhythm of your writing needs tweaking.
#3: Read On Paper or a Different Device
If you really don't want to read aloud, reading on paper, on your Kindle, or on your phone or tablet can work very well. There's something about getting away from the screen that makes it easier to spot typos – maybe because it gets you firmly out of composition mode and into reading/editing mode.
So that's it – the three stages of editing, and my nine tips for getting through each type of editing as smoothly as possible. I hope this workflow helps you to turn your first draft into a finished masterpiece.
---
Want More Help Editing a Novel?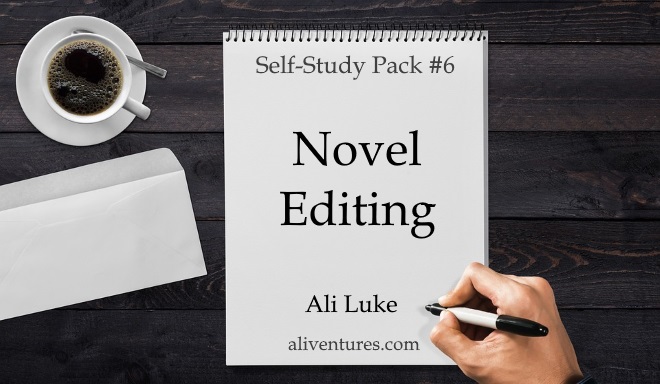 If you'd like more in-depth guidance on novel editing, check out my Novel Editing Pack.
It's a set of four self-study seminars that you can work through at your own pace, including tips on fixing the structure of your novel, how to avoid errors and plot holes, and how to keep track of everything while you edit. It's just $20 for the whole pack.
About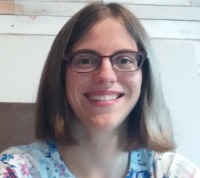 I'm Ali Luke, and I live in Leeds in the UK with my husband and two children.
Aliventures is where I help you master the art, craft and business of writing.
My Novels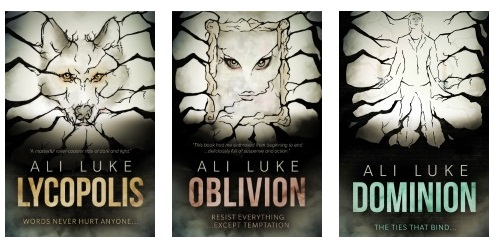 My contemporary fantasy trilogy is available from Amazon. The books follow on from one another, so read Lycopolis first.
You can buy them all from Amazon, or read them FREE in Kindle Unlimited.