Supercharge
Your Writing Session
Ebook + Printables
Are you finding it really hard to get your writing done?
Maybe you keep hoping that you'll have time to write … but it never seems to happen.
Maybe you sit down to write in the evenings — and you just can't concentrate.
Maybe you want to write when you feel inspired, but that doesn't seem to be happening very often.
Maybe you feel guilty or frustrated that you're not managing to do more writing.
Supercharge Your Writing Session is for you.
Supercharge Your Writing Session Ebook
This short ebook (24 pages, .pdf format) takes you through every aspect of having a great writing session.
It covers why specific writing sessions are crucial (not just writing when inspiration strikes), how long your sessions should be, when to have your writing sessions, how to get your physical space working for you, how to set yourself up for focus, and what to do if you get distracted.
I've kept it compact and to the point, because I want your focus to be on actually writing, not on reading about writing. 😉
Supercharge Your Writing Session Printables
As well as the Supercharge Your Writing Session ebook, you'll get these extras too:
#1: The Writing Routine printable. Use this to craft your perfect routine for setting things up so you can have a great writing session every time.
#2: The Writing Session planner. Print as many copies of this one as you like, and fill one in at the start of each writing session to keep you on track.
#3: The Writing Jump Starts sheet. This is designed to get you unstuck when you hit a roadblock in the piece that you're writing. It has both fiction and nonfiction options.
Each of these has a nice colourful version plus a black and white version in case you prefer not to use too much printer ink.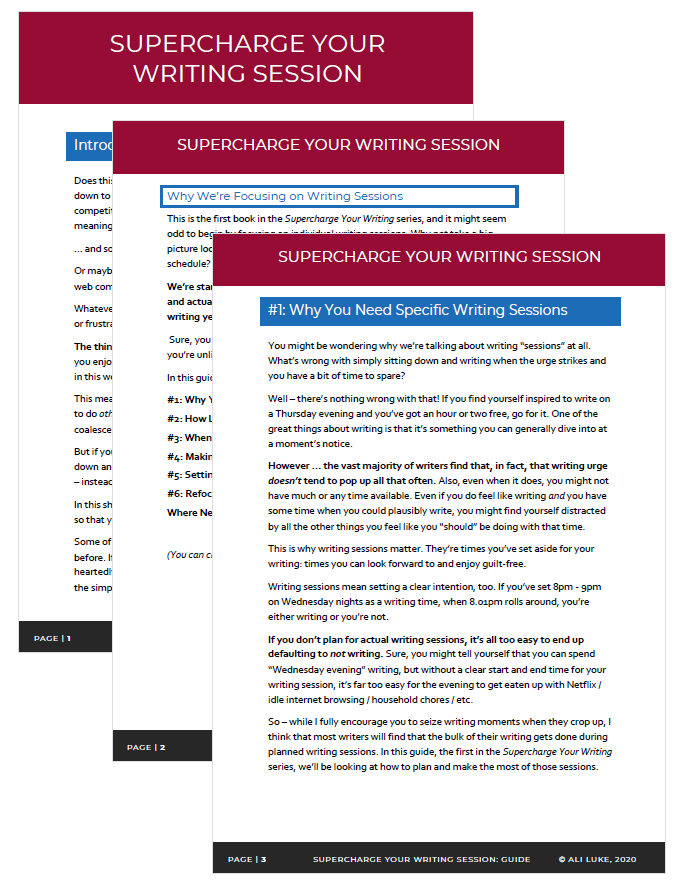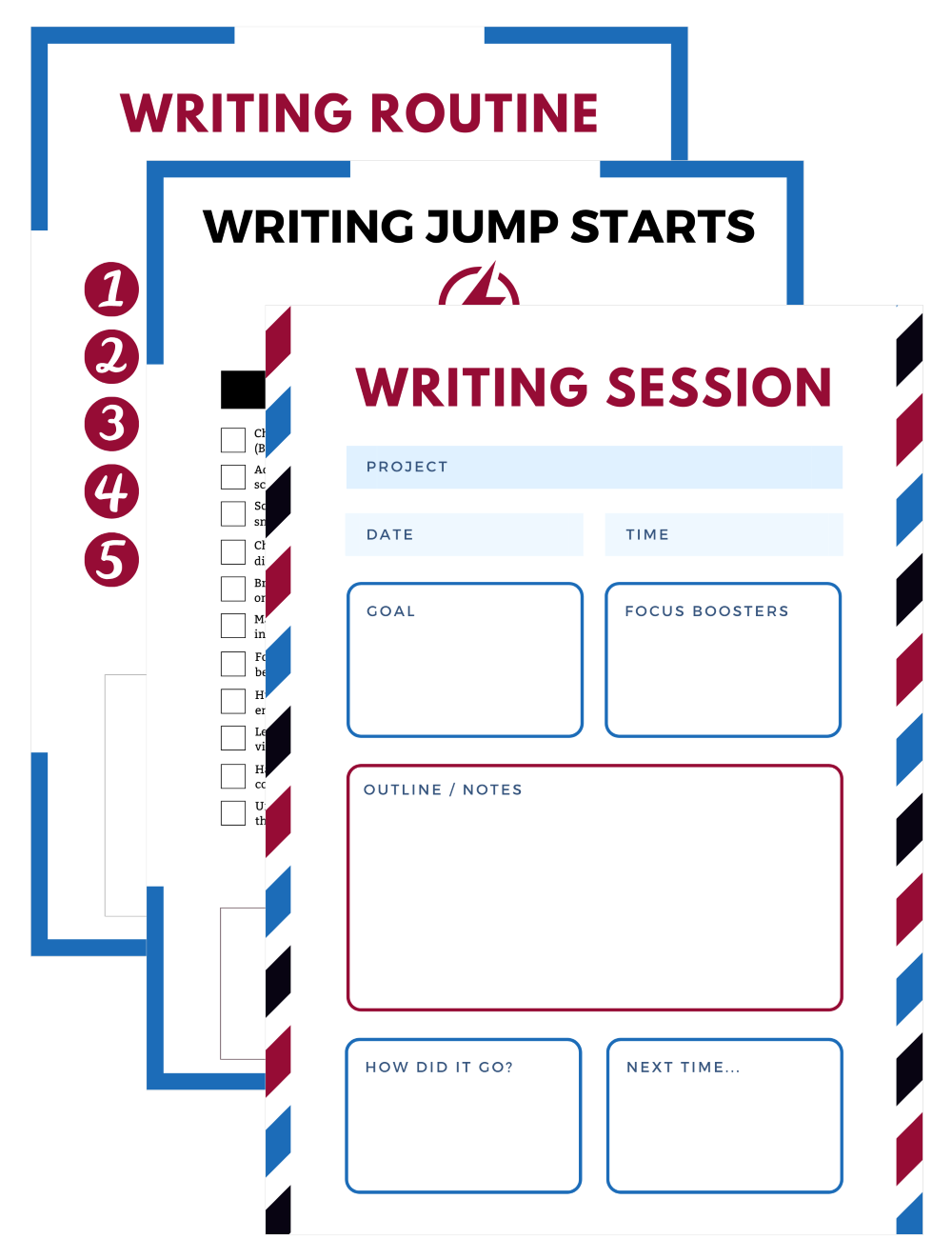 Special Bonus: The Aliventures Club
Whenever you buy anything from me, you get full access to The Aliventures Club, my Facebook group.
This is a place to chat about writing, share your successes, ask questions, and get support.
It's a completely private group, so only fellow members of the group will see what you post.
It's the best place to get access to me, too, and you can join as soon as you buy. I'm looking forward to seeing you there!

Get More Writing Done
(and Enjoy It More, Too)
If you'd like to focus better, get more writing done, and enjoy the process …. Supercharge Your Writing Session will help.
As soon as you buy, you'll get full access to your purchased ebook(s) and printables.
If you buy any/all of the Supercharge Your Writing guides and later decide they're not right for you, just let me know within 30 days and I'll gladly refund you in full.