What to Do When Your Writing Goals Seem a Long Way Off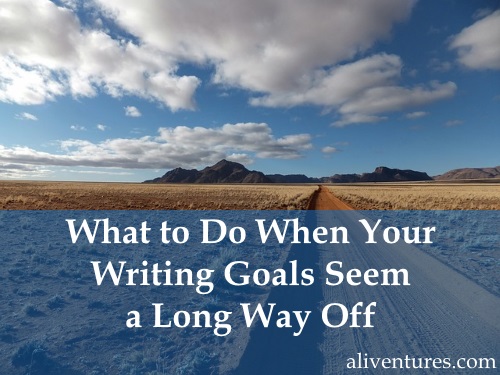 What do you want to achieve with your writing?
You might have all sorts of goals. Here are just a few possibilities:
You want to win a short story competition.
You want to make an extra $500/month freelancing.
You want to make a full-time living as a fantasy novelist.
You want to sell 100,000 copies of your latest book.
You want to get a book onto the New York Times bestseller list.
Some goals are more "realistic" than others. Some goals might take years or even decades to achieve.
Whatever your writing goals are, you might feel like they're a very long way off. If you've currently written a total of two short stories, ever, then making a full-time living writing fiction is going to take a while.
When your goals seem so far away, it's easy to get discouraged – or even to give up entirely. If you're going to keep writing, you need to do three key things:
Set intermediate goals
Get support from other writers
Review your progress regularly
#1: Set Intermediate Goals
Let's say your big, "I've made it as a writer" goal is to sell 100,000 copies of your book.
That's a pretty huge goal. It's also one that's easy to break down. Intermediate goals might look like:
Sell 100 copies
Sell 1,000 copies
Sell 10,000 copies
Sell 50,000 copies
Each stage is another big step on the way to your goal, and each gives you a good target to aim for.
Some big goals don't break down quite so easily. If you want to "make a living writing novels", for instance, you'll need to think about what meaningful steps you can celebrate along the way. Those might be:
Completing the first draft of your first novel.
Publishing your first novel.
Reaching $100/month income from your novel.
… and so on.
Little steps really do add up, and it can be much more motivating to aim for something that's reachable within a few weeks or months, rather than to constantly look ahead at a goal that lies years in the future.
You may even feel that you're happiest setting smallish, short-term goals and not worrying about what your next step or goal is going to be … that's fine too. You don't have to have big goals!
#2: Get Support from Other Writers
To stick with writing over the long-term, you need companions on your journey: fellow writers. They'll be an invaluable source of encouragement and of practical help and support.
Some great places to find supportive writers include:
Local writing groups. If your area doesn't have one, set one up! All the groups I've been part of have been friendly and supportive, and an excellent way to share my writing and get feedback (nerve-wracking though that may be)!
Online forums and groups – Writing Magazine runs a popular "Talkback" forum, for instance, where writers get together to chat about writing.
Blogs and podcasts. If you wish you could be mentored by a more experience writer … well, often, you can! There are some excellent blogs and podcasts about writing that'll teach you a huge amount (and you'll often find out about lessons that other writers learnt the hard way). Try The Creative Penn, Helping Writers Become Authors and The Write Life.
Membership groups. I'm a member of ALLi (the Alliance of Independent Authors) – and their excellent, supportive Facebook group is worth the membership price alone. You may find a different group that suits your goals best, but whatever your writing ambitions are, there's almost certainly a private group out there that could help.
#3: Review Your Progress Regularly
My husband and I talk about our different goals each Sunday evening, and share how we got on during that week. We don't always have much progress to report – but doing this weekly helps us to stay focused on our most important goals for the year.
I also record my monthly achievements in a notebook (I've been doing this since 2008 – it's nice to look back and see how far I've come) – and I share my monthly progress towards my goals in my Writers' Huddle group.
Sometimes, when you're reviewing your progress, you may feel that a particular goal isn't right for you after all. That's fine – you can change it! When I was in my late teens and early 20s, my big goal was to make a living writing fiction. I got into freelancing when I was 23 and found I loved it – almost a decade on, I freelance and write fiction.
What are your big writing goals … and what's your next milestone along the way? Pop a comment below – I'd love to hear what you're up to. 🙂
About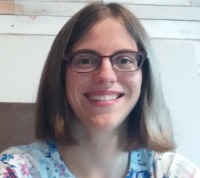 I'm Ali Luke, and I live in Leeds in the UK with my husband and two children.
Aliventures is where I help you master the art, craft and business of writing.
My Novels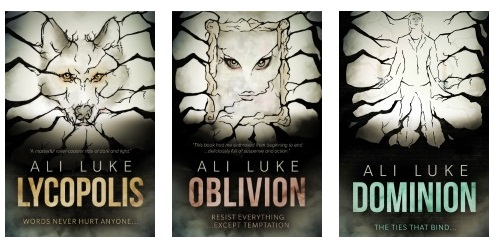 My contemporary fantasy trilogy is available from Amazon. The books follow on from one another, so read Lycopolis first.
You can buy them all from Amazon, or read them FREE in Kindle Unlimited.