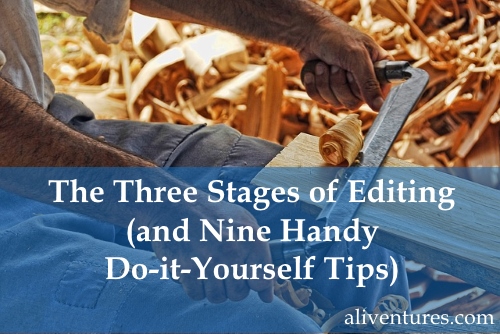 Note: This post was originally published in 2014, and was updated in March 2018.
Whether you love editing or hate it, if you're a writer, there's no way to avoid it.
You may well have support – from beta readers, your spouse, your writers' circle, or a professional editor – but a fair amount of editing needs to be done alone.
I find that "editing" encompasses three distinct stages. If you're writing a blog post, each of these might take minutes; for a novel, they might take months … but however long or short your work, they're all important.
The three stages are:
Rewriting – adding and cutting whole chunks (scenes, chapters, paragraphs), and moving and reworking material.
Editing – this is what I think of as "true" editing: reworking individual paragraphs and sentences, adding or cutting smaller sections.
Proofreading – checking that what you think you wrote is what you actually wrote, and fixing typos and spelling mistakes.
Each stage requires a different approach, and here's how I suggest you tackle them.
Continue reading »