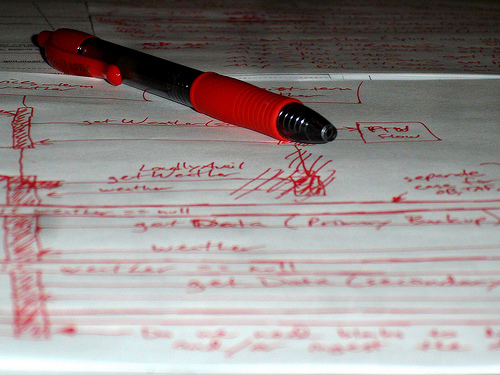 Image from Flickr by pheaber
Last week's post on The Four Essential Stages of Writing got some great comments, including this one from Ainslie:
I must admit that I am beginning to enjoy the redrafting and editing phase of my work a whole lot more since working with you as my Writing Coach, I now spend time looking at specific words and phrases and really making sure if they fit with the message I am conveying.

I am really enjoying the process but worry that the constant redrafting may be holding me back as well.
This brings up a great question: how much redrafting and editing is too much?
It's a tricky balance, and it depends on what you're writing and what you're aiming for:
Non-fiction doesn't require so much work as fiction.
A piece for your own blog – fairly ephemeral, provided to readers for free – doesn't require so much redrafting and editing as an ebook which you want to sell.
A book that's going to be printed, rather than published in digital form, is going to be tricky to correct – so you'll want to get it as right as you can, the first time round.
A piece of work which is going to be assessed in some way – for a postgraduate degree, or by agents and publishers – needs thoughtful redrafting and careful editing.
At the moment, I'm working on the fourth draft of my novel. When I read through the whole of draft three, I realised that there were still some areas which need work.
Am I being a perfectionist?
No, I don't think so. When I send this book to agents, I want it to be as good as I can make it. If I'm honest with myself, it's not quite there yet.
If extensive redrafting is need, it's usually pretty obvious. There'll be confused or repetitive sections in your ebook, or chapters where your novel sags. Your blog post will be missing an introduction or conclusion.
Sure, you can get bogged down in shifting chapters around – trying them one way, then going back to how they originally were – but, generally, you'll find it easy to move on from redrafting.
It's editing where writers get stuck. We want every word and phrase and sentence to be just right – and that's not a bad thing to want.
Editing starts to harm your writing, though, when:
You spend all your time tweaking words, rather than writing something new.
You start changing things which originally seemed fine, because you're beginning to doubt them.
You edit out the voice and energy of your work – it's possible to over polish.
You know that there's something wrong, but you can't work out how to fix it – and you're stuck for ages on one paragraph.
At some point, you need to let go. During the editing stage, you might want to ask a fellow writer to look through your work – a second pair of eyes can spot mistakes that you miss, and a second opinion might reassure you that your piece is finished.
It also helps to have a deadline in mind: decide on the launch date for your ebook, or fix a date to start emailing agents, or commit to a regular schedule with your blog posts. That way, you'll be focused on finishing, not on perfection.
Good luck!
I'm now offering writing coaching by email as well as by phone. If you need a hand with your editing but hate talking on the phone, or can't find a whole free hour, then check out the email coaching on my coaching page (scroll down to just under the red pen).