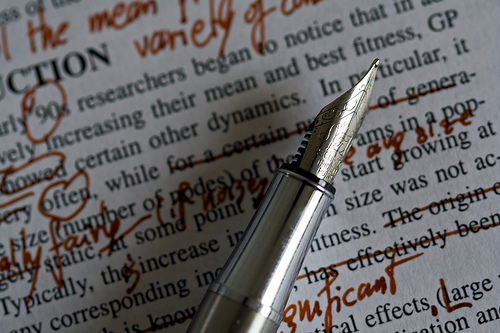 (Image from Flickr by Unhindered by Talent)
Have you ever read a book that was way too wordy? (For me, Stephen Covey's otherwise excellent 7 Habits of Highly Effective People comes to mind…)
The content itself might have been good – but the substance ended up buried beneath a froth of unnecessary words. Perhaps you found it hard to stay focused, or you simply stopped reading.
When you write – especially if you're writing online – it's important to avoid waffle. At best, a vague and waffly piece won't have a strong impact on the reader. At worst, you'll not only lose readers, they'll mentally note you down as a writer to avoid.
So, how do you go about cutting the waffle from your writing?
Step #1: Get Clear About the Topic
Whatever you've written – whether it's a novel, an ebook or a blog post – you need to figure out what belongs and what doesn't. Hopefully, some of this happened at the planning stage, but your ideas may have shifted while you wrote.
Have you included a chapter in your ebook that should really be a separate blog post? Does your novel have a scene which just doesn't fit? Would your blog post be more powerful if you took out that long explanation in the middle and made it into a separate piece?
This isn't about how good your writing is. You might have crafted a beautiful scene for your novel … but you may realise, when rewriting, that it simply isn't going anywhere.
Do It:
Write down a one-sentence summary of your post/book/etc.
Skim through and ask yourself does this fit? for each major section
Step #2: Cut Out Any Paragraphs That Don't Belong
Now you can start drilling down within each section or chapter. Look for paragraphs that don't belong – especially anything that's repetitive. If you've said the same thing twice, do you want that repetition for emphasis, or can you just cut it?
You'll want to check for any waffly paragraphs:
At the start of your piece. Could your second paragraph make a more powerful opening?
In any particularly long sections or chapters. Do they need to be that long, or did you waffle?
Again, this isn't about the quality of your writing. You might have opened your short story with five paragraphs of detailed description … but however wonderful the words, you may well decide that you need to cut straight to the action.
Do It:
Go through your work with a red pen and mark any paragraph that doesn't belong, or that repeats information
Consider whether you want to cut these paragraphs (you can always save them in a separate document)
Step #3: Cut Unnecessary Words and Phrases
This is the stage that writers tend to think of first: cutting the flab from every sentence. (You could decide to do this as Step #1, but you'd end up wasting a lot of work if you later took out a whole, polished, chapter…)
Watch for phrases like:
It is my opinion that
I think
I believe
Some people consider
You may want to
Occasionally, you will need these. Often (especially in blogging) you can cut them entirely.
Check for words like:
You can often cut these and make your sentences stronger. Yep, I know that you'd think really and very would provide emphasis – but they're often a bit weak. "Very big" isn't as powerful as "enormous" or "huge".
Don't get too zealous about cutting, though; your voice and style might need a few not-strictly-necessary words in order to come through fully.
Do It:
Print out a few paragraphs of your work, double spaced. Go through with a red pen and see how many words you can remove (while still keeping the meaning).
Run a search on your document for any phrases that you tend to over-use.
Sometimes, hesitancy in your writing can be a symptom of a lack of confidence. I'll be tackling writerly confidence in my next post, so grab the RSS feed (or pop your email address in the box below) to make sure you don't miss out: