The Two Scenes in Your Novel That Will Need the Most Rewriting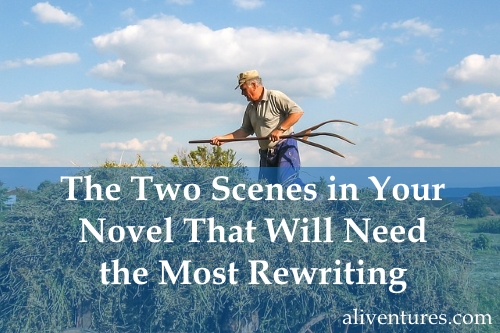 Novels are tricky. There's so much to juggle that no-one gets it quite right the first time round … and most authors end up doing wholesale rewrites, rather than just making a few editorial tweaks.
I've come to accept that rewriting is just part of the process of creating a novel. Each time I start work on a new book, I want to be a more efficient writer – and while I have found some things easier, I still end up doing a lot of rewriting and reworking.
Maybe it's the same way for you.
Whether you're working on your first draft of your first novel, or you've completed a bunch of novels already, there are two scenes that you're likely to spend a lot of time rewriting:
The opening of your novel
The climax of your novel
However hard you worked in the first draft, and however much you planned, these are just really difficult scenes to pull off well.
But the good news is – even if your first draft doesn't quite hang together in these key areas, rewrites can fix anything!
Why Your Opening Scene (Probably) Needs Rewriting
The first scene of your novel needs to do a lot of heavy lifting. It has to get the story going – no mean feat! – and it has to establish your main character(s). At the same time, it needs to set the tone for what's to come and it has to "hook" your reader.
Plus, unless you draft your book patchwork-quilt style, working on scenes here and there and stitching them all together at the end, the opening scene is probably the very first thing you wrote when you began your first draft. Chances are, your ideas have shifted a bit (or a lot!) since then.
The first scene of my novel Lycopolis went through about a dozen rewrites. I had several completely different versions of that scene – in the very first draft, for instance, I went with an omniscient perspective dipping in and out of all my different characters' viewpoints. It soon became clear that this wasn't going to mesh well with the limited close third-person perspective I ended up using for the rest of the novel.
If the current draft of your opening scene isn't quite working, you might want to ask yourself:
Have I started this novel at the right moment? Would it be better to skip the preamble and jump straight into the action? Or, conversely, do you need to backtrack and start a little earlier?
Does this scene introduce my main character(s)? If not, is there a good reason – or would it be better to start with them?
Is there a "hook" in this scene … something that would capture readers' interest and keep them turning the pages? It doesn't need to be something huge and dramatic, unless your genre requires that.
Does this scene fit well with the rest of my novel? You could write a brilliant first three pages for a competition or a literary agent … but if they seem to belong to a different book altogether, they're not going to get you far!
Does this scene get bogged down in describing your character(s)? Introducing your characters to the reader doesn't mean detailing every aspect of their appearance. Too much description can stall your novel before it even gets going.
Why the Climax of Your Novel (Probably) Needs Rewriting
The climax of the novel is the high point of tension/action where everything comes together. Your protagonist, after the greatest trial yet, finally wins what they were after all along. (Or, in a less happier novel, your protagonist finally fails irrevocably.)
The climax, like the opening, needs to do a huge amount of work. It has to pull together lots of different threads from your novel, and potentially quite a few different characters. In many novels, your hero has to face what seem like insurmountable odds … and s/he needs to triumph regardless. But that triumph must be earned, and convincing.
Invariably, I find that the first time I draft this scene in my novels, it falls a little flat. The action isn't dramatic enough. The very real possibility of danger isn't potent enough. The characters don't struggle enough. With each rewrite, the climax involves more tension, danger and drama.
Occasionally, after the first draft, I find I've changed my mind about how it should all end. This happened with my second novel, Oblivion, which took a long time (my kids were both born along the way!) and where I realised that I wanted the novel to end quite differently from how I'd originally planned.
If the climax of your novel isn't quite coming together, you might want to ask yourself:
Is my protagonist struggling (and even suffering) as much as they should here? How could I make this harder for them?
What price does my protagonist pay for success? If they haven't already sacrificed something to get to this point, maybe that should happen during the climax.
Have I tied up various loose ends from the novel? (It might well be fine to address some of these after the climax, in the final pages of the novel – but be careful it doesn't end up dragging on too long.)
Does the victory come because of the protagonist's actions? Does it fit with their character arc throughout the novel? If someone else steps in to save the day, or if the protagonist wins through a stroke of luck or an act of God, the climax might feel unsatisfying to your readers.
If you find yourself rewriting your opening scene and the climax of your novel multiple times, don't be surprised or dismayed – it's perfectly normal to end up reworking these a lot. Other scenes in your novel might need much less attention, because they're neither so complex nor so crucial to your novel's structure.
With my own novels, I've definitely had times when I felt like I would never get these scenes finished to my satisfaction. Eventually I did! If you're at that stage right now, hang on in there – take a break or get someone else's input if you can, and then get back to the rewrites. Good luck!
---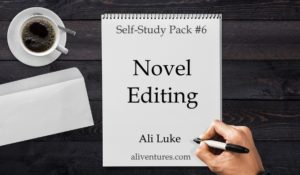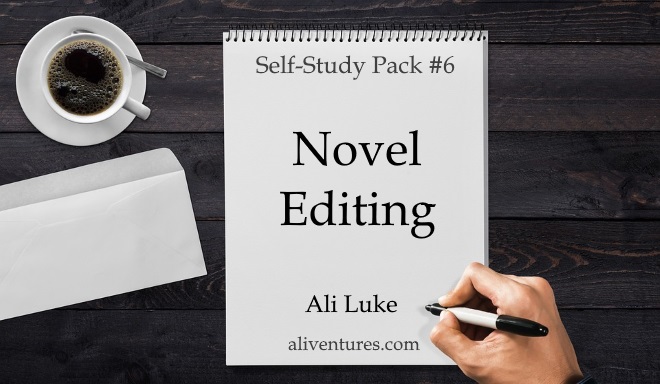 Want some help editing your novel? Check out The Novel Editing Pack, a set of self-study seminars and worksheets that'll give you the tools you need to get your novel into shape.
The four seminars in the pack include:
Structuring and Outlining Your Novel, with K.M. Weiland
Revising and Editing Fiction

 

(video)
Seven Things to Watch Out For When You Rewrite Your Novel
How to Keep Track of Your Novel When You're Editing
You can buy it from the self-study seminars page here.
About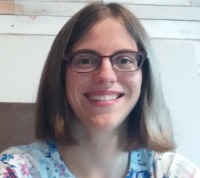 I'm Ali Luke, and I live in Leeds in the UK with my husband and two children.
Aliventures is where I help you master the art, craft and business of writing.
My Novels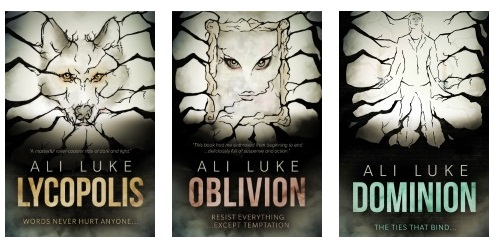 My contemporary fantasy trilogy is available from Amazon. The books follow on from one another, so read Lycopolis first.
You can buy them all from Amazon, or read them FREE in Kindle Unlimited.