Below, you'll find a selection of books, ebooks, products and services that I've used and loved: they've added to my life in all sorts of different ways, from the ebooks which gave me a bunch of new ideas to the software that's saved me time and hassle…
Note: in most cases, links within the review are affiliate links, which means I get a few dollars commission if you decide to buy something. This helps me continue to write here on Aliventures! You can read my review and recommendations policy here. This applies to most Amazon links on my site, too: as an Amazon Associate I earn from qualifying purchases.
Just click on the title of a product/service, or on the words "click here for full review", to read more about it.
Writing and Blogging
ebook by Darren Rowse and Glenn Murray
A 100-page ebook that's invalable for newer bloggers, but also has a lot to offer more experienced writers. Nicely designed, with a great "Scorecard" so you can rate your posts and pin-point exact areas of improvement. Click here for full review.
ebook by Darren Rowse
A workshop-style ebook from "ProBlogger" himself, with solid theory and practical tasks for you to do each day. Great to work through on your own, or with a group of friends. Pretty much required reading for bloggers. Click here for full review.

workshop by Pace and Kyeli Smith
Pace and Kyeli ran this workshop online in 2010, and subsequently packaged it into the "workshop in a box". You get seven hour-long interviews with some fantastic writers, plus a ton of bonus material. Well worth checking out, and applicable to writers of fiction and non-fiction. Click here for full review.
Shorter Reviews for Writers
I've got some short reviews of books for freelancer writers (they don't assume any prior experience or knowledge), and of course there's my own Staff Blogging Course if you're interested in finding paid blogging jobs. (I've quoted from and linked to other people's reviews there.)
If you're creatively inclined, I've reviewed some books for fiction writers: take a look!
Freelancing

ebook by Mason Hipp (Freelance Folder) and James Chartrand  (Men With Pens)
This is a great and in my opinion underpriced ebook. It has a few points in common with How to be a Rockstar Freelancer, but is more focused on helping existing freelancers to go further – particularly with partnerships and passive income opportunities. I picked up some great tips from this one, and wouldn't be without it. Click here for full review.

ebook / book by Cyan and Collis Ta'eed (Freelance Switch, Envato, and more)
This was the first book about freelancing I bought, and it gave me a lot more confidence, set me on the right path, and prevented me from making any rookie mistakes. It's a comprehensive and encouraging read. If you're eventhinking about giving freelancing a go, you'll want to check this out. Click here for full review.

ebook by Skellie of Skelliewag.org
If you're a blogger (or even if you're just interested in being a blogger), this is a brilliant introduction to freelancing and using your blog to get clients. Skellie's one of my favourite bloggers-about-blogging of all time, and this ebook is fantastic and very action focused and practical. Click here for full review.

ebook and audio program by Charlie Gilkey and Jonathan Mead
This is a a high-level, very beautiful ebook with a set of concise audio files that get right to the heart of seven tenets of doing more real, meaningful work. There's no cult-of-productivity stuff here and no files or folders or inbox systems –just really good advice and thought-provoking ideas from two great coaches. Click here for full review.
Entrepreneurship

book by Timothy Ferriss
I don't agree with all of what Tim Ferriss says, but this is a great book packed with information, ideas and enthusiasm. It's caused big waves in the blogosphere, and in my opinion, it just about lives up to the hype. There's an updated new edition out – this review refers to the first version. Click here for full review.

book by Jonathan Fields
A great little book which makes an interesting companion to Tim Ferriss'. If you're looking for a way to make your passion pay, grab this. Jonathan includes some great advice on how to explain to your family that you're quitting your nice safe day job to follow your heart. Click here for full review.

ebook (with extras) by Glen Allsopp of PluginID / ViperChill
Great ebook for bloggers or niche website folks. Glen makes an extremely good living online, and he's been working in the web marketing and social media industry since he was fifteen. This ebook shares his secrets in an easy to implement, actionable way. Comes with extras like videos and a mini-website template, too. Click here for full review.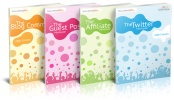 ebooks by Jade Craven
CURRENTLY OFF THE MARKET
A great set of short ebooks covering four key areas for online networking: guest posting on blogs, commenting on blogs, affiliate marketing and promotions, and using Twitter. If you've got an online business – particularly one focused around a blog – then you need to check this out. Click here for full review.
Creating Ebooks and Digital Products

ebook by the ebook expert Kelly Kingman of Sticky eBooks
A great, encouraging, succinct and straightforward guide to writing ebooks. An absolute must for anyone who's working on an ebook – whether you're just thinking about writing your first, or whether you've got several under your belt. Click here for full review.

ebook by Naomi Dunford and Dave Navarro
A very comprehensive, practical guide to the whole ebook process (not just the launch itself). Packed with advice, and particularly good if you've had a go at an ebook and want to learn more. This is the go-to resource for ebook writers. Click here for full review.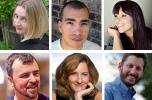 audio program by Kelly Kingman and Pace Smith
A bunch of great interviews with creators of e-courses (online membership programs). If you're considering creating any sort of membership product, this is hugely valuable. Pace and Kelly have interviewed some great names (like Scott Stratten, a regular keynote speaker at conferences). Click here for full review.

software that lets even me make great looking ebook covers…
I found this incredibly easy and intuitive to use. It lets you take a flat image and turn it into one of those cool book-like pics you see on ebook sales pages. There are loads of templates and options to choose from (e.g. workbook or CD style images) so you can customise yours to look exactly how you want. Click here for full review.
Time Management

audio program and ebook by Charlie Gilkey
Whether you're an entrepreneur or not, email can be a problem – but if you've got your own business, you really need to keep on top of it. An empty inbox might sound nice (so does a sparkling clean house) – but it's an unrealistic ideal for most of us. Charlie takes a calm, collected and easy-to-implement approach to get you on top of things. Click here for full review.
Website Creation
Dreamhost – from $5.95/month

web hosting
I use Dreamhost for Aliventures, and for a bunch of my other sites (including a few for clients). They're ideal for small businesses and bloggers, particularly with their "one click install" of WordPress, phpbb, and other software. Their support team is great and very responsive. Click here for full review.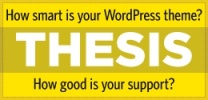 WordPress theme from DIYThemes
I use Thesis not just on Aliventures but also on blogs and websites I've made for family members. I've been impressed with how versatile it is, and with the amount of support and help available. Frequent updates have added in even more awesome new features. Thesis has saved me a huge amount of time of clutzing around customising WordPress themes. Click here for full review.
Life

book by Tim Brownson and John P Strelecky
This ebook from acclaimed coach Tim Brownson and best-selling author John P Strelecky is an in-depth guide to figuring out your values, finding out what you want from life, and becoming rich and happy. Don't be put off by the title – there's nothing spammy here, just quality advice in a beautifully designed, fun-to-read package. Tim and John are also using profits to give away copies of the books to the people who need them most. Click here for full review.

ebook by Kat Eden
Another dodgy-sounding title – but a quality ebook packed with expert information and concrete advice, as well as tons of motivational tips. If you've been struggling with weight loss for a while (join the club!) then you'll want to take a look at this. Click here for full review.