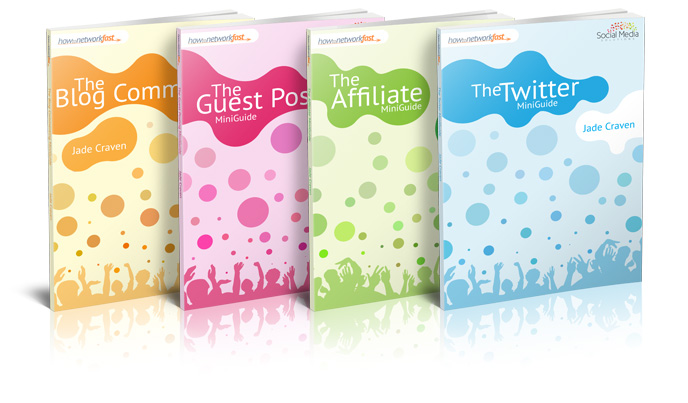 Overview
Beyond Networking: How to Get the A-Listers On Speed Dial is a four-part course from Jade Craven of JadeCraven.com and Social Media Solutions.
It consists of four separate MiniGuides in PDF format, covering guest posting, twitter, blog commenting and being an affiliate.
The price
CURRENTLY OFF THE MARKET
What's included
Four stand-alone guides:
Guest Posting MiniGuide (43 pages)
Twitter MiniGuide (45 pages)
Blog Commenting MiniGuide (20 pages)
Affiliate MiniGuide (note – shorter than the others at 16 pages, and available as a free sample)
The Blog Commenting MiniGuide is only available as part of the package, and isn't sold separately.
Good stuff
If you asked me for someone who was a great networker in the online world, Jade's name would be the first one which came to my mind. So I had high expectations of this course … and happily, I wasn't disappointed.
These are just a few of the good points:
No Fluff
These MiniGuides are, as you might expect from the name, short and succinct. Jade gets straight to the point and doesn't fluff them out with unnecessary advice. I'm particularly glad that she doesn't hand-hold the reader through the process of signing up on Twitter or typing names into a comment field, etc … anyone who's buying this course will be past the total newbie stage.
Highly Actionable Advice
Jade doesn't waffle about theory. She gives concrete, solid advice based on real experience. She's extremely active on Twitter and in blog comments, she does lots of affiliate reviews (and works with other affiliates to help them), and she's one of the best guest posters I know. Each of these four guides is packed with the knowledge that Jade's learned the hard way in the online trenches … and she's not holding anything back here.
She gives very clear steps on topics which I was hazy about, like how to create an effective Twitter list. I'd never given much thought to this and never thought of using it as a way of networking – so this has opened up several new ideas for me.
No Sugarcoating
Jade is encouraging and warm throughout, but also totally honest. She doesn't try to convince you that you don't have to do any real work, or that it'll always go smoothly. I particularly liked the section in the Guest Posting Guide headed "Warning: It's Not Always Easy", where she outlines some of the difficulties you might face when you guest post.
This isn't off-putting, but it lets you prepare – mentally and practically – for possible problems.
Great Design
I'm not too bothered about design usually, but these MiniGuides were simply gorgeous. They're easy to read on the screen, and they have fun, bubby covers which made me feel good just opening them up. Yes, I know I'm a bit shallow 😉 but I did appreciate the effort that Jade had put in to get these designed well.
Bad stuff
In case you couldn't tell from all that good stuff, I really liked this; it was exactly my kind of course – all written, beautifully designed, and packed with concrete information (lots of which was new to me). However, I had one suggestion for improvement for the 4-in-1 deal:
Not sure where to start
You could pick up these MiniGuides in any order, which is one of the benefits of the course structure. The drawback is that if you're busy and not sure where to begin, you might feel a little overwhelmed. I wondered if Jade could have included a quick questionnaire or worksheet to offer some tips on how to get going.
Verdict
This is a great course if you're serious about using social media to grow your business. At $44, this is bit of an investment – not something to buy on a hobbyist whim. Though, do go and download the Affiliate MiniGuide (which is a free sample) if you've got any interest in affiliate marketing.
If you've not had any experience with Twitter, blogging and so on, I'd urge you to dip your toes in before buying these guides. If you're interested in just guest posting or twitter, you could purchase those individual guides. If you can afford it, though, I'd highly recommend going for the whole package for $44 – it's a great deal, as it effectively means you get the Blog Commenting MiniGuide for just $6!
If you're looking to take your networking to the next level – especially if you're struggling to make connections with the "A listers" of your niche – then this is exactly what you need. Go and check out the sales page here to find out more.
I'm a proud affiliate for this: Jade's a great friend, one of the nicest and most genuine people I know, and a rising star in the blogosphere. 🙂