Overview

Engaging eCourses is a set of interviews with various people who've created e-courses on a wide range of topics. The focus is on making an e-course which people will complete, rather than one they'll buy and never look at again.
(An e-course is any electronically-delivered course material – it could be a time-specific course, such as an 8 week program, or self-paced, or a membership site of indefinite length.)
The price
$97. I bought it during the launch sale at half-price, and felt it was extremely good value.
What's included
Engaging eCourses consists mainly of audio files, with some pdf bonuses thrown in.
You'll get interviews with six people who run successful e-courses:
Mark Silver (Heart of Money e-course)
Sonia Simone (Remarkable Marketing Blueprint)
Charlie Gilkey (Email Triage and The Dojo)
Danielle LaPorte (Fire Starter Sessions)
Scott Stratten (UnBootcamp)
Pam Slim (the $100 Business Forum)
All of these interviews run for about an hour.
There are also three bonus interviews, about 30 minutes each, with:
Nathalie Lussier (Cure Cravings Forever)
Cath Duncan (the Bottom-Line Bookclub and Dreaming to Delivering Mastermind)
Susan Johnstone (15 Minutes a Day to Outsmarting Your Resistance)
Each interview comes with an index of key points and times.
You'll also get some other bonuses – Kelly and Pace have even added in a couple of extra interviews since I bought Engaging eCourses, so check out the list on their sales page for more details.
Good stuff
Really High Quality Content
I listened to most of Engaging eCourses on my way to BlogWorld 2010, and it was definitely one of the better plane journey's I've had! I was familiar with some of the speakers and not others, but they all had great things to say and I found myself scribbling down loads of notes, as you can see: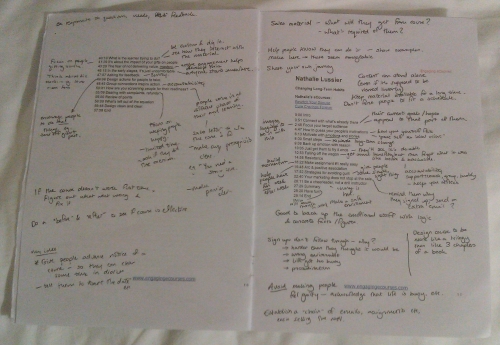 There was no fluff or filler here: each call was giving me new ideas and great information, with lots of actionable advice and specific tips.
Inspiring and Encouraging
After the first two calls I had to take a break and do some more writing: I'd had an idea for an e-course! Pace and Kelly have done a great job of picking fun, inspiring and very genuine people to interview – who care about the results that their buyers get.
I'm keen to start creating my own e-courses in the near future, and I feel an awful lot more confident now I've heard the insiders' experiences. It was particularly great to hear about the experts' earlier attempts at e-courses; I realised that I don't have to start with a massive six-month course or a huge membership site.
Wide Range of Expert Opinions
I really liked having a bunch of different interviewees in Engaging eCourses; it meant that I got a great spectrum of ideas and thoughts. Pace and Kelly clearly put a lot of thought into getting people who'd done different types of eCourse, and there were plenty of pieces of advice which cropped up, independently, in several interviews – so I was confident that these points really were good ones!
There are some very big names in here, too; Scott Stratten, for instance, was the opening keynote at BlogWorld.
Bad stuff
My only gripe is that I'd like transcripts. At half price ($43.50), Engaging eCourses was a great bargain even without them – but I feel that at the $97 price point, transcripts of the calls could be included.
In fairness, though, the index to each call made it very easy to follow along, even for a text-junkie like me.
At times, the sound quality was a little bit variable, but that's to be expected with interviews.
Verdict
If you've got any plans to create an e-course, then click here and check out Engaging eCourses (and buy it!) You'll learn how to construct something which will really help people, and you'll get a ton of ideas from hearing what others have done.
Yes, it's $97 – but I'd be amazed if you didn't make back far more than that in sales of your own e-course – and in repeated sales to satisfied customers!
(NB: I'm a proud affiliate for Pace and Kelly. I've met both of them at conferences, and they're just as lovely in person as they are online.)