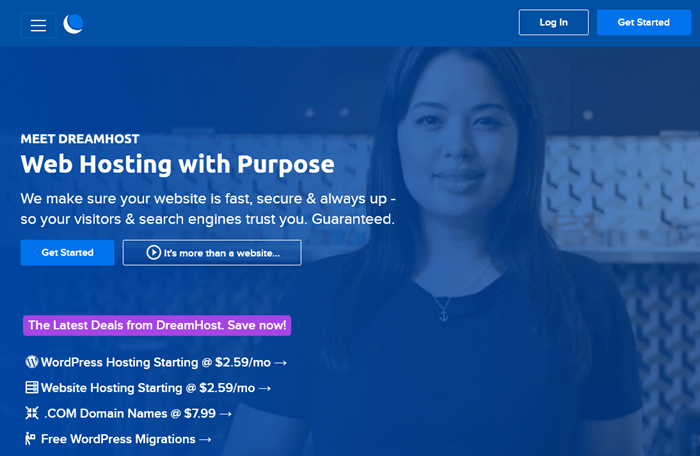 Last updated May 2021.
Overview
Dreamhost provide web hosting, domain name registration, and a heck of a lot more (like one-click installs of popular software such as WordPress and Joomla). They're perfect for bloggers, small online business owners, or anyone who needs a site that's a step up from the "hobby" level.
Price
Although Dreamhost state that you can get hosting from $2.59/month, this does rely on you buying three years' worth in advance! More realistically, you're looking at $2.95/month if you pay annually (still a great bargain) or $4.95/month if you pay monthly, for the Shared Starter plan. The Shared Unlimited plan is a little more.
Note that the prices will rise (after 3 months when paying monthly, or the end of 1 or 3 years if you chose one of those options) to the standard rate, so it's worth checking the fine print.
For instance, at the time of writing, the $4.95/month price for the Shared Starter plan rose to $6.99/month after the first 3 months.
What's Included?
I'll spare you all the techy details: for pretty much anyone reading this, you can do anything you want to (and lots of things you'll never have considered) with your Dreamhost space, from running a blog to a forum to a shop.
On the Shared Starter plan, Dreamhost gives you one domain name, 50GB of storage, and unlimited bandwidth. If you pay for an annual plan, you get the domain name for free.
If you want to create more than one website, I'd recommend the Shared Unlimited plan. It costs just $2.95/month for the annual plan, though this does increase to $12.99/month after the first year.
With this plan, you can host as many domains as you want, and create as many email accounts as you want. (I've have as many as sites on one account in the past, with no problems.) If your site ends up growing huge and getting loads of traffic, you may need to update to a virtual private server, but I found I only needed to do this after about nine years running the Aliventures site.
Good Stuff
I've used Dreamhost for my web hosting since I started out blogging in early 2008. I needed somewhere I could install the WordPress software, and they fitted the bill.
Eleven years later, I'm still an extremely happy customer! I've found the one-click install system absolutely brilliant: it makes it incredibly easy to set up WordPress on a new site, and you can upgrade in just the same way. Their auto-updating of WordPress installations is really handy too.
My Dreamhost control panel is very simple and straightforward to use: unlike other hosting/domain registration companies which I've used, Dreamhost's interface is intuitive, clear and fast.
Dreamhost are also a green, carbon-neutral hosting company.
Tech Support
I want to give a special mention to the Dreamhost tech support team here: a very friendly and capable bunch. They've been fantastic every time I've had a problem, including those of my own making! They're quick and responsive, and always polite too.
Bad Stuff
I have almost nothing  negative to say about Dreamhost: pretty impressive, given that most tech-type companies bug me (you should hear me rant about Virgin Media…)
In my first year or two with Dreamhost, I experienced a few hours of downtime on a few isolated occasions. As mentioned above, their technical support team were always absolutely fantastic; friendly, helpful, and always willing to go the extra mile. The problems were resolved very quickly. In recent years, I haven't noticed any downtime.
Verdict
I'd wholeheartedly recommend Dreamhost for any blogger, small business owner, or hobbyist needing to run a site forum or similar.
Their hosting is very good value for what you get, with a range of options to suit different bloggers and website owners at different stages. The support team is friendly and helpful, there's plenty of clear documentation, and the dashboard is simple and straightforward to use.