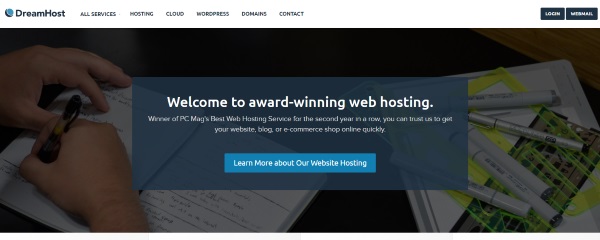 Updated September 2016.
Overview
Dreamhost provide web hosting, domain name registration, and a heck of a lot more (like one-click installs of popular software such as WordPress and Joomla). They're perfect for bloggers, small online business owners, or anyone who needs a site that's a step up from the "hobby" level.
Price
Although Dreamhost state that you can get hosting from $7.95/month, this does rely on you buying three years' worth in advance! More realistically, you're looking at $9.95/month if you pay for one year ($119.40 up front), or $10.95/month if you pay monthly.
However, if you go through this link, you can get $50 off your first year's hosting, making it $69.40 instead of $119.40.
What's Included?
I'll spare you all the techy details: for pretty much anyone reading this, you can do anything you want to (and lots of things you'll never have considered) with your Dreamhost space, from running a blog to a forum to a shop.
Dreamhost gives you unlimited storage and bandwidth. You can host as many domains as you want, and create as many email accounts as you want. (I have 30+ sites on one account there, at present, and no problems whatsoever with that.) You could have a very graphics and video-heavy site on Dreamhost without any problems.
You also get a free domain name for your first year (at a value of $13.95).
Good Stuff
I've used Dreamhost for my web hosting since I started out blogging in early 2008. I needed somewhere I could install the WordPress software, and they fitted the bill.
Eight years later, I'm still an extremely happy customer! I've found the one-click install system absolutely brilliant: it makes it incredibly easy to set up WordPress on a new site, and you can upgrade in just the same way. Their auto-updating of WordPress installations is really handy too.
My Dreamhost control panel is very simple and straightforward to use: unlike other hosting/domain registration companies which I've used, Dreamhost's interface is intuitive, clear and fast.
Dreamhost are also a green, carbon-neutral hosting company. If your online activities cause you qualms of environmental conscience, this should help alleviate them.
Tech Support
I want to give a special mention to the Dreamhost tech support team here: a very friendly and capable bunch. They've been fantastic every time I've had a problem, including those of my own making! They're quick and responsive, and always polite too.
Bad Stuff
I have almost nothing  negative to say about Dreamhost: pretty impressive, given that most tech-type companies bug me (you should hear me rant about Virgin Media…)
I have experienced a few hours of downtime on a few isolated occasions, fairly early in my time using Dreamhost. As mentioned above, their technical support team were always absolutely fantastic; friendly, helpful, and always willing to go the extra mile. The problems were resolved very quickly.
When they needed to move my site to a new server, they warned me in advance, so I could check my sites for any problems or downtime (everything was absolutely fine) and they also gave me unlimited bandwidth and space for life, due to the inconvenience (not that there was any!) I was pretty darn impressed.
Update 06 Nov 2010 – I've  experienced even less downtime in the past year (I can only recall one minor incident, when I had a report of a site down but the site was back up when I checked).
Update 03 Jun 2016 – I continue to host all my sites with Dreamhost, and I'm still very happy with their service. Downtime has been exceedingly minimal, and they've been very quick to respond to any technical support queries I've had.
Verdict
I'd wholeheartedly recommend Dreamhost for any blogger, small business owner, or hobbyist needing to run a site forum or similar. It's not super-cheap, so make sure you go through this link for your $50 discount! For me, though, it's been well worth paying for the peace of mind, the simple and clear interface, and the great technical support (and online documentation).
If you want to make it even more cost-effective, you could also split the cost with a friend, or several friends, by hosting all your sites on one account, or even use Dreamhost to provide websites for clients.