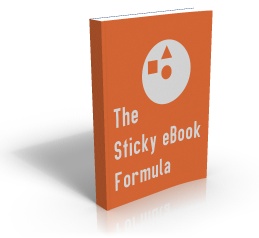 Overview
The Sticky eBook Formula is an ebook by the Queen of ebooks, Kelly Kingman from Sticky Ebooks.
(Have I used "ebook" enough times in that sentence? ;-))
It takes you through Kelly's process for writing ebooks, right from the idea stage to the polishing and designing stage. It's a reassuring, straightforward guide for beginner and intermediate ebook authors.
The price
$27 – which to me seems just about perfect for this, neither too high nor too low.
What's included
The Sticky eBook Formula goes through a step-by-step approach to ebook writing which includes:
Figuring out your topic and what promise you're making to your readers
Organising your ideas so that they're in an order which makes sense
Filling blank pages with all that material in your head
Reordering and revising your ebook
Polishing the ebook till it shines (design and graphics, title, etc)
Kelly has a great graphic which demonstrates this process:

You can also download a couple of sample chapters, so you can have a sneak preview before buying.
Good stuff
I was lucky enough to see a draft version of this ebook, which I loved; the finished ebook is even more awesome, and I've got loads of good things to say. I'll restrict myself to just three key ones…
Expert Advice
Kelly really knows her stuff. She works on ebooks with clients all the time, and she's made a name for herself with her Sticky Ebooks business. Her expertise shines through in this ebook, and allows her to speak not just from her own experience but from that of her clients. This particularly helps when she's suggesting techniques for would-be ebook authors who don't like writing very much, or for those who can't afford to pay a graphic designer.
Great Design
This ebook is not just beautiful, it's intelligently designed, and very easy to read on the screen. There's a "full screen" button at the top of every page on the ebook itself (Adobe does have this option built in but this makes it really easy to toggle to it). There's also a button for the table of contents, which makes it incredibly easy to jump around the ebook.
Straightforward and Encouraging Tone
I met Kelly at SXSW 2010. She's a lovely person (and throws great parties ;-)) and her generous personality shines through in this ebook. Her writing style is very easy to read, and she keeps things clear and straightforward – without dumbing down. She has an encouraging and inspiring tone; so much so that I got distracted part way through reading the ebook in order to get on with writing my own!
Bad stuff
I usually have a few niggles about everything; for once, I got to this part of the review, and felt totally stumped! I don't have anything negative to say about The Sticky eBook Formula.
The only thing which might have made it even better for me would be to have a summary and checklist (perhaps in a separate, printer-friendly pdf) that I could keep on my desk while working on an ebook.
Verdict
If you've been wanting to write an ebook for a while and have never managed to get started, go check this out.
If you've got a few ebooks under your belt, but feel there's a more effective way to plan, write and polish them, go check this out.
In fact, even if you have no plans yet to write an ebook, go check this out too, it might well change your mind. 😉
What more can I say? I loved The Sticky eBook Formula; I'm incredibly happy to be an affiliate for it, and I highly recommend it.