Choosing the Right Viewpoint and Tense for Your Fiction [With Examples]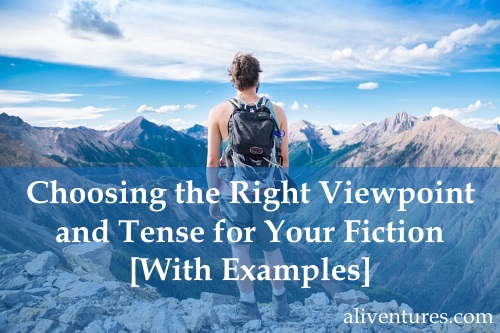 Note: This post was first published in 2013, and was last updated in October 2022.
Who's telling your story?
Perhaps the choice is easy and obvious: you're writing from a particular character's viewpoint in the first person ("I") and the whole story is from their perspective.
Or perhaps it's trickier than that. You've got a story to tell involving multiple characters, and you need to make some choices.
The point of view (POV) or viewpoint is the angle the story's being told from. For instance, in Emma Donaghue's Room, the point of view character is 5-year-old Jack.
The story might be told in the first person ("I"), second person ("you"), or third person ("s/he"). It can also be told in past tense or present tense, which I'll come onto in the second part of this post.
What Viewpoint Should You Use for Your Story?
Second person is rare, but first person and third person are both very common, so I'll tackle those two first. Most of the examples I'm using are the first lines, or within the first chapter or two, of their books, to avoid spoilers.
First Person ("I")
Today I'm five. I was four last night going to sleep in Wardrobe, but when I wake up in Bed in the dark I'm changed to five, abracadabra. Before that I was three, then two, then one, then zero.

(Room, Emma Donoghue – Amazon.com / Amazon.co.uk)
Well, let's start with Elizabeth, shall we? And see where that gets us?

I knew who she was, of course; everybody here knows Elizabeth. She has one of the three-bed flats in Larkin Court. It's the one on the corner, with the decking? Also, I was once on a quiz team with Stephen, who, for a number of reasons, is Elizabeth's third husband.

(The Thursday Murder Club, Richard Osman – Amazon.com / Amazon.co.uk)
A first person narrator tells the story as though they're talking to you or, occasionally, to another character. Normally, nowadays, it's their story – they're both the protagonist (main character / hero) and the narrator.
(The protagonist and the narrator aren't invariably the same person, though, especially in 19th century fiction. E.g. Sherlock Holmes is the protagonist, but Doctor Watson is the narrator.)
First person narrators are necessarily limited to what they know, so the reader only gets the action from a particular time and place. They may be unreliable, not necessarily deliberately.
First person allows you to do a lot with voice, particularly if your narrator has an unusual voice (like, say, Christopher in The Curious Incident of the Dog in the Nighttime). It can create a close connection between the reader and the narrating character, and it can create some interesting effects – in Room, for instance, the reader understands far more of what is going on than the narrator Jack does.
Some readers really dislike first person, so you may potentially limit your readership. It can be hard to do well: if your story relies on your main character overhearing conversations or intercepting letters, you might struggle to keep it convincing.
Third Person ("He" or "She")
Hale knew, before he had been in Brighton three hours, that they meant to murder him. With his inky fingers and his bitten nails, his manner cynical and nervous, anybody could tell he didn't belong—belong to the early summer sun, the cool Whitsun wind off the sea, the holiday crowd.

(Brighton Rock, Graham Greene – Amazon.com / Amazon.co.uk)
As she woke up in the pod, she remembered three things. First, she was traveling through open space. Second, she was about to start a new job, one she could not screw up. Third, she had bribed a government official into giving her a new identity file. None of this information was new, but it wasn't pleasant to wake up to.

(The Long Way to a Small, Angry Planet, Becky Chambers – Amazon.com / Amazon.co.uk)
Third person narration is at some distance from the characters. It can vary from almost as closely linked as first person (with the narrative using the character's turn of phrase and including their thoughts) – or it can be distant and impartial, as if seen by a god-like observer. These are known as "limited" and "omniscient" third person. In practice, most fiction falls somewhere between the extremes.
It's usual in third person novels for multiple perspectives to be given – usually either with several "limited" views from different characters' vantage points, and potentially with some "omniscient" narration too.
Third person is probably the most conventional choice, and works well if you have a wide cast of characters.
For many authors, the choice between first and third is automatic: one or the other simply feels right for your story. If you're struggling to decide, try drafting the same scene in first person then in third person – which seems to work better?
Second Person ("You")
You are about to begin reading Italo Calvino's new novel, If on a winter's night a traveller. Relax. Concentrate. Dispel every other thought. Let the world around you fade. Best to close the door; the TV is always on in the next room.

(If on a winter's night a traveller, Italo Calvino – Amazon.com / Amazon.co.uk)
For the past ten years you've lived as ordinary a life as possible. You came to Tirimo from elsewhere; the townsfolk don't really care where or why. Since you were obviously well educated, you became a teacher at the local creche for children aged ten to thirteen. You're neither the best teacher nor the worst; the children forget you when the move on, but they learn.

(The Fifth Season, N.K. Jemisin – Amazon.com / Amazon.co.uk)
Very little fiction is written with "you" as the main character. It's sometimes used for experimental short stories, as well as for "choose your own adventure" books (remember those?) but it's very tough to do successfully in a novel.
There are, however, some literary / experimental novels written in the second person, like Italo Calvino's If on a winter's night a traveller (quoted above). The Fifth Season uses second-person for Essun's chapters, but Damaya and Syenite's chapters are in third-person.
I read Charles Stross' Halting State many years ago, which is written from three different second-person viewpoints. This fits with the subject matter of the novel – text-based virtual worlds tend to use "you" – but I found it a distracting irritation, and it's now pretty much all I remember about the book.
If you do want to give second person a go, use it for a short story, and don't just do it for the sake of it – have a narrative reason for making the reader the protagonist.
Should You Tell Your Story as Though It HAS Happened or IS Happening?
As well as deciding on first or third (or maybe second) person, you'll need to choose whether to tell the story in the past or present tense. (I've never read a whole story written in future tense, though I suppose it's just about conceivable…)
Past Tense
Police officers, as a rule, don't need an excuse to go to the pub, but one of the many non-excuses they have is the traditional end-of-probation booze-up when members of the shift get the brand new full constables completely hammered. To that end, Lesley and me were dragged across the Strand to the Roosevelt Toad and plied with alcohol until we were horizontal. That was the theory, anyway.

(Rivers of London, Ben Aaranovitch – Amazon.com / Amazon.co.uk)

Late in the winter of my sevventeeth year, my mother decided I was depressed, presumably because I rarely left the house, spent quite a lot of time in bed, read the same book over and over, ate infrequently, and devoted quite a bit of my abundant free time to thinking about death.

( The Fault in Our Stars, John Green – Amazon.com / Amazon.co.uk)
Past tense is often seen as the "natural" storytelling tense, and it usually makes sense: after all, when we tell a story, we're relating something that happened in the past, not something that's ongoing.
It has the advantage of reading easily and smoothly: if you want readers not to notice your style and to get absorbed in the story, past tense is a good way to go – especially with third person narrative.
Present Tense
She laugh, dance a little happy jig waiting on me to get her out. I give her a good hug. I reckon she don't get too many good hugs like this after I go home. Ever so often, I come to work and find her bawling in her crib, Miss Leefolt busy on the sewing machine rolling her eyes like it's a stray cat stuck in the screen door.

(The Help, Kathryn Stockett – Amazon.com / Amazon.co.uk)

For a man of his age, fifty-two, divorced, he has, to his mind, solved the problem of sex rather well. On Thursday afternoons he drives to Green Point. Punctually at two p.m. he presses the buzzer at the entrance to Windsor Mansions, speaks his name, and enters. Waiting for him at the door of No. 113 is Soraya.

(Disgrace, J.M. Coetzee – Amazon.com / Amazon.co.uk)
The present tense is often seen as a more literary choice, though there's nothing stopping you using it for commercial / genre fiction. For the reader, it can make the story seem more immediate, but it also risks feeling slightly "off".
Present tense is more commonly used for first-person than third-person narratives, and might be tricky to pull off in a third-person novel. That's not to say you can't or shouldn't do it, but give it a bit of thought before committing yourself.
(One quick word of caution: some writers find that they accidentally switch between past and present tense without meaning to. Make sure you choose one and stick with it!)
So … what's right for your short story or novel?
If you don't know what to pick, third person, past tense will (usually) be the easiest to work with.
If you're writing a mainstream or genre novel, you'll probably want to use past tense. Third person or first person can both work well, but unless you have a main character with a strong or unusual voice, I'd recommend third person.
If you're writing literary or experimental fiction, and particularly if you're writing a short story rather than a novel, any viewpoint (even second-person) and either tense can work. However, try to have a reason for your choice: don't go for an unusual viewpoint for the sake of it.
Further Reading
For more help with viewpoint, take a look at these posts:
Choosing Viewpoint Characters: What's Right for Your Story?
If you're not sure who should be telling your story, this post should help. It explains the pros and cons of a single narrator versus several narrators, and looks at the different possibilities you might explore if you think your story needs to be told from a different or new perspective.
Split Narratives: Dividing Your Story Between Two or More Narrators
Sometimes, it makes sense to have a single narrator … but splitting your narrative between two (or more) narrators can allow us to see things from different perspectives. This post takes a look at how to do that effectively and gives brief examples along the way.
Extra Resources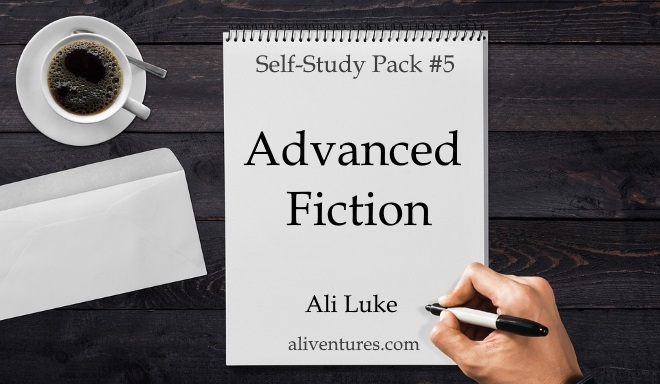 If you want to go further, check out The Advanced Fiction Pack. It's a set of four self-study seminars, covering:
Handling Viewpoint in Fiction
Story Ideas: Where to Find Them and How to Evaluate Them
Heroes and Villians, with Lorna Fergusson
Seven Ways to Add Depth to Your Characters
You can find it on the self-study seminar packs page.
About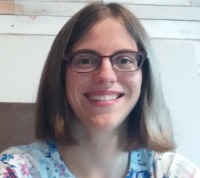 I'm Ali Luke, and I live in Leeds in the UK with my husband and two children.
Aliventures is where I help you master the art, craft and business of writing.
My Novels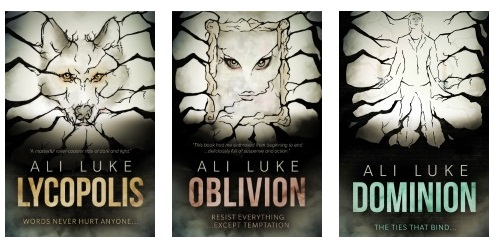 My contemporary fantasy trilogy is available from Amazon. The books follow on from one another, so read Lycopolis first.
You can buy them all from Amazon, or read them FREE in Kindle Unlimited.