Are Your Writing Dreams Unrealistic?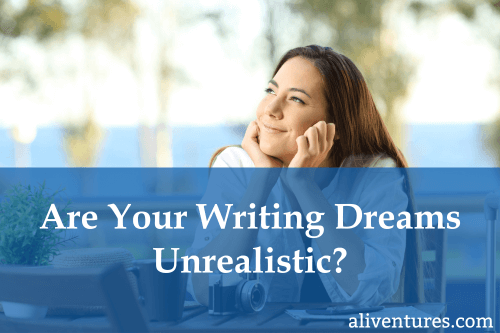 This post was first published in August 2014 and updated in April 2023.
Sometimes, I get emails like this:
I enjoyed your blog post on making money from your writing. I'd love to make a living writing but I don't know if that's unrealistic.
I can tell you now … it's not an unrealistic dream at all.
I make a (very good!) living writing, and I know lots of other people who do too.
But sometimes, I get emails more like this:
I've written to dozens of bestselling writers, telling them all about my background and my writing ambitions. I want someone to mentor and help me get my book, How to Avoid Papercuts, published and sell three million copies.
(They usually go on a fair bit longer than that.)
The truth? That's an unrealistic ambition. First-time books by unknown authors (especially on topics that interest the author and pretty much no one else) are very, very, very unlikely to sell in their millions.
And, nice as it might be to imagine a top writer spotting how talented you are and spending hours of time helping you out, they're likely to be busy enough with their own life and projects. If you are hoping for feedback and support, you'd be better to look to your writing peers, rather than well-established writers.
It's Nice to Daydream, But…
This dream of being "spotted" by someone in the industry – whether it's a well-known writer, an agent, or a publisher – is understandably popular.
Maybe you hope that if you send your manuscript to the right person, they'll love it and do everything in their power to help you.
Maybe you hope that someone super-influential will stumble across your blog, share it with their 100,000 Instagram and TikTok followers, and give you the big break you've been waiting for.
But … there are an awful lot of other aspiring novelists and bloggers out there who'd love the same thing.
And while you are talented, they are too.
This is good news. (Really!)
Your success is in your hands. You don't need to wait for months – or years or decades – in the hope that someone will stumble across you and love your work.
You can get out there and start on the path to your dreams right now. You'll get a huge head-start on many other hopeful would-be writers … because you're actually doing something, rather than sitting and waiting for success to appear.
But first…
Getting a Clear Idea of Your Talents
Now, obviously, to achieve pretty much any writing goal (whether it's "sell 100 copies of my book" or "become a full-time freelance writer"), you need to be good at writing.
You don't need to be amazing. You just need to be good.
You may not be quite there yet – and that's fine. Whatever stage you're at, there's always room for improvement.
And every writer you know started out in exactly the same place. They weren't born able to write. Gradually, over many years, they got to where they are today. (One excellent illustration of this is Charlie Gilkey's post Becoming Yourself and Growing Your Blog, where he looks at how several popular bloggers' styles changed as they found their voice.)
Many writers worry, quite unnecessarily, that they aren't good enough.
I suspect that you are a better writer than you think.
Here are some simple ways to know if your writing is good enough for your dreams to be realistic:
Have you ever had a post published on someone else's blog?
Have you ever had an article published in a local newspaper or a special interest magazine, however small its circulation?
Have you ever been paid for your writing?
Has anyone ever complimented you on your writing?
If you can say yes to any of those, you're good enough!
And even if none of those are true right now, there's every chance you could make one or more of them happen within the next year. You might want to check out my list of writing milestones for some easy steps to celebrate.
Here's What "Realistic" and "Unrealistic" Look Like
Run your own writing dreams past these different realistic/unrealistic scenarios and see whether your dreams look more like the "realistic" or "unrealistic" options.
Of course, realistic doesn't usually mean easy. All of these different dreams would require plenty of hard work, and the willingness to learn.
Realistic: Making a Living from Writing
I believe this is a realistic option for almost every writer – and if you want some help in knowing what to do first, check out Seven Crucial First Steps For Your Writing Career.
Plenty of other people just like you are already writing full-time. They're no smarter than you. But they took the first steps toward becoming a professional writer … and carried on from there.
Unrealistic: Making a Living from Writing Solely About That Obscure '70s TV Show You Love
This one's not impossible. If you can build a popular blog (hey, there are bound to be other fans out there in the world), you may well be able to monetize it through ads or affiliate product sales.
But you'll have a much easier time making a living writing if you focus on topics that plenty of people want to read about, or that companies want to pay you to write about.
Realistic: Publishing Three Novels in the Next Five Years
With the ease of self-publishing today, novelists have an unprecedented amount of control over their careers.
Getting good at writing fiction takes time (and you may want to take a course, join a workshop group, and hire an editor), but if you give yourself five years and write for half an hour a day, you could easily produce and publish three full-length novels.
Unrealistic: Becoming a Full-Time Novelist in the Next Five Months, When You've Not Yet Started Your Novel
Even if you write at NaNoWriMo speeds, you're going to need time for editing, publishing, and promotion … and authors are almost never able to make enough money from their first novel to actually live on.
It may well take you three novels, five novels, or more to get to the point where your sales can support you full-time. Self-publishing is easy to get started with, but there's a massive amount of competition out there, and there's no guarantee that you'll be able to make enough money to live on.
Realistic: Sending Out 12 Short Stories to Competitions in the Next Year
If you enjoy writing short-form fiction, short story competitions can be a great way to focus and get into the habit of sending your work out.
Writing a short story each month is an achievable goal. You could find a bunch of competitions with different deadlines (I like Writing Magazine's competitions for this) and enter as many as you reasonably can.
Unrealistic: Winning 12 Short Story Competitions This Year
However amazing you are at writing short stories, you're highly unlikely to win every competition you enter. Perhaps some of your stories won't quite hit the mark with the judges.
Instead of setting your sights on winning, focus on what you can control: completing and submitting your stories.
Now, "unrealistic" doesn't mean that any of these are impossible. I'm sure there are people who write about obscure '70s TV shows and do well. I'm sure there are first-time novelists who make enough to quit their job. And I'm sure some short story writers do win an astonishing percentage of the competitions they enter.
But do you really want to hold out the hope of being one in a million … or would you rather take things step by step until you reach your goals?
Personally, I'd rather be realistic. I'd rather work hard, take ownership of my dreams, and stand or fall by my efforts.
I don't want to be that writer who, twenty years down the line, is still waiting for success to just fall into their lap.
I imagine it's the same for you. And even the biggest dreams can be broken down into small, achievable steps. So today, figure out one concrete, practical step that you can take to move in the direction of your dreams.
About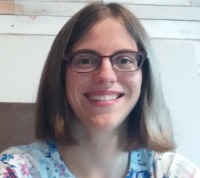 I'm Ali Luke, and I live in Leeds in the UK with my husband and two children.
Aliventures is where I help you master the art, craft and business of writing.
My Novels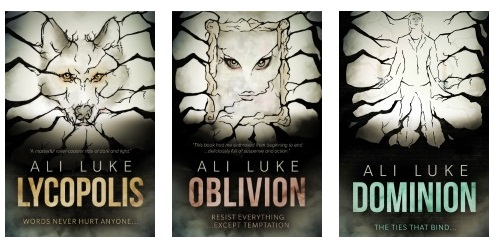 My contemporary fantasy trilogy is available from Amazon. The books follow on from one another, so read Lycopolis first.
You can buy them all from Amazon, or read them FREE in Kindle Unlimited.