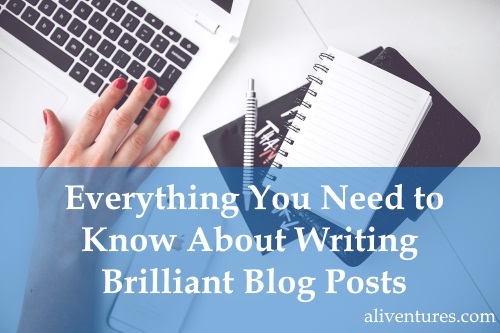 Over the last eight years, I've written hundreds (probably thousands!) of blog posts for dozens of different blogs.
I've also written quite a bit about blogging. Today, I wanted to share five of my favourite pieces about blogging, all published here on Aliventures over the past couple of years: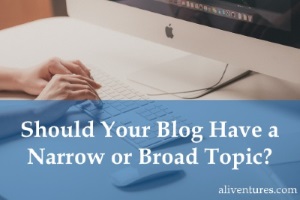 Should Your Blog Have a Narrow or Broad Topic?
When I got into blogging ten years ago (yikes), the prevailing advice was to "choose a niche". Since then, many bloggers have realised that picking a very narrow topic can become limiting. So how can you strike a balance between staying focused and yet giving yourself enough space to explore a range of interesting ideas? This post takes a look at how to decide what your blog will be about … and how it'll be distinguished from lots of other blogs that cover similar topics.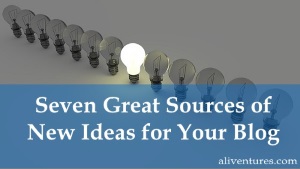 Seven Great Sources of New Ideas for Your Blog
All bloggers sometimes struggle to come up with ideas – especially if they've been blogging for a while. In this post, I take you through seven great ways to come up with blogging inspiration … from thinking like a beginner to borrowing a title idea from someone else.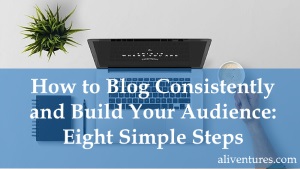 How to Blog Consistently and Build Your Audience: Eight Simple Steps
If you find that weeks or even months go by without you publishing any posts on your blog, then it's important to get into a good blogging routine. This post explains how you can do that, by taking little steps (like figuring out a time slot for writing posts, and coming up with a publication schedule) – with plenty of examples along the way.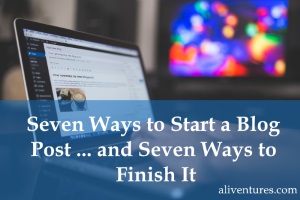 Seven Ways to Start a Blog Post … and Seven Ways to Finish It
The beginnings and endings of blog posts are crucial but they can be tricky to get right, so it's good to have a few tricks up your sleeve. Here, I give you a list of easy ways to start and end your post … each with an example from a different blogger's work, so you can see exactly how they work in practice.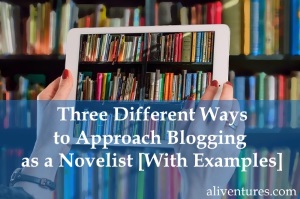 Three Different Ways to Approach Blogging as a Novelist [With Examples]
Do you need to blog to promote your novels? Different people have different takes on this one – and if you do decide to have a blog, there are several ways you could approach it. In this post, I go through three examples of different writers' blogs so you can figure out what might suit you (and your books) best.
Good luck with your blogging!
Are you missing out on the Aliventures newsletter?
It comes out by email every Thursday, and includes a short article about writing or blogging, plus updates on anything new I've got for you! It's completely free, and newsletter members get access to a little library of mini-ebooks, including
Ten Powerful Ways to Make Your Blog Posts Stronger
 and
Ten Easy Ways to Attract Readers to Your Blog … and Keep Them There.
Find out all the details and join here.