Staying Motivated to Finish a Novel … or Even a Short Story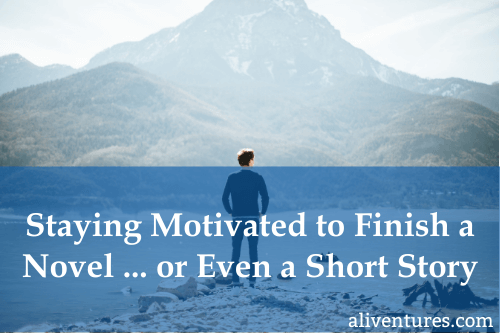 In the last Aliventures survey the subject of "motivation" came up quite a few times, and one reader specifically asked for a post about staying motivated to finish a short story or novel.
I'll be the first to admit – this is tough!
My unfinished short stories and novels outnumber my completed, published ones. And I wouldn't be surprised if that's true of most writers.
Just starting work on a story, of any length, can feel like quite a challenge. But, often, an initial burst of inspiration and enthusiasm for the idea gets you going.
Plus, when you're getting started, there's tons of room for things not being quite right yet. You can write in an experimental way, trying out characters and storylines. You can write scenes that consist only of dialogue, because you know you're going to have plenty of chances to rework that material.
When it comes to finishing … that's a lot tougher.
There are so many things that can derail you. Like:
Getting 10,000 words or 20,000 words into a novel … and running out of plot, because that was as far ahead as you could see in your story.
Getting halfway through a short story … only to realise you're already over the word limit for the competition or market that you're aiming for.
Writing regularly for a few weeks – until life gets in the way and you end up skipping one session, then a whole week, then a month… and it feels like a huge effort to getting started again.
Making it part-way through your novel or story, only to find your interest in your characters and plot slowly ebbing away.
Enjoying the writing itself, but having a sense that it's not really going anywhere: you don't think your story will sell to a publisher or (if you're self-publishing), you don't think readers will want it.
Constantly feeling "this isn't good enough" as you write.
… and probably a whole lot more.
So what can you do about it?
#1: Ignore Your Inner Critic While You Draft
All of us have an "inner critic" or "inner editor" passing comment on our writing.
When you're busy drafting – especially if you're feeling excited and inspired – you're unlikely to be listening to your inner critic. You're just writing away, getting the words down, telling your story as best as you can in that moment.
But the inner critic can start to creep in – perhaps at moments when you're struggling to find the right word, when you're not sure what should happen next, or when you're thinking about your writing when away from your desk.
Your inner critic might say things like:
"This scene isn't getting going quick enough."
"That's such a cliche."
"Who'd want to read this?"
"Your writing is too self-indulgent."
… or all sorts of other things.
Now, having an inner critic isn't inherently a bad thing. When you come to rewrite and edit your work, a keen eye for what's not quite working and what doesn't quite ring true will be hugely useful.
But when you're drafting, that inner critic can end up stopping you in your tracks – and killing your motivation.
Ignoring your inner critic often isn't easy. You might find it helps to remind yourself that it's fine just to write for the fun of it. Some writers like to find ways to reassure their inner critic. But ultimately, know that it's fine – indeed, best! – to ignore that critical voice while you're getting the first draft of your story or novel completed.
#2: Set an Achievable Time or Word Count Goal
It's extremely hard to stay motivated if you're pushing yourself to write so much or so fast that you're rapidly approaching burnout.
There's no race to finish your short story or novel. Even if you're aiming for a specific deadline (perhaps to enter a competition), there'll always be more opportunities. Don't run yourself into the ground trying to achieve something that's unrealistic.
Instead, set yourself an achievable goal with your writing. That could be something like:
Write 500 words per day, every day.
Write for 2 hours every Saturday morning.
Write for 15 minutes while the baby is napping.
It doesn't have to be a big or lofty goal. Fairy small amounts add up fast: 500 words per day, every day, for a year, is 182,500 words – more than two novels' worth.
#3: Don't Write Things That Bore You
This might seem a bit obvious … but it's really hard to stay motivated when you're writing something that bores you.
Now, I do spend quite a bit of time writing things that are – frankly – somewhat boring. But that's my freelance work, which is far better paid than writing fiction!
If you just want money, and you aren't looking for creative fulfilment, there are lots of much faster, more certain ways to make money from writing than short stories and novels.
But if you're working on a short story or a novel, you want your idea, characters, and setting to genuinely interest you. You want this to be a story that you would absolutely love to read.
There's plenty of money in romance – but if romance novels bore you, don't write romance novels.
There might be critical acclaim in literary fiction – but if you hate reading it, don't write it.
#4: Give Yourself Time to Read, Too
There are a huge number of benefits to reading fiction, if you want to write fiction. The biggest of those is that it's (hopefully!) something you really enjoy. I don't think I've ever met a fiction writer who didn't – at least at some stage in their life – genuinely love to read.
But you'll likely also find that reading fiction helps you stay motivated to write. You'll read stories that move you, even change you – and you'll want to capture something of that in your own writing.
You'll probably come across sub-genres, tropes, or character archetypes that stay with you and that you want to use in your own work.
Give yourself time to read. And if you're ever feeling too tired or uninspired to write, reading is a great alternative.
#5: Make Writing Something to Look Forward To
If writing feels like yet another chore to fit into your day, see if you can find a way to turn it into more of a treat – even something to look forward to.
For me, that usually involves chocolate. 😉
Other options might involve one or more of these:
Light a scented candle while you're working.
Go to a cafe to write and treat yourself to your favourite drink.
Meet up with a friend (or several friends) to write – there are quite a few NaNoWriMo groups that do this
Have a particular song/album that you listen to while writing
Plan some kind of reward for after you've finished your word/time target for the day
You want writing to be a highlight of your day, not a task to wearily check off a list.
#6: Watch Your Progress Add Up
While it's unlikely to be your only motivation, seeing your progress add up day after day and week after week can be really encouraging.
I like to keep track of my wordcount in a spreadsheet – but there are lots of other options, too. You might prefer something visual, maybe a chart where you can colour in boxes or segments as you make progress. You could use an app on your phone or you could even share your progress publicly on social media.
If you're working on a long short story, a novella, or a novel, it can seem like there's a huge way left to go. Being able to look back and see how far you've already come can really help.
Staying motivated to write isn't easy, especially when you're not certain that there'll be the "reward" of publication or money at the end of the journey.
Seeing a novel – or even a short story – through to completion is a huge achievement, one you can be truly proud of.
If you need a break from writing, by all means take one. However, before you do so (or as soon as you realise you're on an unplanned break!) make a plan for when and how you'll get back into your writing again.
---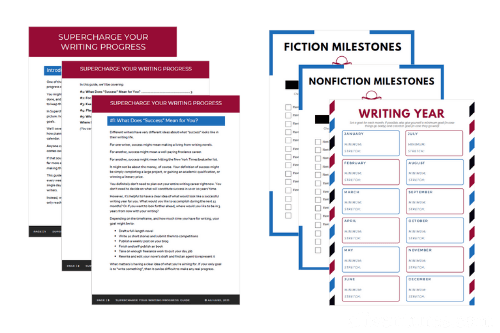 Try Supercharge Your Writing Progress if you'd like help staying focused over the long haul of a project. It's a great read if you start strong but find it tough to stay motivated and enthusiastic. As well as the guide itself, you get bonus printable resources, including a month by month planner for your writing year.
Supercharge Your Writing Progress is just $8 (or you can get the whole set of four Supercharge guides for $20, making them $5 each). When you buy anything from me, you also get bonus membership of the Aliventures Club on Facebook, where you can chat about writing, share your progress, and get support when you're struggling.
About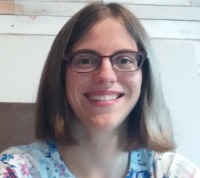 I'm Ali Luke, and I live in Leeds in the UK with my husband and two children.
Aliventures is where I help you master the art, craft and business of writing.
My Novels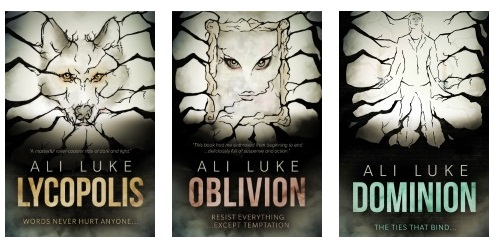 My contemporary fantasy trilogy is available from Amazon. The books follow on from one another, so read Lycopolis first.
You can buy them all from Amazon, or read them FREE in Kindle Unlimited.