Supercharge
Your Writing Progress
Ebook + Printables
Do you find yourself writing well for a few weeks … then grinding to a halt?
Maybe you make great plans, but they just don't work out when faced with reality.
Maybe you start strong, but struggle to keep up your enthusiasm over the long term.
Maybe little things going wrong throw off your writing plans.
Maybe you feel that you're not achieving as much as you want with your writing.
Supercharge Your Writing Progress is for you.
Supercharge Your Writing Progress Ebook
This short ebook (21 pages, .pdf format) guides you through making consistent progress with your writing over the weeks and months ahead.
It covers different definitions of writing success, how to choose which project to focus on, how to stay motivated and enthusiastic about your writing, and how to create more writing time in your life the easy way. It also takes a look at some common struggles and how to overcome them.
I've kept it compact and to the point, because I want your focus to be on actually writing, not on reading about writing. 😉
Supercharge Your Writing Progress Printables
As well as the Supercharge Your Writing Progress ebook, you'll get these extras too:
#1: Fiction Milestones Checklist. This printable list of "firsts" helps you see your progress instantly. Check off the milestones you've already achieved, and plan for the next ones.
#2: Nonfiction Milestones Checklist. This printable list of "firsts" is designed for nonfiction writers, such as freelancers and book authors.
#3: Month by Month Planner. Plan out your writing year quickly and easily, and stay on track, with this one-sheet planner to list what you want to achieve each month. You can set a "minimum" and "stretch" version of your goal for each month, too.
Each of these has a nice colourful version plus a black and white version in case you prefer not to use too much printer ink.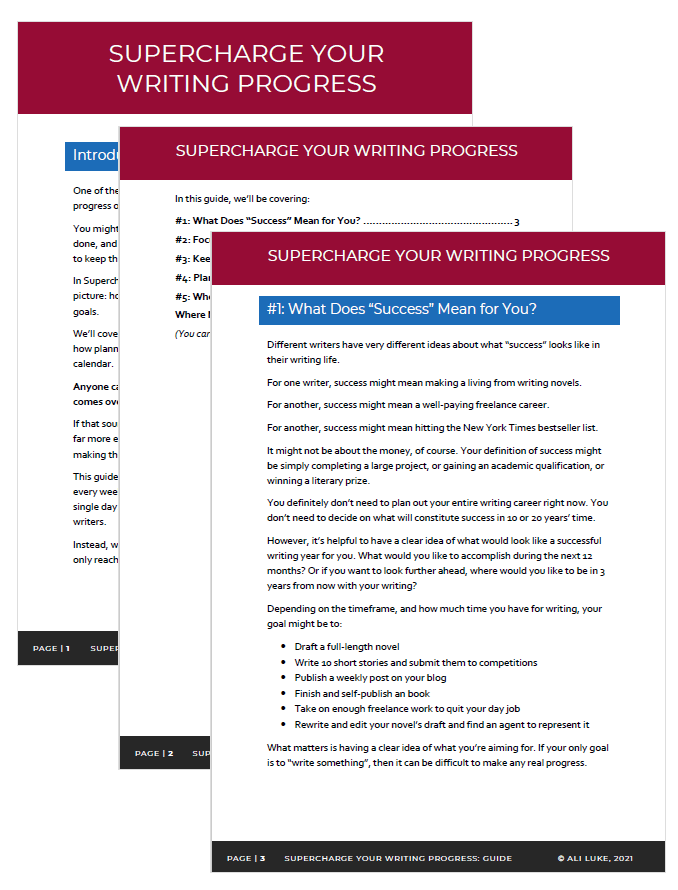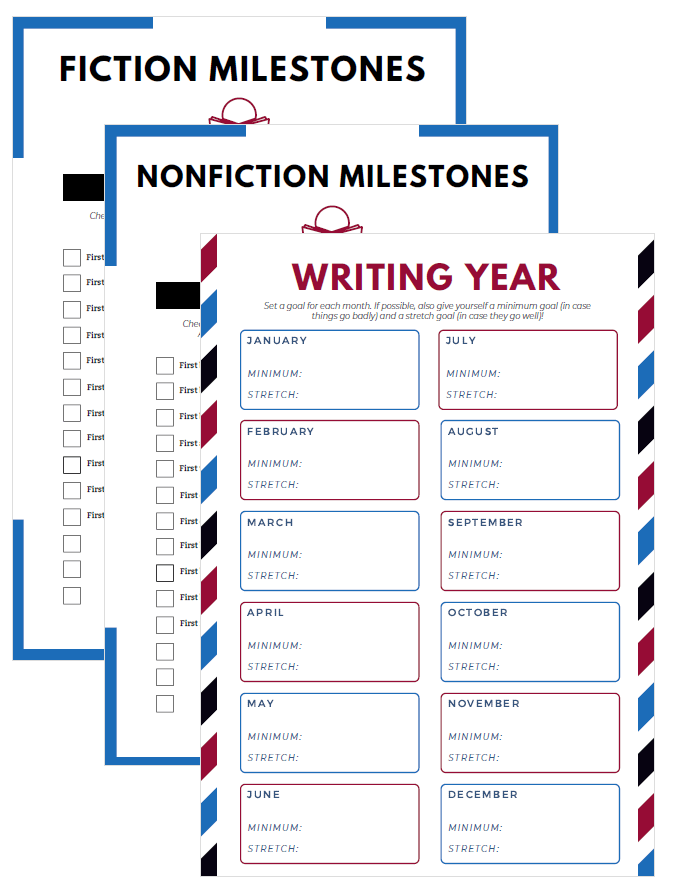 Special Bonus: The Aliventures Club
Whenever you buy anything from me, you get full access to The Aliventures Club, my Facebook group.
This is a place to chat about writing, share your successes, ask questions, and get support.
It's a completely private group, so only fellow members of the group will see what you post.
It's the best place to get access to me, too, and you can join as soon as you buy. I'm looking forward to seeing you there!

Get More Writing Done
(and Enjoy It More, Too)
If you want to look back in a year's time at 12 successful months of writing …. Supercharge Your Writing Progress will help.
As soon as you buy, you'll get full access to your purchased ebook(s) and printables.
If you buy any/all of the Supercharge Your Writing guides and later decide they're not right for you, just let me know within 30 days and I'll gladly refund you in full.