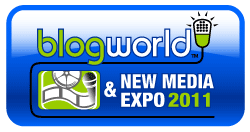 One of the highlights of my (admittedly nerdy) calendar is BlogWorld Expo. It's a conference about blogging and all things social media … and it's full of people like me.
Yeah, that might well put off anyone normal – but as I've mentioned before, writers aren't normal.
Last year, I had a blast as a delegate at BlogWorld Expo: this year, I'm even more excited, because I'm going to be speaking.
I'll be giving a talk on How to Write Ebooks That Practically Sell Themselves. It's going to cover the geeky end of ebooks – highly specialised ones, sold through the author's blog/website rather than through Amazon.
I'll be covering things like:
Why "I've got a great ebook idea!" makes me go "uh-oh…"
The types of ebooks which work well for bloggers – and the ones which are doomed to flop
What you must do before you write the first word
How to actually finish an ebook (cos you can't sell a half-written draft…)
Ways to build on your first ebook
Obviously, I'm not the only attraction at BlogWorld Expo. I'm not even the main one. There are a dozens of amazing speakers lined up – you can see some of the key ones on the BlogWorld Expo front page here.
So here's what you need to know:
Where? L.A., California
When? November 3rd – 5th 2011
How to register: Pick your ticket type here – and use the discount code "BWEVIP20" to get 20% off.
If you can get to L.A. then come! Whether you're a new blogger or an old hand, you'll not only learn a lot, you'll make some fantastic new friends.
And if you can't…
The BlogWorld Virtual Ticket
If you can't make it out to L.A., then there's a "virtual ticket" option. You get all the content – over a hundred hour-long sessions, to watch whenever you want – plus the wonderful Johnny B. Truant as host.
This is $297 instead of $397 until Saturday 15th October (er, that's tomorrow – sorry about the short notice).
You can find out about the virtual ticket here. (Note, you can't use the discount code on the virtual ticket, as far as I can tell.)
If you're coming to BlogWorld, let me know! (Just pop a comment below, or drop me an email at ali@aliventures.com.) I'm going to be in L.A. for a couple of days either side of the conference, so I'll have plenty of time to hang out… 🙂