How to Get Back On Track When Your Writing Plans Go Awry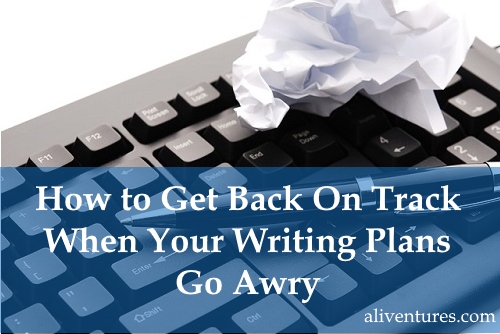 This post was originally published on Aliventures in May 2016, and updated in September 2019.
So you've made a plan for the next few months.
For a month or two, everything goes fine. You're writing regularly, hitting your targets, and feeling great about your progress.
And then something happens. You're knocked off-course. You're understandably discouraged, perhaps ready to give up.
Plans do go awry, more often than not. You just need to be prepared in advance to deal with things not going quite according to plan.
How Writing Plans Typically Go Wrong
#1: They Don't Match Up to Reality
When you create a plan, you don't have the full picture. You don't yet know what it will be like to put that plan into practice – in terms of what you can feasibly do, and in terms of the way the writing and publishing world works.
Perhaps you've planned to write for an hour ever evening after work, but after a week of that, you're already burning out. You just don't have the energy to write at that time of day.
Perhaps you'd planned to get an agent for your novel this month … only to find that the whole process of submitting your manuscript and waiting for responses takes a heck of a lot longer.
Get Back On Track…
Explore your options – perhaps by talking to other writers. Think about different ways to reach your ultimate goal.
For instance, if you want to write for a living, would you be happy writing non-fiction instead of fiction? If you want to publish a trilogy of novels, would you be happy self-publishing instead of being traditionally published?
If your goal isn't unreasonable but you're just not ready for it, then consider tackling a different goal first.
#2: You Don't Know What to Do Next
Perhaps your goal simply seems too big and complicated right now. You've made some progress towards it (e.g. you've taken a fiction-writing course) but you don't know what to do next.
Should you focus on writing short stories to begin with? And if so, should you focus on competition entries or on submissions to magazines that take short stories from freelancers? Should you be working on a novel instead? Should you be creating a website for your fiction, even if you've had very little published?
When you feel confused about where to go, it's easy to end up doing nothing at all.
Get Back On Track…
Any big or complicated goal can be broken down into steps. You might not be able to map out the entire path right now, but that's often a waste of time anyway.
Instead, focus on the immediate future and ask yourself "what's the very next practical thing I can do to move me forward?"
This should be something very concrete and specific, such as:
Write a 1,600 word short story for this month's Writing Magazine competition
Buy a book about outlining a novel
Spend 10 minutes each day working on writing prompts or exercises
#3: You're Torn Between Two Different Routes
Perhaps you've got a big goal in mind, like "making a living writing" – but you're not sure what path to take in order to get there. There are a couple of different options that both feel equally "right" (or wrong!) to you.
For instance, should you be a freelance writer, billing by the hour (or project) and working for clients? It's a quick way to start making money, but you'll eventually be capped by how many hours you can work and by the maximum hourly rate you can realistically charge, and you may end up having to write pieces that don't particularly interest you.
Or should you become a self-publishing novelist, creating your own books to sell directly to customers? There's the potential to make a lot of money, but you might end up pouring years of your life into your novels for very little reward.
Get Back On Track…
Sometimes, the answer is to find a sensible middle ground that gives you the best of two different paths … especially if one means you're following your head and one means following your heart.
If you're torn between freelancing and fiction writing, you might decide to set aside (e.g.) four days a week for freelancing and one day for fiction. That way, you should be able to make enough to pay the bills … but you'll still be able to spend 20% of your working week on something you really love doing.
#4: Life Gets in the Way
Whatever your exact personal circumstances, there's always the chance that something non-writing-related crops up and takes over a lot of your writing time or energy.
Maybe:
You get ill or injured and can't write for weeks.
You or your partner gets pregnant.
You have a particularly busy spell at work.
You lose your job and need to scramble for money.
You go through a relationship breakup.
Your kids start waking up – and waking you! – in the middle of the night.
Some of these things you can at least somewhat plan for (e.g. having a baby, seasonal busyness at work) – but they can also take you by surprise!
Get Back On Track…
At the planning stage, try to allow extra margin – especially if your life is particularly prone to disruptions: don't create plans where a bad week will throw everything off course completely.
When something does disrupt your plans, don't use it as an excuse to quit. Take a mental step back and reassess. Do you need to extend a self-imposed deadline, to give you more time to reach your goal? Can you ask for help from a friend or family member?
If you can, try to continue working towards your goal during the difficult times – even if that means, say, working on your novel for 10 minutes per day instead of 30. That way, you'll still be making progress, and you won't lose touch with your project.
Don't Give Up
If you've ever been on a diet, you'll know how easy it is to give up entirely after a bad day or two. This isn't necessarily rational – but it's very human.
As a writer, tell yourself that even when things go badly, you won't give up on your goals. You'll step back and replan where necessary; you might even take a look at the goal and decide if it's still right for you … but you will keep writing.
---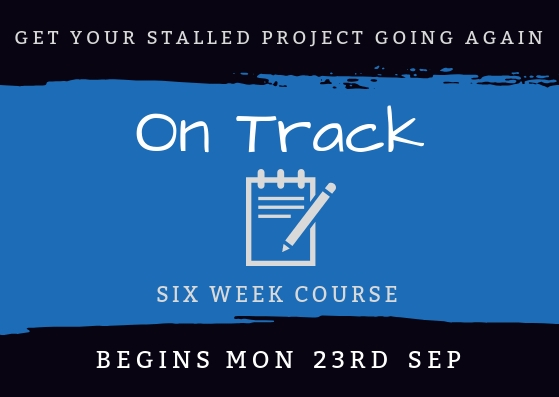 My course On Track is all about (unsurprisingly!) getting back on track with your writing. If you're stuck on a big project, or if you're not even sure which big project you want to work on, this is the course for you.
it's a six-week course with guidance and support, and the opportunity to set your own goals and "check in" weekly with a supportive group of fellow writers. It costs $30 (for the full six weeks, plus four bonus weeks of continued support), and if you've taken the course before, you can join us again for just $15.
If that sounds like it might be for you, check out all the details here.
I'll be closing the doors next Monday (23rd), at the start of Week 1, so everyone can get started together. As soon as you join, you'll get your welcome pack, plus the link to our private Facebook group.
About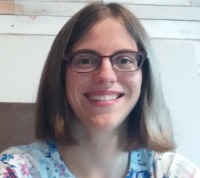 I'm Ali Luke, and I live in Leeds in the UK with my husband and two children.
Aliventures is where I help you master the art, craft and business of writing.
My Novels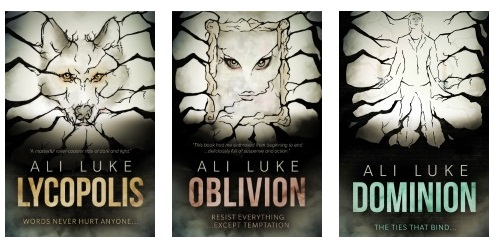 My contemporary fantasy trilogy is available from Amazon. The books follow on from one another, so read Lycopolis first.
You can buy them all from Amazon, or read them FREE in Kindle Unlimited.