How to Have Confidence in Your Writing: Eight Powerful Tips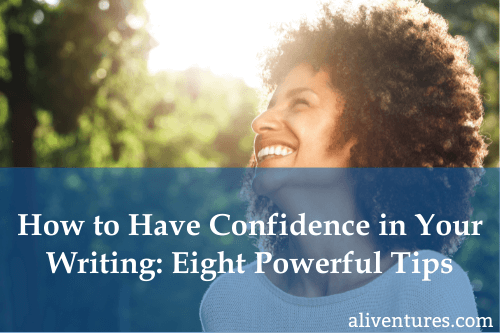 Whenever I ask Aliventures readers about their writing goals, projects, and struggles, one theme is always sure to come up:
A lack of confidence.
It can be so hard to have confidence in your writing. Maybe you feel like you're not good enough to be a successful writer. Or perhaps you struggle to stay focused and you're worried you don't have the self-discipline to see a big writing project through.
So is it essential to have confidence in your writing? And how do you develop that confidence?
How Confident Do You Need to Be?
All writers, at every level, struggle with confidence at times. Joanna Penn (a New York Times bestselling author) talks very candidly about her own self-doubt on her blog:
I still feel the self-doubt, but it's not crippling anymore, it's just something that I acknowledge. I let it sit with me, and put my work out anyway because there's a part of us inside, as writers, where if we don't write, we're going to cripple ourselves in other ways.
I think most writers would agree that you don't have to feel 100% confident (or even 50% confident) in order to write. The trick is not to let a lack of confidence stop you.
Of course, that's easier said than done … and that's why I want to share some powerful tips for building your confidence in your writing.

Eight Powerful Tips for Building Your Writing Confidence
1. Set Small Writing Goals And Meet Them
If you want to write but never manage to find the time, that's going to knock your confidence. It's easy to end up thinking that you simply can't write: that you don't have the discipline, or the time, or the support you need.
With writing, as with so many things in life, it's very tempting to set big, grand goals, like writing a novel or building a full-time freelancing career. And those are great things to work towards (and they are definitely achievable). But when you're trying to build your confidence, it's good to set smaller goals that don't seem so far off.
Set yourself the goal of writing for 30 minutes without getting distracted. Or set yourself the goal of completing a 1,000 word short story. Focus on small, achievable goals – and you'll be able to build your confidence with a string of successes.
2. Focus on Completing Your First Draft
No-one's first draft is perfect. (In fact, Hemingway reportedly said, "The first draft of anything is shit.") When you're initially working a writing project, you want to focus on simply getting thorugh the first draft.
You can edit as much as you want after you've got that first draft down, but until you've completed a full draft, you can't (and shouldn't!) try to judge the quality of your work.
Completing a first draft might not be easy – but it's pretty straightforward. Just keep writing, one word after another, and you'll get through. If you get stuck, by all means pause … but don't give up completely.
3. Get the Support of Fellow Writers
Your friends or family members, however well-meaning, might not "get" what it is to be a writer. They may offer unsolicited advice about what genre or style they think you should write. They may be politely baffled by why you even want to write.
Or it might be worse than that. Your loved ones – the people who should be cheering you on towards your dreams – might be truly unsupportive when it comes to your writing. Perhaps they see it as a waste of time, or even as a threat.
Whatever your situation, you need the support of fellow writers: of people who truly get it. Ideally, that will be through personal connections in a writing group (whether online or offline) – though if that seems like too big a step, even reading writing blogs and books can help you feel connected to other writers.
4. Think About What You're Giving Others
One way around a lack of confidence is to try to take yourself out of the equation. Not that you aren't important – your writing matters and so do you! But by focusing on your readers, you may find that your self-doubt fades into the background (at least a little).
What does your writing do for others? Perhaps you write blog posts or articles, sharing experience and advice that others could hugely benefit from. Or maybe you're a novelist, short story writer, or fan fiction writer, producing stories that entertain people and take them out of their (perhaps difficult) lives for a little bit.
All of those are wonderful things to do. Your writing is a gift to your readers. I'm sure you can think of things you've read that have made a huge impact on you – even if not every single word was perfect.
5. Take a Step Back if You Get Stuck
It's easy to lose confidence if you get stuck with your writing. You might try pushing forward, only to feel that your piece really isn't coming together. Maybe you force yourself to write – and yet it's getting harder and harder to put the words down, because you know something's wrong somewhere with your project.
This is the point at which a lot of writers give up. They've done what they think they're supposed to do: they've kept on writing, even as their doubts build up. And it seems like there's nothing left except to quit their project altogether.
Don't give up. But do step back. Listen to that sense that something's wrong in your project. You might want to go back to doing some planning or exploratory writing, to try to figure out what needs to change. Trust that you'll find the solution … even if it takes some time.
6. Work on Your Weaker Areas (if They Matter)
All of us have areas of writing that come more easily and naturally to us than others. I enjoy writing dialogue – but I really struggle with descriptions and I find action scenes tricky. 
Consciously improving your weaker areas can help with your confidence. If you deliberately practice them, you can at least get to a point where you're competent. (And you don't have to be outstanding at everything!)
Of course, this assumes that your weak areas matter. If you know your characters tend to be a bit flat and one-dimensional, that may not matter if you're writing fast-paced thrillers where readers are more focused on the plot.
7. Acknowledge Your Inner Critic
A lot of writers talk about the "inner critic" or "inner editor" – that little voice inside your head that critiques the things you write. Maybe you feel like, every time you type so much as a sentence, you're already criticising it.
Your inner critic isn't an enemy. That ability to reflect on your writing and to spot the flaws is really useful when it comes to editing your work. It's just not very helpful when you're trying to get through the first draft.
Rather than trying to suppress your inner critic entirely, tell it, "Not yet." Some writers like to think about shutting the inner critic in a box during the drafting process so that you can let it out once you're ready.
8. Keep the Positive Things People Say About Your Writing
Has anyone ever paid you a compliment on your writing? Whether it was a message from a delighted client, an email from a fan who enjoyed your novel, or a lovely review of your non-fiction book, hold onto it! Save it somewhere safe so you can go back and re-read it in the future.
When you're feeling low on confidence, reading over the things that other people have said about your writing can really help boost your spirits.
Also, don't assume that people are just "being nice" and that they don't really mean it. I know it's easy to think that if they're someone known to you personally. But trust that they won't have said something unless they truly believe it.
Having confidence in your writing isn't easy. But the more you write, the more confident you'll become. Plus, you'll find that even if you aren't fully confident, it doesn't have to stop you writing.
---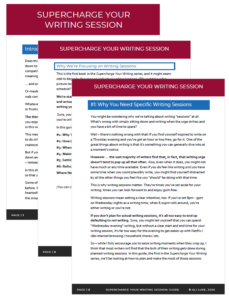 Need some help focusing when you write? This can be a real challenge, especially when you don't feel confident. Supercharge Your Writing Session, with accompanying printables, is designed to help you focus when you sit down to write.
It's just $8. (Even better, you can grab all four guides in the Supercharge Your Writing series for $20, saving $12.)
Plus … you buy anything from me (even if it's only $8), you get free lifetime membership of my private Facebook group, the Aliventures club. It's a lovely community of all sorts of different writers where you can share your triumphs and struggles. We'd love to encourage and support you there.
Head on here to check out Supercharge Your Writing Session.
About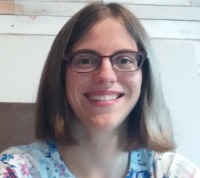 I'm Ali Luke, and I live in Leeds in the UK with my husband and two children.
Aliventures is where I help you master the art, craft and business of writing.
My Novels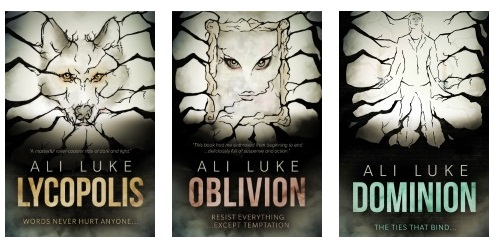 My contemporary fantasy trilogy is available from Amazon. The books follow on from one another, so read Lycopolis first.
You can buy them all from Amazon, or read them FREE in Kindle Unlimited.