Shop
Welcome to the shop! Feel free to take your time and browse around…
I also offer writing coaching – giving you one-to-one feedback and guidance to take your writing to the next level.
The Blogger's Guide to Irresistible Ebooks – $29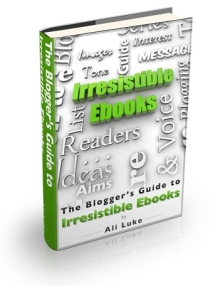 If you're working on an ebook for your blog, you need this Guide. I'll take you through everything you need to know, so that you avoid mistakes that'll cripple your sales.
This 107-page ebook is packed with everything I've learned from writing a dozen of my own ebooks (some free, some paid) and through working as a coach for ebook-authors.
You can check out all the details on the Blogger's Guides website or buy it now:
The Blogger's Guide to Freelancing – $29
This ebook is a fully revised, expanded, updated version of my most popular product, the Staff Blogging Course. It's now a 107-page ebook.
If you'd like to be a paid writer, this is for you. I teach you all my secrets, with plenty of advice on finding paid gigs, marketing yourself, and keeping up your momentum once you've got lots of work on!
You can check out the details here or click the buy button below:
The Blogger's Guide to Effective Writing – $29
Are you a blogger? Would you like more readers? Would you like to write great posts, without staring at a blank screen for hours?
Many bloggers struggle with the writing part of producing posts, so I created this 82-page ebook to offer you tons of advice and tips from my experience as a freelance and entrepreneurial blogger.
You can find out more here, or just click below to buy:

Regain Your Balance – $19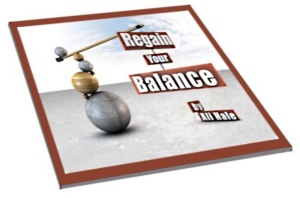 Ever wish life would just stop so that you could catch up? Do you feel like you're constantly rushing around, and never quite finding time to do what you want to do?
Regain Your Balance is a practical and inspirational ebook that takes you through six big areas of unbalance – and shows you how to get firmly back in control of your life.
You can get the full details here, or click below to buy:
(NB: If you have a discount code, enter it BEFORE clicking the button)
The Creativity Toolbox – $47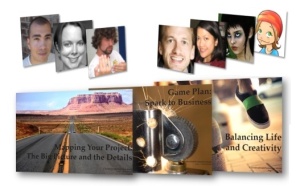 Thursday Bram and I created The Creativity Toolbox for writers, artists, musicians and other creative folks who occasionally need a helping hand.
If you'd like to be more creative, find more time for your real interests, and even turn your creative hobby into a business, then check out the Toolbox. It's huge, and it's packed with:
Three pdf guides, between 22 and 36 pages each, to help you make the most of your time and energy
Seven fantastic interviews with creative practitioners and coaches
A bonus list of ways to spark your creativity, and a resource directory to take you even further
You can get all the details here – or just click the button below to buy straight away: