Get Writing
Ebook + Extra Goodies
Are you struggling with your writing?
Maybe you want to write … you just don't know what to write.
Maybe you tried something that didn't work out, and you're not sure what to do next.
Maybe you want to branch out in 2019 and tackle something new.
Maybe you want to dig deeper and go further with what you're already doing.
Get Writing might be just what you need … and it's just $10.
Get Writing Ebook
This 56-page ebook is a detailed guide to four areas of writing: blogging, short stories, novels and freelancing.
Get Writing includes key tips for each of these, plus a four-week plan to help you try them out and see whether they suit you. There are also "going further" tips for each section, for writers who've already had some experience.
It's designed to help you explore different types of writing – ideal if you want to write but you don't know what, or if you'd like to try something new.
Extra Goodies
The Get Writing ebook comes with these extra goodies, too:
#1: A 20 minute video showing you, step by step, how to set up a WordPress.com blog or website. I cover getting the site online, how to change the theme (design) of your site, and how to edit and add pages.
#2: A printable word count tracker so you can see how your writing efforts add up – a great way to stay on track during writing sessions.
#3: An exclusive discount code that gets you 50% off my downloadable products. This covers all of my self-study seminar packs (making them $10 dollars instead of $20) and all my Blogger's Guides (making them $12.50 instead of $25).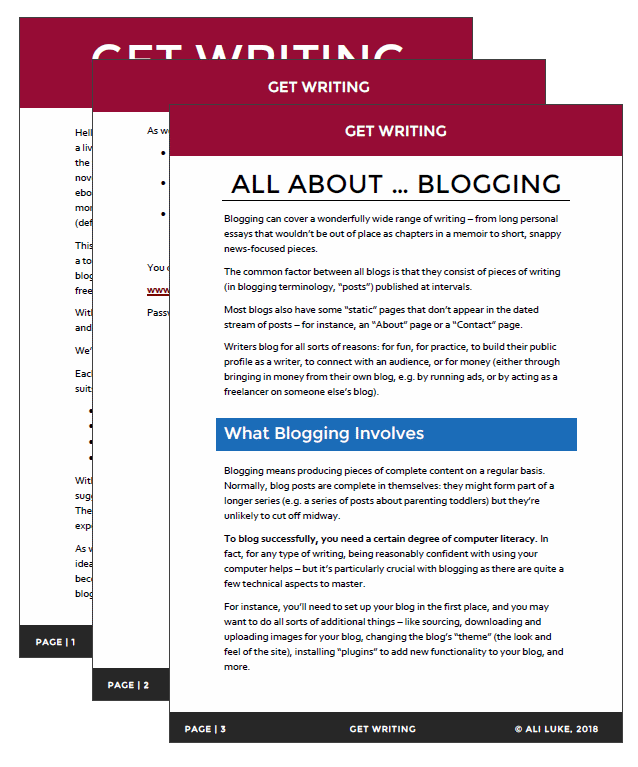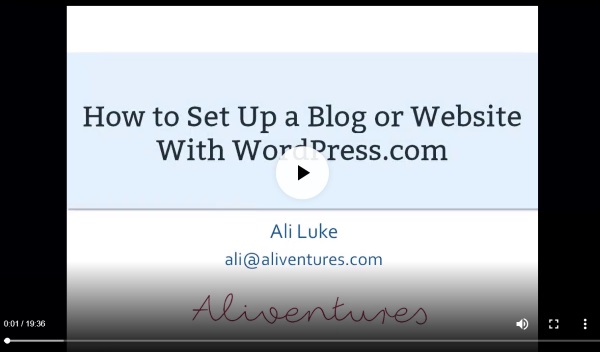 Don't Miss Out!
If you'd like to try your hand at several different areas of writing, or if you want some structured steps for moving forward with a project, Get Writing could be just what you need.
You'll get full access to Get Writing and the extra goodies, plus further goodies that I plan to create in 2019.
If you buy Get Writing and later decide it's not right for you, just let me know within 30 days and I'll gladly refund you in full.