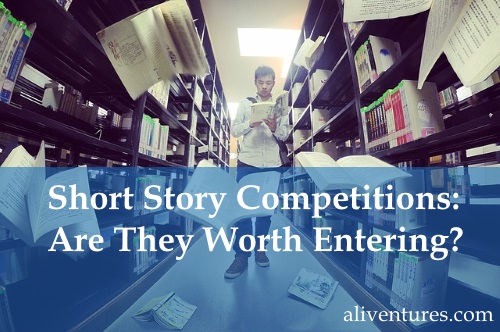 Over the years, I've entered a fair few short stories into competitions.
I'm a novelist by inclination, and so most of my fiction writing has been on much longer projects … but I've found short stories a great way to try out different techniques, to work to deadline, and to simply have fun.
If you've never entered a writing competition, why not give it a try?
You might be worried that everyone else will be amazingly good – but unless you're going for really big competitions (like the Bridport Prize), you'll probably  find that the other writers entering aren't at a super-high standard.
Back in 2007-8, when I was still a relatively inexperienced writer working a full-time day job, I managed to get a couple of shortlistings and a couple of small prizes (a 3rd place and a 2nd place) in Writing Magazine's competitions.
Looking back at those stories, I cringe a bit: they're definitely not my greatest writing, but they did well enough to get somewhere in a competition – which was hugely encouraging to me at that stage in my writing career.
After quite a few years focused on novels, I've gone back to short story competitions again this year. I entered a couple in January and February – one story sank without a trace; the other (rather to my astonishment) won first prize and was printed in Writing Magazine. You can read it, plus the judge's lovely comments, here.
So even if, like me, you're not a particularly experienced or accomplished short story writer … think about giving competitions a go.
Continue reading »