What it Feels Like When Your Writing is Rejected – and How to Bounce Back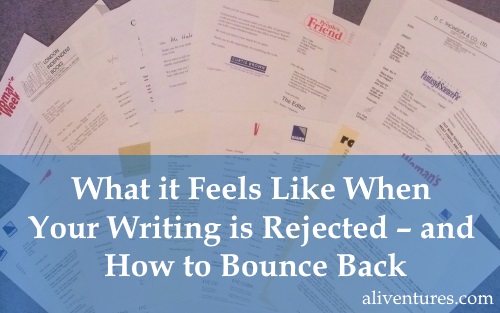 Note: This post was first published in July 2012 and updated in November 2018.
One reader asked me: "I'd like to know what it's like to get rejected by a publisher or several (if that's ever happened to you) and how you bounce back from it."
It has indeed happened to me – as you can see from the photo above! Those are all the rejection letters I received in 2007 – 2008, for a fantasy novel that I was shipping around to agents/publishers, and for short stories that I was sending to magazines. I've had plenty of rejections since then, too: competition entries that didn't even get placed, guest posts pitches that were turned down, reviews of my novels that were less than stellar.
Rejection is simply part of the business of writing. Of course, it would be great if everything you wrote was loved and snapped up by the first editor who saw it. But agents and editors are inundated with new material on a daily basis – perhaps receiving hundreds of manuscripts every week, when they might only take on one or two new authors every year.
Here's what you need to know about rejection:
#1: Being Rejected Doesn't Mean Your Writing is Bad
Looking back at those stories I wrote in 2007 – 2008, they were far from brilliant. But they weren't awful, either. During the same time period, well as collecting a stash of rejection letters, I had two small competition prizes and two short-listings for my short stories. I also started freelancing for several blogs.
When you receive a rejection letter, don't take it as a sign that your writing sucks. There are all sorts of reasons why a manuscript might be selected – perhaps the magazine had just taken an article on a very similar theme, or published a short story with the same premise. Maybe the agent you've written to just doesn't click with your writing style.
All writers get rejected. Every best-selling writer you know – including J.K. Rowling and Stephen King – has received rejection letters.
#2: Getting a Piece Accepted is a Numbers Game
One of the reasons that I had so many rejection letters in 2007-08 was because that I'd decided to enter as many short story competitions in Writing Magazine and Writers' News as I could. I wrote around 15 – 20 short stories that year, and while most of them didn't place in the competitions, four did. I sent out the others to magazines, and managed to get one accepted.
Over the past month or so (as I write this in 2018), I've been sending out freelancing proposals to potential/former clients for the first time in quite a long while … my youngest has started nursery school, so I've suddenly got some extra working hours. Some of those pitches have been rejected; others met with no response. But some were enthusiastically accepted!
The more stories or article pitches or book proposals you write, the more chances you have of success. Create a spreadsheet so you can keep track of which stories you've sent where, and every time a story comes back, send it out to a new publication.
#3: Facing Rejection Gets Easier
The first few times I got rejection letters, it hurt. I'd written the best novel I could at the time, and I'd spent ages researching agents, composing cover letters, printing the manuscript in the right format, and so on. I thought that if only I could get my novel accepted, I could quit my day job (I have a slightly more realistic idea about advances now…).
But after a few rejections, I stopped minding so much. I started sending out short stories as well as the novel. I began to understand that rejections are simply part of the writing life, and that – while they might be a little disappointing – they're just one person's opinion.
Your first rejection will probably hurt. Your tenth rejection might sting. But every time you recover from a rejection and send something out again, you'll find that those rejections have a little less power over you.
Moving On From Rejection
You might have noticed above that my rejection letters are from 2007 – 2008. I first wrote this post in 2012, and I updated it in 2018 … so what's happened since?
At the end of July 2008, I left my day job. In September 2008, I started an MA in Creative Writing, and began to work on a new novel (instead of short stories).
My freelancing work – mostly for websites – wasn't just a great way to make steady money as a writer, it was also a great way to build my confidence. Getting paid on a regular basis felt like a pretty strong validation of my writing!
My novel, Lycopolis, took three years to finish. I did approach one agent and one editor at a conference, but neither wanted to take the novel on. As the months went by, though, I saw more and more authors – new and established – bring their novels out themselves, as ebooks and print-on-demand works. I decided to bypass the rejection game and take the self-publishing route with Lycopolis (2011) and the next two novels in the trilogy: Oblivion (2015) and Dominion (2016). You can find out about all three on my author website.
(If you're wondering about the big gap between novels, that's because my daughter and son were born in early 2013 and late 2014 respectively!)
I also started blogging here on Aliventures back in 2009. With my blog and the weekly newsletter, there's no one to reject my writing – and I usually get lovely comments that help me know I'm on the right track.
Today, writers have a wealth of different options. You aren't reliant on agents and publishers to get your stories, articles, or poetry out there.
Yes, having an agent or publisher still has many benefits. When I first wrote this post, back in 2012, I'd just finished a book in Wiley's Dummies series, Publishing E-Books For Dummies, and I certainly appreciated the advance! 😉 (As well as the attention to detail from my editors, and the opportunity to be associated with a major book brand.)
But … you don't have to be entirely at the mercies of the publishing industry. If you wanted, you could do any of these pretty much immediately:
I'm definitely not suggesting that you should stop (or avoid) submitting your work to agents and publishers. Collect up those rejection slips and be proud: you've survived them! The more rejections you get, the closer you are to an acceptance.
At the same time, find a way to bypass the agents and publishers, so you can get at least some of your writing out there to the world. Having an audience – even if that's just a handful of friends and family – is hugely rewarding, and can help to take away any lingering pain of rejection.
Whatever stage you're at with your writing, good luck. If you've had any personal experience of rejection – or acceptance! – that you'd like to share, feel free to leave a comment below.
About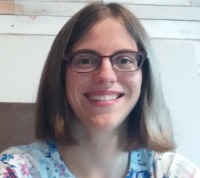 I'm Ali Luke, and I live in Leeds in the UK with my husband and two children.
Aliventures is where I help you master the art, craft and business of writing.
My Novels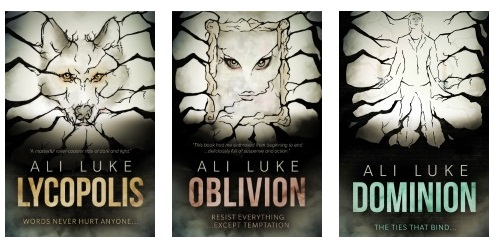 My contemporary fantasy trilogy is available from Amazon. The books follow on from one another, so read Lycopolis first.
You can buy them all from Amazon, or read them FREE in Kindle Unlimited.