How to Create a Free Blog or Website: A Step-by-Step Guide for Writers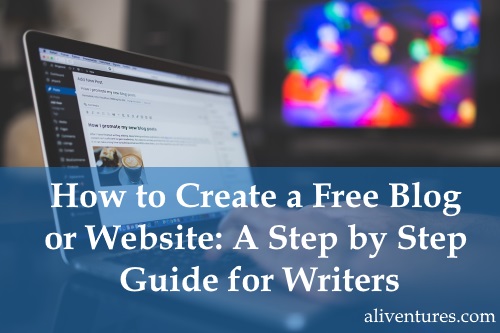 Most writers, at some point, will want a website.
You might use your website:
As a way to promote your writing services (e.g. copywriting, freelance writing, editing, or proofreading).
As a resource for a creative writing group (e.g. letting members / new members know about meetings).
As a place to let readers know more about you and your novels, and perhaps to encourage them to join your email list.
As a blog where you write about writing … or about another topic altogether.
As a place to publish your work or other people's work, like an online journal or literary magazine.
… or perhaps you have a different idea altogether!
Whatever you want a website for, there's a good chance that:
You'd ideally like it to be free (especially if it's more like a hobby than part of your business).
You want it to be simple to set up and to maintain.
Why I Recommend WordPress.Com for Your Website or Blog
I've been creating websites for 16 years now, and I remember the days when I had to hand-code everything in HTML. For the past nine years, I've been using WordPress for almost all my websites.
Whether you're new to websites or already have one (or more!), WordPress is a great option. Many, many websites run on WordPress – including lots of big ones like ProBlogger and Copyblogger.
While WordPress is a great tool for blogging, your website doesn't have to have a blog. You can use WordPress to make a "static" site (one that's only updated occasionally, without a blog/news section) if you want.
You may already know that there are two types of WordPress to choose from … and I know this is where a lot of writers get a bit stuck!
Your options are:
WordPress.COM – your website is hosted for you (you don't have to pay for web hosting) but your options are a bit more limited.
WordPress.ORG – you have full flexibility, but you need to pay for your own hosting and there's a bit more of a learning curve when it comes to setting up and maintaining your site.
You may have heard that it's best to use WordPress.org because it's more professional and you get full control over everything.
Personally, I think WordPress.com is fine for the vast majority of writers creating a straightforward website … and anyway, you can transfer over from WordPress.com to WordPress.org in the future, if you feel the need to.
Here's how to set up your website on WordPress:
#1: Choose a Name for Your Website or Blog
With WordPress.com, you get a free WordPress domain name. This has "wordpress" in it, e.g. aliluke.wordpress.com.
Alternatively, you can upgrade to one of their paid plans (which start from £2.50/month) and get a regular domain name (e.g. aliluke.com).
While a domain all of your own does look a little more professional, plenty of sites do just fine with "wordpress" in their name – David Gaughran at davidgaughran.wordpress.com is quite prominent in the indie author world, for instance.
The three main options for your website name are:
For more help naming your website, check out my post Three Different Ways to Name Your Blog or Website [Pros and Cons].
You might want to have several names in mind in case your favourite one has already been taken!
#2: Sign Up at WordPress.com
When you head to WordPress.com, you'll see this: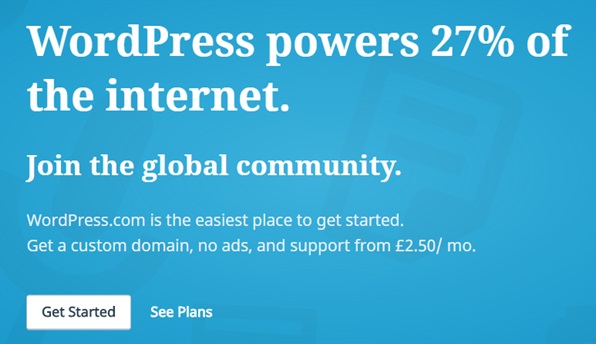 Click "Get Started" and WordPress will lead you step-by-step through creating your website.
You can go back at any stage of the process. You can also change almost everything once your site is online (except your domain name).
WordPress Setup: Step #1:
The first screen asks you to pick a (broad) topic for your website or blog:
Don't overthink this! I'd suggest "Education" (if you're giving writing advice) or "Professional Services" (if you're a freelance writer). You can also skip this step if you prefer.
WordPress Setup Step #2:
Next, you need to choose what sort of website you're creating: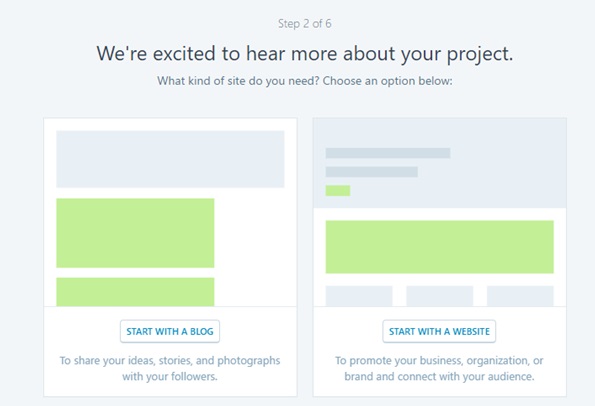 Essentially, a "website" has a static home page (you can edit it but new blog posts don't appear there). A "blog" has your posts as the home page. You'll also be offered different templates – designs for your site – based on what you choose.
You can change all of this once your site is live, so don't worry if you're not 100% sure at this point.
You've also got the option to create a Portfolio, which is really geared towards visual artists, or an online store (which $25+/month so probably not what you want to go with)!
WordPress Setup Step #3:
Next, WordPress will show you some "themes" to choose from: these are the layouts and designs for your website. You can switch your theme at any time. Pick one that you like the look of: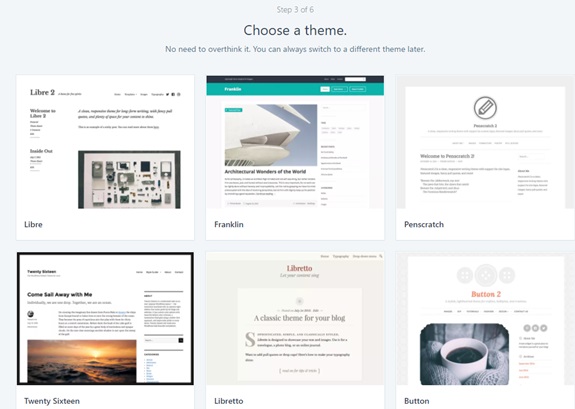 For my example website, below, I chose the "Hemingway Rewritten" theme.
WordPress Setup Step #4:
This is where you name your website: ideally, you'll have thought about this in advance.

It's really helpful for your site's name to match its address (e.g. my site is "Aliventures" and the address is www.aliventures.com) … try to avoid having a complete mismatch here!
You may find, as below, that your first choice isn't available. WordPress will automatically suggest a different option (with a number appended to your site's name) and will also recommend lots of premium options: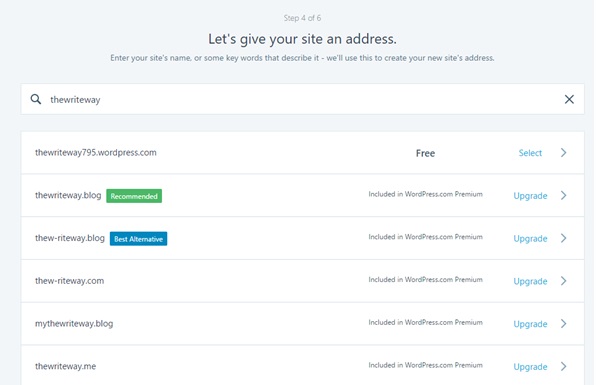 I'd recommend that you continue to try different names for your site until you find one that's (a) not taken and (b) you're happy with!
Here's mine: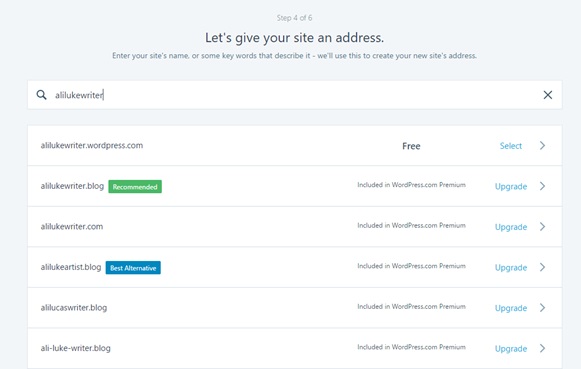 WordPress Setup: Step 5:
You've got a choice of different plans to choose from: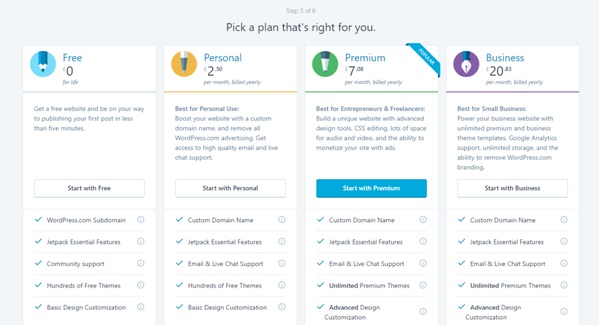 At this step, simply pick the "Free" plan (you can always upgrade in the future). If you do want to use a custom domain name or get email / chat support, you may want to opt for the Personal plan.
WordPress Setup Step #6:
Finally, you just need to enter your email address and choose a password: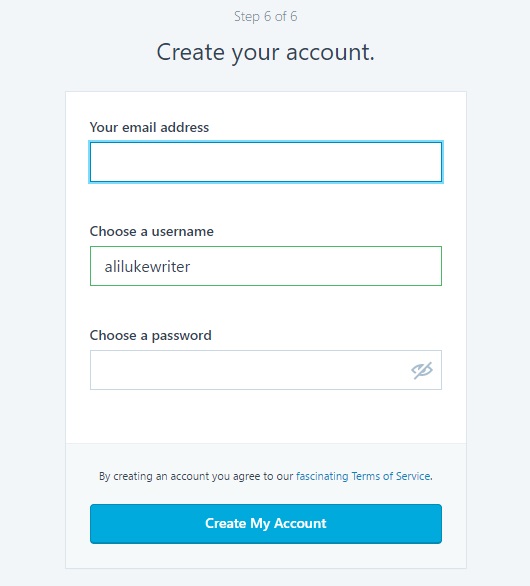 Your username defaults to your site name but you can change it if you want. (You can also login using your email address, so don't worry about forgetting your username.)
Click the "Create My Account" button.
#3: Editing Your New Website or Blog
WordPress will send you an email, and you need to click a link in this to confirm your email address so you can start editing your site.
The email is from donotreply@wordpress.com and looks like this:
Once you click to confirm your email address, you'll see your site: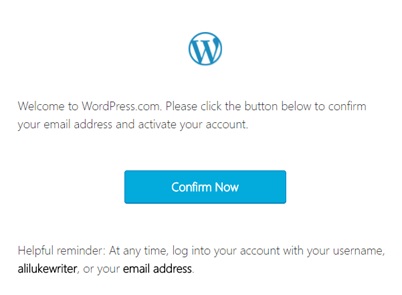 You can use the links on the left-hand side to edit all the different aspects of your website. There's quite a bit to take in: don't feel overwhelmed! If you get stuck at any point, a quick search online will find you a tutorial or explanation.
The edits I'd suggest you make straight away are to:
Edit #1: Give Your Site a Title
Click "Settings" on the left-hand side and you'll see this screen: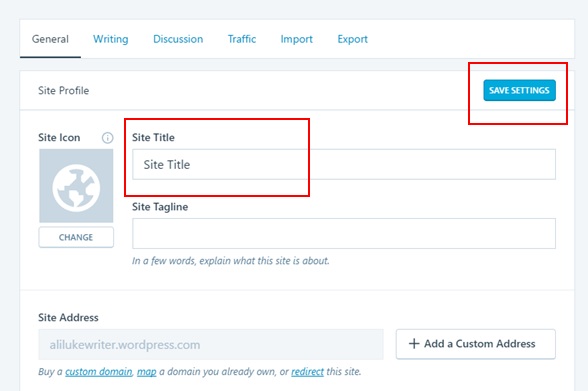 You don't have to include a tagline but it can be helpful for readers, especially if your site title is your name. On Aliventures, for instance, my tagline is "master the art, craft and business of writing".
Make sure you click the blue "Save Settings" button after making any changes.
Edit #2: Change the Default "About" Page
To edit a page, you can either:
Method #1: Click "Pages" in the left-hand panel: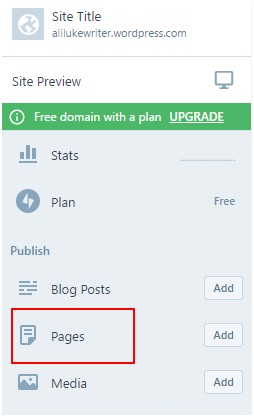 Then click the "About" page title to edit it: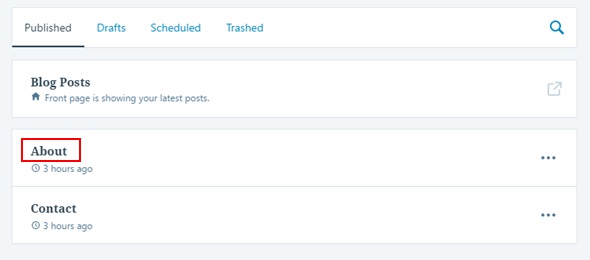 Or…
Method #2: Go to the page on your website then click the little "Edit" link that pops up on the bottom right:

Either way, you'll then see the editing pane:
Simply edit the post just as you'd do in a word processor, then click the blue "Update" button over on the right-hand side of your screen: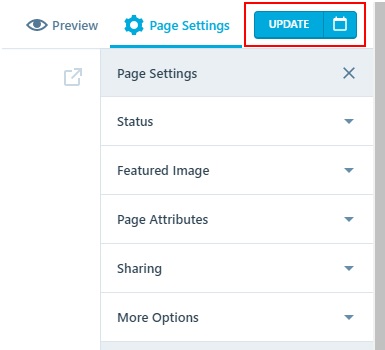 So what should you put on your About page? You might want to start with:
What your website is all about / how it can help the reader.
Who you are, particularly in terms of your writing.
This doesn't have to be perfect: just get something up there, as About pages are very often a cause of massive procrastination!
Edit #3: Change the Default Blog Post
You can edit a post in exactly the same way as a page: either go to Posts in the control panel, or navigate to the post on your website then click on the "Edit" link at the bottom.
You don't have to write anything fancy for your first blog post. You can keep it short and straightforward: let readers know that your blog is currently a work in progress, and that you plan to post regularly about writing (or whatever you plan to write about)! You can always edit or delete the post in the future.
If you've had "set up website" on your to-do list for weeks, months or even years … you could get it done today!
The whole process of setting up your website takes about 10 minutes from start to finish (faster if you don't dither like I do about themes).
Once it's set up, allow about 15 minutes to update your Site Title, About page and first post and you'll be finished. 🙂 Remember, you can refine these as much as you like in the future: the point is to get your site up and running right now.
I'm planning to write more about getting your website finished. Is there a particular question you have or a problem you're struggling with? (E.g. knowing what to blog about, knowing what content / pages to have on your site.) Just let me know in the comments below and I'll make sure I cover it in a future post.
About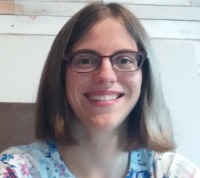 I'm Ali Luke, and I live in Leeds in the UK with my husband and two children.
Aliventures is where I help you master the art, craft and business of writing.
My Novels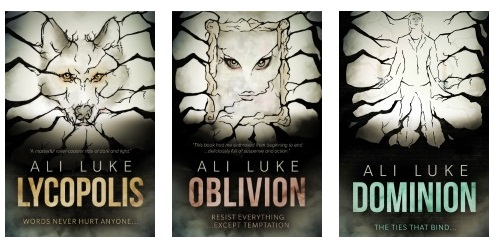 My contemporary fantasy trilogy is available from Amazon. The books follow on from one another, so read Lycopolis first.
You can buy them all from Amazon, or read them FREE in Kindle Unlimited.