What's "Real" Writing – and Does Yours Count?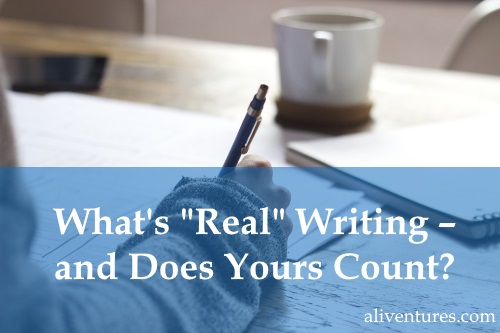 This post was originally published in June 2013, and updated and republished in July 2019.
Do you ever worry that your writing doesn't really "count" somehow?
The first time I felt this was back in 2008 – 2009, when I had two major strands to my writing: my freelance blogging that paid the bills, and my fiction that I was writing as part of an MA degree.
I felt uneasy, though. I worried that my paying work must seem hack-like to my fellow Creative Writing MA students – and that my fiction-writing would look indulgent and silly to the blogging world.
Of course, no-one cared! No-one (except me) was obsessing over what I did and didn't write.
My fears weren't really about other people's opinions – they were about my own uncertainty as to what "counted" as proper writing, and my inner critic's insistence that whatever I was doing, it somehow wasn't worthy enough.
And I know I'm not the only writer who feels that way.
Let's take a look at some popular reasons why writers think their words somehow aren't good enough to count as "proper" or "real" writing:
#1: "It's only for money."
The "true artist starving in a garret" image might be comforting when you're struggling to make ends meet … but don't let it convince you that anyone who makes money writing is a hack.
There's nothing sordid about money (even though Brits like me sometimes feel uncomfortable talking about it)! Unless you're using your writing to support a scam or something that you consider unethical, you have every reason to be proud of your writing.
Think about it this way: unless you were a good writer, with something to say and the ability to say it well, no-one would be paying you to write.
Writers don't need "pure" motives to create wonderful books. Little Women, for instance, was written rather reluctantly by Louisa May Alcott, at the request of her publisher, who wanted a story for girls. It became her best-loved book.
#2: "It's just fanfiction."
Fanfiction writers often have a particular hard time. They may be unable to talk about their writing to friends and family, who'd find the whole idea confusing or weird. It's hard to make money from writing fanfiction, though some authors write stories that they later turn into their own works using original characters (Fifty Shades of Grey, which started life as Twilight fanfiction, is probably the best known example).
I think fanfiction is a tougher challenge than most forms of writing. Capturing the essence of someone else's characters is hard. Fanfiction writers are hugely inventive, too – coming up with original characters, alternative universes, and of course unique plots.
Fanfiction also offers possibilities that regular fiction doesn't so easily allow. Because fanfiction authors can assume that their readers are already familiar with the characters, they have the scope to explore alternative possibilities (like swapping the gender of characters or writing some of the characters as kids or teenagers) that can provide new angles on familiar stories and relationships.
The readership is, of course, also a great asset to fanfiction writers: a well-written piece of fanfiction is likely to find a much larger audience than a well-written original story that doesn't already have a built-in audience. Having a sizeable readership can provide both motivation and useful feedback, helping writers improve faster.
Fanfiction is nothing new, either. In the past, authors often used characters and even plots from earlier works. For instance, Malory's Le Morte d'Arthur (written, despite the title, in English) used existing characters and stories, drawing them together and adding new material.
#3: "I know it won't be published."
Publication might be your end goal – but that doesn't mean your writing was wasted if you don't manage to find an editor who loves it.
Over the past decade, many authors have turned to self-publishing – for greater creative freedom and a greater share of the profits, not as a second-best alternative to traditional publication. With ebooks and print-on-demand, it's become relatively easy (and cheap) to get your own work out there for sale.
This has become an increasingly legitimate (and for many authors, lucrative) route, particularly with ebooks. Self-publishing authors get to keep 70% of their ebook royalties from Amazon, for instance. Many self-publishing authors (like J.F. Penn and Mark Dawson) don't merely make a good living from their fiction — they're also New York Times bestsellers. jf penn
But it's not just about self-publishing. You don't have to write with any sort of publication in mind in order to be a "real" writer.
You might keep a journal, for your eyes alone, or you might write letters, for a single reader. You could be writing a memoir, to be read by close family and friends. All of that still counts!
Plenty of authors write at least some material with no thoughts of publication: journals and letters, for instance. (Some of these do get published posthumously, such as Anne Frank's diary.) Writing for publication, or being published, doesn't magically make your writing more worthy.
So … whatever you're writing, keep going, and don't worry that it's somehow not "real" writing. Ignore anyone (including your own inner critic) who tries to tell you differently.
---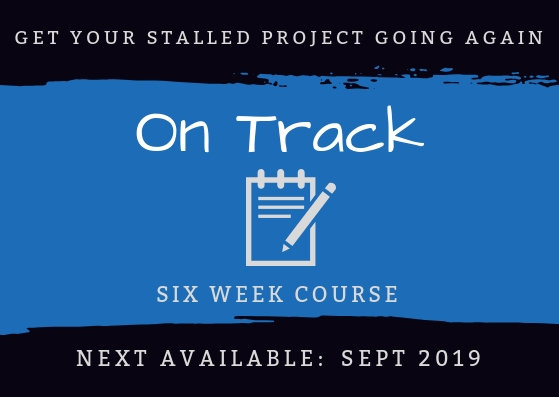 If you'd like to a writing boost, whatever type of writing you're working on, join us online for six weeks of writing together from Monday 16th September.
On Track is suitable for all writers at all levels. You set your own targets,  which can be as simple or challenging as you like. Each week, you're encouraged to "check in" with the rest of us (in our private Facebook group) to let us know how you're getting on.
We have six weekly modules that guide you through the process of figuring out what to focus on, setting your goals, planning ahead, understanding your drafting process, enjoying your writing more, and keeping up your momentum after the course ends.
Whatever you write — novels, short stories, blog posts, non-fiction articles, fanfiction, poetry, memoir, scripts, or something else entirely — On Track is for you.
It costs just $30 for all six weeks (plus four bonus weeks of support). If you've taken On Track before, you can take it again at half price ($15).
You can find out all about On Track (and join the waiting list) here.
About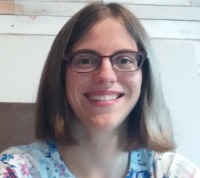 I'm Ali Luke, and I live in Leeds in the UK with my husband and two children.
Aliventures is where I help you master the art, craft and business of writing.
My Novels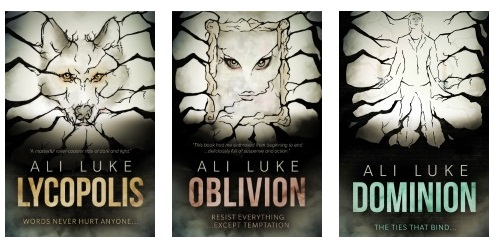 My contemporary fantasy trilogy is available from Amazon. The books follow on from one another, so read Lycopolis first.
You can buy them all from Amazon, or read them FREE in Kindle Unlimited.