Back at the start of January, I asked you about your writing goals for 2012 – and I promised that I'd talk about mine.
Last week, I was able to reveal one of my two big projects for the year: Writers' Huddle, a community and teaching site for writers. It's not solely a writing project – there's audio and video content involved too – but the joys and challenges of those are definitely going to give me some extra blogging material…
Announcing: My Book Deal!
And this week, I'm really excited to be able to tell you about my other big project: I'm writing a book for Wiley's For Dummies series, provisionally titled Publishing e-Books for Dummies.
You've probably come across the For Dummies books in a local bookshop or library in the past: they're large, square-ish books with distinctive black and yellow jackets: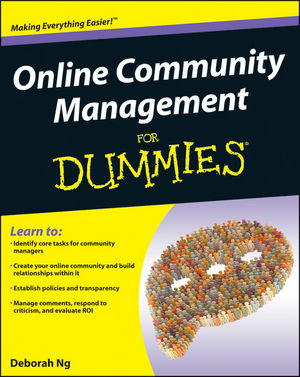 (This is the excellent "Online Community Management for Dummies" by Deb Ng.)
I'm sure you can appreciate how very happy I was to sign a contract with a publisher (and how proud my mum is ;-)).
The book is scheduled to come out in September, so I've got tight deadlines for drafting the different sections: if I'm slow to respond to emails or if all goes quiet on Aliventures for a while, I'm probably typing away furiously.
And switching back to project #1 …
The Writers' Huddle forums are already buzzing with activity, and there's a lovely sense of community and fun there. If you'd like to join, you've got until January 31st – but the sooner you come on board, the sooner you can benefit from the mini-courses, the free ebook, and the interaction in the forums with me and with other writers.
Just click here to read all the details about Writers' Huddle.