This week, the Aliventures blog celebrates its second birthday.
(Hurrah!)
It's been a fantastic couple of years, and I've been lucky enough to gather a wonderful band of intelligent, articulate, engaged readers: I appreciate every single comment and email. Thank you! 🙂
I've realised, though, that Aliventures has grown a lot … and you might not know that there are some new ways to keep up with things here.
So, here they are…
Get Updates Straight to Your RSS Reader or Inbox
Would you like to get every new post delivered straight to you? Just grab the RSS feed by clicking here or sign up for email updates (in the box below):
(If you're not sure what RSS is, I'd recommend going with the email option.)
Join the Newsletter
I've just revamped the Aliventures newsletter. It's now a short, weekly dose of  free writing advice and inspiration – along with regular free mini-ebooks, and exclusive samples of my new paid-for ebooks.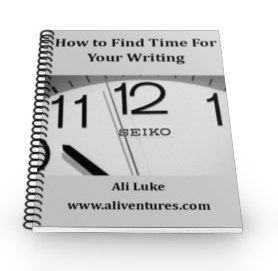 You'll get a copy of my mini-ebook How to Find Time for Your Writing as soon as you've signed up.
You can find out all about the newsletter, and join it, here.
Follow Me on Twitter
Since I started Aliventures, Twitter has grown hugely. There's a great community of writers and bloggers there, so if you're not already tweeting, now's a great time to start.
You can find me as @aliventures on Twitter. I'm on there most days, and I'm always happy to answer questions: just put "@aliventures" at the start of your question so that it gets to me.
You'll often find me tweeting about my writing-in-progress:

"Like" Aliventures on Facebook
If you're on Facebook, swing by the Aliventures page and hit "like" (or hey, just hit it in the box in the sidebar!) I link to all my new posts from my Facebook page, and I also talk about any news.
Today, I put up a sneak-preview of my latest ebook cover…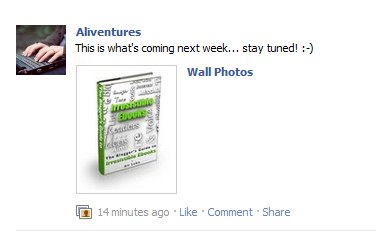 Whew!
However you choose to stay connected, I'm thrilled to have you on board, and I hope you'll stick around as Aliventures grows and develops over the next few months and years. 🙂