What Are Dialogue Tags and Dialogue Beats? (And Why You Should Use "Said" Frequently)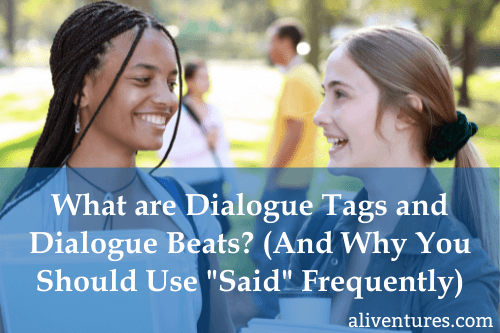 This post was originally published in April 2016 and updated in July 2021.
Dialogue is vital to your story. It helps reveal and develop character – and it drives the plot forward. Dialogue-heavy scenes tend to be fast-paced, helping to keep the reader moving.
This means it's crucial to get dialogue right. And that means getting to grips with dialogue tags and dialogue beats. Here's the most important thing you need to know:
You shouldn't look for lots of variations on the word "said".
I'm going to explain why, but first, let's get clear about what a dialogue tag is.



What is a Dialogue Tag?
A "dialogue tag" is something that "tags" a line of dialogue with a particular character's name or pronoun. Here are some examples, with the dialogue tags in bold text:
"Do you remember anything about the accident?" John asked.
Sue mumbled, "No. I'm sorry."
"Okay," he said, "but if you do think of anything, call me."
The dialogue tag can come before, after, or during a line of dialogue. The rules for punctuating dialogue and associated tags are quite precise, and you can find a good primer here.
Why You Should (Generally) Use "Said" Instead of Other Dialogue Tags
Perhaps you've been told (by tutors, your writing group, or beta readers) to watch out for words that occur too frequently.
"Said" isn't one you need to worry about.
The words "said" can crop up quite a lot and go almost unnoticed. As a reader, you barely spot it; as a writer, it's more obvious (since you write far more slowly than you can read, and you may be pausing to think through the dialogue as you craft it).
In fact, it's much worse to keep finding alternatives for "said" in an attempt to make things more interesting. These do draw attention to themselves … and risk becoming a bit silly. Take this, for example:
"Sophie!" he exclaimed.
"What is it, John?" she demanded.
"You look stunning today," he opined.
Of course, having "he said" or "she said" after every piece of dialogue will indeed start to grate on the reader. But there are lots of ways to change things up without reaching for a thesaurus. One of my favourites is to use dialogue beats.
What is a Dialogue Beat?
A "dialogue beat" (or "action beat") is a sentence of narrative that's associated with a character's line of dialogue. It can create a short pause (a "beat") within the blow-for-blow of dialogue. For instance:
John stared out of the window. "I get this feeling there's something you're not telling me."
"Like what?" Sue stayed right where she was, arms folded. "What exactly are you accusing me of?"
As with dialogue tags, dialogue beats can go before, after, or in the middle of a line of dialogue. Punctuation is also critically important here too. The beat must go in the same paragraph as the associated speaker's dialogue.
Here's how to use tags and beats in practice:
Using Dialogue Tags Well
Does anything about this example jar with you?
"Do you remember anything about the accident?" John queried, insistently.
Sue said in a low voice, "No. I'm sorry."
"Okay," he said quickly, "but if you do think of anything, call me."
Complex dialogue tags like these draw the reader's attention to themselves (not to the actual dialogue, which is usually the interesting part!) Often, they're redundant or unnecessary: we get the full meaning from the dialogue without them.
Fancy dialogue tags are sometimes called "said-bookisms" (you can find out why and view plenty of examples here on TV Tropes).
Occasionally, a tag beyond "said" or "asked" might be necessary. Consider a different tag if it's not clear from the words how they're spoken and the way in which they're spoken matters:
"Do you remember anything about the accident?" John asked.
Sue whispered, "No. I'm sorry."
"Okay," he said, "but if you do think of anything, call me."
Note: I personally like to use "asked" for anything that ends in a question mark – for me, people don't say questions, they ask them. Some writers differ on this.
So what tags can you use?
Said – always a safe bet.
Asked – I've never seen a reader object to this or even really notice it (provided it's being used for a question).
Shouted – this may be necessary if it's not clear that a character has raised their voice (an exclamation mark or italics can clue the reader in as well).
Whispered – again, this may be necessary if we wouldn't otherwise realise how quietly a character is speaking. ("Muttered" and "murmured" are decent options too, though even more attention-drawing.)
Be careful with the last "shouted" and "whispered": you don't want to use them too frequently, so avoid over-tagging your dialogue (I'll explain how in the rest of this post).
Which dialogue tags, then, can't you use?
Well, you can use whatever you like – the question is whether it works! I'd definitely advise taking care with:
Longer, more Latinate words where a simpler equivalent exists –g. "he questioned" or "he queried" instead of "he asked".
Unusual words that stand out – e.g. "opined", "expostulated", "interjected"
Tags that aren't really plausible ways of speaking a sentence – e.g. "he smiled", "he laughed", "he wept". There's nothing wrong with these as actions, though: just be careful you don't accidentally punctuate them to look like dialogue tags.
Old-fashioned words or tag structures, unless these are in keeping with your setting or characterisation – e.g. "cried" for shouted, "said he", or "said I".
Anything that is going to make the reader giggle (like "he ejaculated")
Using Dialogue Beats Well
Dialogue beats can be short or long, and short ones will often work just fine. If they're longer than a sentence, then I'd probably think of them as actual narrative rather than just a dialogue beat (and they could potentially break up a conversation into several sections).
Here are some short ones:
John looked up. "Do you remember anything about the accident?"
Sue shook her head. "I'm sorry."
"Okay. But if you do think of anything, call me." He smiled.
Important: note the difference between:
"Okay. But if you do think of anything, call me," he smiled.
"Okay. But if you do think of anything, call me." He smiled.
The first is not a dialogue beat: it's using "he smiled" as a dialogue tag. I'd strongly advise against this. (Really, how can you smile a line of dialogue?)
The second is a dialogue beat. Note the full stop and the capital letter starting a new sentence.
This may seem like such a subtle difference that it's hardly worth bothering about … but readers will notice the punctuation of your dialogue and it'll affect how they read it.
To use dialogue beats effectively, try to:
Have them add to the dialogue in some way. This might mean demonstrating how something's said … or undermining the speaker's words.
Avoid using the same action over and over again. I have to look out for ones along the lines of "John turned to Sue" in my writing. K.M. Weiland has a good post about over-using the same dialogue beat here.
Consider relocating the scene so that the dialogue can be made more powerful (e.g. more tension-inducing, more emotionally involved) by the actions surrounding it. For instance, two characters arguing while washing dishes is going to be a different scene from two characters arguing in bed with their kids asleep in the next room.
Dialogue beats don't have to involve action. You can also use thoughts or descriptions, in exactly the same way. For instance:
John wished she'd just get it over with and avoid making this even more unpleasant for both of them. "I get this feeling there's something you're not telling me."
Or:
The sun had almost dipped beneath the horizon now, the world turning to monochrome. "I get this feeling there's something you're not telling me."
Letting the Dialogue Stand on Its Own
Of course, one very easy way to avoid overusing "said" – and to steer clear of weird alternatives and repetitive dialogue beats – is to let your dialogue stand on its own, like this:
"Do you remember anything about the accident?" John asked.
Sue said, "No. I'm sorry."
"Okay. But if you do think of anything, call me."
If John and Sue are the only characters in the room, it's obvious that the third line in the conversation belongs to John. Even if there are other people present, we'd assume that John's saying this as it follows on naturally.
Although I've seen some authors go for the stylistic quirk of having whole pages of only dialogue, this quickly gets difficult to follow as a reader, as you end up having to count (or mentally read the lines in different voices) to avoid getting lost in who's saying what.
It's up to you, then, to find a balance. I'd suggest:
If it's ever unclear to you who's speaking (when you edit), then rewrite that line or add a tag to make it obvious. Readers will not want to re-read half a page in order to figure out what's going on. Worst case scenario, they'll assume that someone else said that line of dialogue, potentially altering their whole understanding of your characters and story.
If you have three or more characters in a conversation, almost all your dialogue will need to either be tagged or have an action associated with it. You might be able to let the occasional short response stand alone, though.
Even if it is clear who's speaking, it might better suit the pacing (or even the rhythm) of your prose to include a dialogue tag or beat. Unless you want a very quick-fire conversation, it's worth adding in some action, thought or description around the dialogue to keep the pace moderate.
I hope this has helped clear up dialogue tags and beats, and given you some thoughts on how to use them too.
If you'd like some tips on what to actually put between the quotation marks, then check out my post Stylised Talk: Writing Great Dialogue [With Examples], along with Everything You Need to Know About Writing Great Dialogue.
About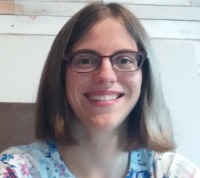 I'm Ali Luke, and I live in Leeds in the UK with my husband and two children.
Aliventures is where I help you master the art, craft and business of writing.
My Novels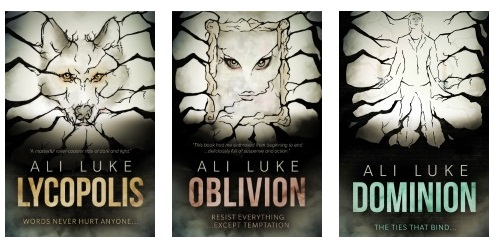 My contemporary fantasy trilogy is available from Amazon. The books follow on from one another, so read Lycopolis first.
You can buy them all from Amazon, or read them FREE in Kindle Unlimited.