In the comments on Eight (Non-Blogging) Things I Learnt at Blog World, Mary E. Ulrich wrote:
Sounds like a wonderful trip and lots of lessons. And this is before I even hear about the good stuff you've learned. Thanks for letting us share some of your excitement about BlogWorld.
That line, which I've put in bold, stood out for me. I realised that, hey, you'd probably like to hear some of the actual writing and blogging stuff that I learned…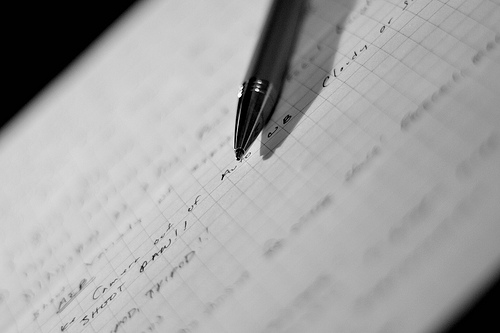 (Image from Flickr by freddyfromutah)
Tip #1: Make Your Blog a Must-Have Resource
Frankly, I think this is great advice not just for bloggers but for writers of books, ebooks and pretty much any informational content.
Make it a must-have resource.
It's easy to say, and much harder to do. Chris is pretty darn good at it. (If you're a blogger or an aspiring blogger and don't yet have Chris's free ebook "Creating Killer Flagship Content", then go and grab it now.)
If you're aiming at making your blog (or book, etc) a must-have resource, how about:
Figure out what people want to know (and give it to them)
Spend time on quality content – don't just churn out the words
Get feedback from friends and fellow writers or bloggers
Think about your overall strategy: who are you trying to help?
Here on Aliventures, I'm focusing on writing some really strong content. I've got a huge post coming later this week – a complete guide to freelance writing, packed with links to resources.
Tip #2: Sell Advertising On Your Blog the Right Way
If you're a blogger, or a website owner, you'll know that you're paying cash for a number of things. Like:
Your hosting bill
Your domain name
Premium themes
Logos, banners etc from a designer (psst … Aliventures has a new banner coming soon!)
And that's before you factor in the cost of your time, which is likely to run much higher.
A lot of newer bloggers turn to Google Adwords. I've never had Adwords here on Aliventures because I think their ads are of dubious value to you. I'd rather run adverts for companies which I like and trust.
(You'll notice the only ad running on Aliventures at the moment is for 2KnowMySelf, Farouk's site. You'll see Farouk popping up in the comments here on almost every post. He's got a very popular blog on personal development topics, and if you've not done so already, you might like to check it out.)
So, if you want to attract advertisers to your blog, Darren suggests:
Build your brand, audience and community
Make it very easy for potential advertisers to contact you
Create a page for advertisers, and/or a media kit, where you answer any frequently asked questions
Know your metrics – the gender, age and location of your visitors (Google Analytics can tell you this)
Be selective about the advertisers who you partner with
Consider positioning ads in the middle of posts, or at the end of posts, because more readers will click on them
Start by approaching small advertisers, rather than big companies
Offer advertising packages
Over the next few months on Aliventures, I'm focusing primarily on writing lots of great posts for you J You might see a couple more ads in the sidebar in future – these help fund the site, and allow me to keep writing posts rather than having to focus solely on my coaching and other paid work.
Tip #3: Make Podcasts Sound Good
I'm a writer. I find it easy to be fluent and engaging in my writing. When I'm speaking, I feel much less eloquent. I worry about my accent. I stumble over my words. I forget the really good points that I want to make.
But … I know that a lot of people (and perhaps that's you?) like to listen to audio content. I also know that, sometimes, it's easier to learn or take something in if you can hear rather than read.
So, one of the panels I went to at BlogWorld was "Podcasting 101". (A podcast is a bit like a blog delivered in audio form – it comes out regularly and tends to cover one particular area.)
If you're a writer, you could create some form of audio content to support your writing:
An audio version of your novel or non-fiction book (or the first chapter or two)
A regular podcast
An audio product (like a series of talks) for your reader to buy
An interview with someone
Rob had some great tips, in particular about making audio sound good. This reassured me that I don't have to be perfect off the cuff – it's fine to do some editing. In particular:
Cut out all those little "uh" and "er" sounds, and any false starts or "dead air" (silence)
If you're interviewing someone, reassure them that you'll edit the audio file to make sure they sound good!
Make sure you level out the volume and clear up any background noise, hiss or static
Listen to the final edit of your file before you post it.
He recommended a number of tools, too: I'll be using Audacity and The Levelator in particular.
So what does this mean for Aliventures? Well, I'm hoping to start creating some audio content next year – not a regular podcast, but occasional special downloads so that you can hear my lovely British accent. (I'll even try to throw in the word "aluminium" to keep Thursday Bram happy…)
Some of this content will be going out to the newsletter list, rather than being posted publically on the blog; if you're not on the list yet, you can read more about it and sign up here.
Tip #4: Tweet About Your Older Posts
This was a really simple tip, but also a really good one. One of the problems which bloggers face is that they have great content back in their archives which few people see. Natalie suggested tweeting links to older posts.
If you follow me on Twitter, I'll be sending out the occasional tweet about posts from last year which you might not have seen. And if you're a blogger – or have any sort of content online to link to – you might want to do the same.
Tip #5: Educate, Entertain, Enlighten
What's the point of writing?
Unless you're writing purely for yourself – in a journal, for instance – then you're writing for an audience. There are three key things you can do for your reader:
Educate them (by providing information, e.g. "How to Use Widget X")
Entertain them (not necessarily being funny, e.g. novels are a form of entertainment)
Enlighten them (helping the reader experience an "aha!" moment, or a rush of inspiration)
Ideally, you want to do more than one of those; a novel which entertains but also enlightens, for instance, or a blog post which educates as well as entertains.
The "how" is harder. You might try:
Setting a clear purpose for each piece of writing: what are you trying to communicate?
Making your style appropriate for your content: for instance, an educational piece of content might follow a "how-to" format, but something enlightening could be written as a poem
Listening to reader feedback – how does your writing come across to them?
Natalie suggested that bloggers could use "recipes" – writing posts in a particular format – but that it was also fine to mix things up and try something new.
Here on Aliventures, I've found that I often get comments telling me that a particular post was inspiring or made people feel better. I love that – it's something I aim at in my writing – but I'm also starting to bring in more informative content that I hope gives you some ideas for taking action. Like this post. 🙂
Tip #6: Readers Will Tell You What They Like
(Brian Clark, Sonia Simone and Darren Rowse)
In a great keynote, these three Third Tribe (affiliate link) founders emphasised the importance of listening.
If you're a writer and have any sort of audience – for a blog, novel or newspaper column – you'll find that people send you feedback. Sometimes they love what you've written. Sometimes they hate it. Pretty quickly, you'll get a feel for what works, and what doesn't.
Brian, Sonia and Darren had specific suggestions for writers who work online, mentioning areas like:
Blog comments – look at the questions readers are asking, as well as the sorts of post which go down well.
Links – what are people saying about you when they link to you? It's worth setting up a Google Alert for your own name, or the name of your book/blog.
Twitter – which posts get retweeted? Also, what worries or problems do people typically have in your area?
Forums and sites like Yahoo Answers – what questions are people frequently asking?
This is basically free market research, and there's no reason not to get stuck in!
Personally, I'm going to be encouraging more feedback here on Aliventures. I'd love you to leave comments about anything you've particularly enjoyed – or anything you want me to write more about. I'll also be doing the occasional very quick survey or poll to find out more about what would be useful to you.
You're always welcome to email me (ali@aliventures.com) or use my contact form to get in touch.
Tip #7: Build Anticipation – Give People a Reason to Stick Around
(panel chaired by Patrick O'Keefe)
The final panel I went to at BlogWorld was about building private member communities. (Hint: there'll be something special here on Aliventures next summer. Stay tuned…)
One of the points made, though, really applied to any sort of writing or content creation.
Give people a reason to stick around.
If you're a novelist, that means making the first chapter so engaging that the reader has to carry on. If you're a blogger, it means publishing great posts which make casual visitors return to your site. If you run a forum or membership course, it means having fantastic content which your members don't want to miss out on.
You'll also want to remember to tell people. Mention to your blog readers that you've got something big coming, or encourage fans of your fiction to sign up for your newsletter so that they can get exclusive short stories.
So, on that note … I'm going to be posting something huge here on Aliventures on Thursday. I've been working on this, on and off, for weeks: it's a 6,000 word guide to freelance writing, packed with links to great resources.
It's the guide I wish I'd had three years ago. It takes you through every step – from figuring out if freelancing is for you, right up to quitting your day job and making a success of full-time freelancing.
Now, if you're anything like me, you'll forget to check back here. So I highly recommend that you either:
Get my posts straight to your RSS reader:

Or get posts direct to your inbox:
You'll hear from me on Thursday. 🙂