What's Been Happening … and What's Coming Up Next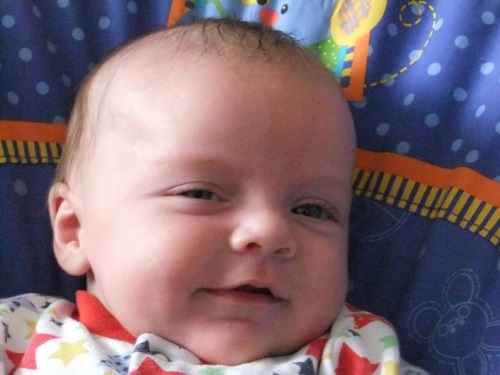 I'm back! And the picture above hopefully gives you some idea what I've been up to…
Our little girl, Kitty (Katherine Constance Luke), was born on Saturday 9th March 2013, weighing 8lbs 6oz. She's two months old now, and a big, healthy baby. I've been very much enjoying being a mum … but I've missed my writing and blogging.
So I'm glad to be back, and I'm looking forward to catching up with you. 🙂
(Just so you know – I'm only working Tuesdays and Fridays during May, so you might have to wait a couple of days for a reply to emails, blog comments, etc.)
The Baby Bit (Feel Free to Skip This!)
I know some readers will be keen for baby details – so here they are! If you're more interested in finding out about Aliventures-related happenings, scroll on down to the next section.
Labour…
Kitty was born two weeks and two days late (and yes, I was getting very impatient!) All told, it was a good labour – not so painful as I'd expected – and I'd definitely do it again.
I went into hospital on the afternoon of Thursday 7th March to be induced. The process was started that evening, and I began having small, frequent contractions straight away.
By eleven a.m. on the Friday, Paul and I were down in the "delivery suite", and things were progressing well. The midwife was concerned about my blood pressure (which is normally really good), so I was hooked up to a monitor for the rest of the labour.
Kitty was in the "back to back" position, which meant that the contractions were most painful in my back rather than my stomach, and the most comfortable position was standing up. I was very glad of my TENS machine, and (once Paul taught me how to inhale it properly!) also very glad of the gas and air.
By late afternoon, I was really tired and had an injection of meptid (similar to pethidine), hoping it would dull the pain enough to let me doze. All it did was make me very, very sick!
As the meptid wore off, I started to get strong urges to push. I wasn't quite dilated enough, and Kitty hadn't turned into the right position, so the midwife got me to kneel on the bed and breathe through the contractions.
Birth…
Eventually, I was fully dilated and ready to push. It took a while – and Kitty was a tight fit – but she came along safely at 1.15am on the Saturday morning, without needing forceps or ventouse. Until that moment, I'm not sure I'd been quite convinced there really was a baby in there!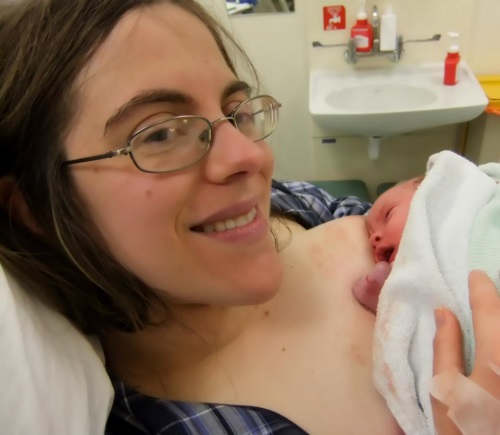 I held Kitty and fed her while there was some consultation between our midwife and another, who concluded I needed to be stitched up in surgery. The surgical team were great, and though I'd been scared beforehand about tearing, I was just glad that Kitty was fine. By 5am, I was back with her and Paul.
Baby…
Kitty was a very alert, healthy baby right from the start. Unfortunately, this (and perhaps my exhaustion and the painkillers I was on post-surgery) made me a bit over-confident. Paul and I were a bit bothered that she wasn't sleeping much, but we didn't realise it was because she wasn't getting enough milk from me.
At our Day 5 check, Kitty had lost 18% of her birth weight, and we had to go back into hospital, where we found that she was very dehydrated. It was a scary time, but after a few days in special care, her weight was back up, her jaundice had gone, and she was absolutely fine. We've had to formula- feed, which wasn't what we wanted – but we're very happy that she's doing so well now.
(Quick aside: yes, I tried everything I could to get the breast milk supply going properly – plenty of fluids, specialist help with latching Kitty on, double pumping eight times a day, herbal supplements, even medication. Nothing has worked. So please hold back on any tips in the comments – I've almost certainly given it a try already!)
Kitty's now eight weeks old, and, looking back at the photos from her first couple of weeks, we can't quite believe how much she's grown and changed already. She's a very happy, easy-going baby who loves to smile – at people, and at her own reflection.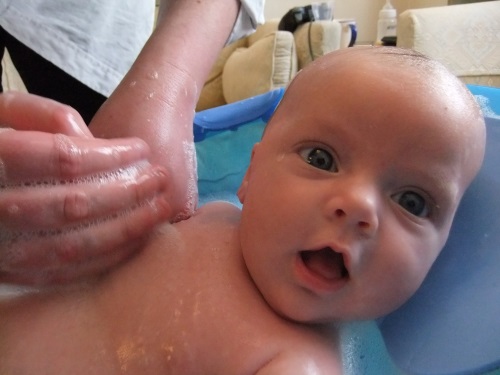 What's Coming Up – New Posts, Ebooks and Projects
I'm very much enjoying the experience of being Kitty's mum – but I'm also looking forward to getting back into the swing of my work. I love writing – and working with writers – too much to stay away for long.
Over the next few months, you can expect to see:
More posts on Aliventures – I'm planning a series on The Novel, taking you from first idea through to publication. If you're a novelist with advice to share, or a would-be novelist with questions to ask, get in touch.
More guest posts – I'll be touring the web, popping up with posts on various blogs. I'll link to these in the weekly Aliventures newsletter, as well as in the Aliventures blog sidebar.
More Facebook and Twitter action – I took a break from social media while I was on maternity leave, but I'm keen to reconnect with readers through Facebook and Twitter. You can find the Aliventures Facebook page here and my Twitter account (@aliventures) here.
More freebies — I'll be adding more mini-ebooks, audios and videos to my library of free resources. To access this, you just need to join the newsletter.
I'd love to hear what you've been up to – how your writing's been going, what projects you've got planned over the summer, or simply what's been happening in your life. Do pop a comment below to tell me. 🙂
About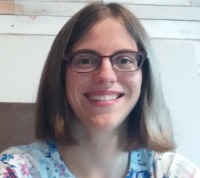 I'm Ali Luke, and I live in Leeds in the UK with my husband and two children.
Aliventures is where I help you master the art, craft and business of writing.
My Novels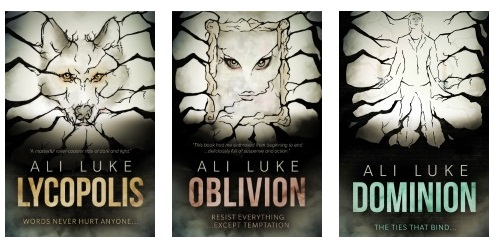 My contemporary fantasy trilogy is available from Amazon. The books follow on from one another, so read Lycopolis first.
You can buy them all from Amazon, or read them FREE in Kindle Unlimited.