How Do Readers Choose YOUR Book From a Million Other Choices? The Story of a Book Purchase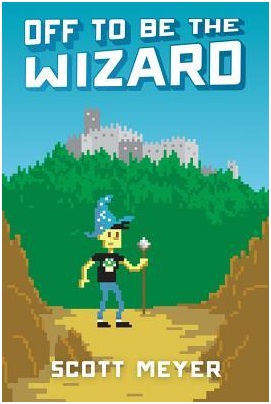 It's Friday 20th June, and I'm going to the Winchester Writers' Conference. I'm due to head off for a train in less than an hour and I've not finished packing. I want something to read on my Kindle Fire.
I don't have much time, so I don't browse book blogs or ask on Twitter for recommendations. I head straight to Amazon.
Do a couple of my favourite authors have new books out? One does, but I'm waiting for the price to drop. The other's book isn't out yet.
I'll try something new, and cheap. I head to the Kindle Daily Deals and see a bunch of different books.
I skip past the ones that look like romance or thrillers, and pause at Off to Be the Wizard (Amazon.com / Amazon.co.uk). The title makes me think "children's book" and the design, at teeny-tiny thumbnail size, isn't hugely clear – it also looks childish.
But I pause long enough to realise that the cover shows old-school computer game style graphics (an impression backed up by the series title, "Magic 2.0").
That might be my kind of thing.
I read the blurby bits:
Product Description

An io9 Can't Miss Science Fiction and Fantasy title in March 2014.

Martin Banks is just a normal guy who has made an abnormal discovery: he can manipulate reality, thanks to reality being nothing more than a computer program. With every use of this ability, though, Martin finds his little "tweaks" have not escaped notice. Rather than face prosecution, he decides instead to travel back in time to the Middle Ages and pose as a wizard.

What could possibly go wrong?

An American hacker in King Arthur's court, Martin must now train to become a full-fledged master of his powers, discover the truth behind the ancient wizard Merlin…and not, y'know, die or anything.

About the Author

Scott Meyer grew up in the small town of Sunnyside, Washington. He began his career in humor by working as a stand-up comedian and radio personality, a highlight of which was participating as the opening act in Weird Al Yankovic's Running with Scissors tour. Following a long stint touring the United States and Canada, Scott settled down in Orlando, Florida, where he works on his ongoing comic strip, Basic Instructions. Off to be the Wizard is his first novel.
I'm skimming: I don't notice the iO9 recommendation, and I've never heard of Scott Mayer before.
I like the premise; it combines a heavy dose of geeky and fantasy (like my novel Lycopolis does). I take a quick look at the reviews: there are plenty of them and they seem good, on the whole.
I click and read a bit of the sample; seems good enough. I go ahead and buy the book. It's only 99p (now £3.49) and not a big deal if I don't like it.
And Scott Mayer makes another sale.
As it happens, I really enjoyed Off to Be the Wizard. I felt the book had some flaws – an occasional tendency to over-explain jokes, and not enough focus on the (to me huge!) question of who or what was running the Matrix-like simulation that is our entire world and all its history.
There were some great twists, though, a well-paced plot, and compelling characters; I read it over the course of the conference weekend, in the evenings (yes, I was super sociable ;-)) and in breaks between sessions.
My decision to buy could easily have gone another way, though.
If I'd gone with my first quick-glance impression of the cover design, I'd have never looked at the book.
If it had been at its current price (£3,49), I'd have ignored it in favour of something cheaper or a book by an author I already enjoyed. (Plus it wouldn't have been in the Daily Deal section in the first place.)
Did I buy the second in the series?
Not yet.
The second book is £3.99 – cheap enough, but there are plenty of cheaper books. The few reviews of it suggest it's more of the same, without really advancing the underlying plot. If it was 99p I probably would (yes, I'm cheap!)
If I'd loved the first and hadn't had a few niggles, I'd be happy to pay £3.99. And I probably will buy it at some stage, when I'm a little further through my to-read list.
Your readers, like me, may well be in a hurry. They might find you through a tweet, a Facebook share, or a serendipitous stumble across your blog. But they might also find you through a hasty browse of Amazon when they're about to get on a train or plane.
Does your cover give the right impression?
Is your blurb well-written and intriguing?
Do the first few pages of your book draw the reader in and make them want more?
If it's the first in a series in particular, is the price low enough to attract casual buyers? (For me personally, that means £2.99 at most – or $4.99 if you're in the US.)
What's the most recent book you bought, either online or offline? Where did you get it? How did you choose it? What factors made you buy – or nearly stopped you from doing so? Drop a comment below to tell us.
About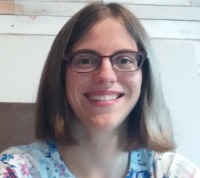 I'm Ali Luke, and I live in Leeds in the UK with my husband and two children.
Aliventures is where I help you master the art, craft and business of writing.
My Novels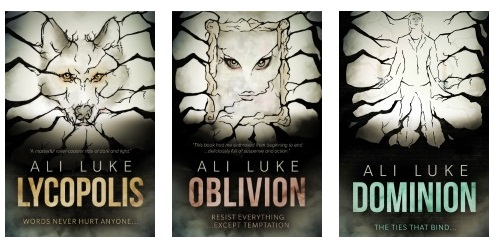 My contemporary fantasy trilogy is available from Amazon. The books follow on from one another, so read Lycopolis first.
You can buy them all from Amazon, or read them FREE in Kindle Unlimited.