Why Your Self-Published Book Needs a Professional Cover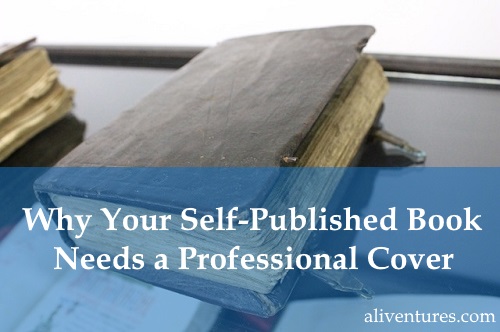 One of the two crucial things that indie / self-publishing authors should pay for is cover design. (The other is editing.)
Here are six different covers.
Which ones do you think are self-published?
(All of these are taken from the September 2016 and October 2016 editions of Joel Friedlander's e-Book Cover Design Awards. I decided to use covers from these Awards as the authors or designers had already submitted them for critique, and I chose Awards from last year so that if those authors had wanted to make changes based on Joel's comments, they've had a chance to do so!)
The answer? And perhaps you were expecting this …
All of these covers are self-published.
I'm not at all a designer or artist – I'm a reader – but I can tell you at a glance which covers look professional and polished; which ones suggest that the book is likely to be well-written and well edited: numbers 2 and 4.
I don't think any of the others are terrible (I have seen some really dire covers over the years!) but none of them have that "pro" look to them.
So …
Why is the Cover So Important?
As an author, the cover is probably one of the last things you think about. You're unlikely to consider it until long after the story is finished (and quite probably edited).
As a reader, though, the cover is the first thing you see. Quite often, the only information you have about the book is the title and the cover … and if those create a poor impression, why would you read on?
This is hard on authors. Sometimes, there's a great story lurking inside a so-so cover. (When I was researching this post, I took a look at Owen Richards' Neither Here nor There, which has a fairly amateur looking cover and a single 5 star review … and I liked it enough to borrow it on Kindle Unlimited.)
But however unfairly, readers (including me!) do tend to assume that an amateur cover equates to amateur writing.
A good cover can also say a lot in a small space: in particular, it conveys genre and tone. This isn't just huge differences like "children's picture book" vs "dark fantasy". Think of the difference between, say, a cosy romance and an erotic novel, or alternate history versus actual history.
Even if You're Artistic, Don't Design Your Own Cover
I have no illusions about my artistic talents. While I can spot a poor book cover and make a blog post look halfway decent, I'm definitely best with words, not pixels!
Some authors are talented illustrators, though, or love to paint. I think even if you're artistic, you should get professional help with your cover. That might mean providing a book cover designer with your own artwork for the cover, but letting them handle layout and typography.
Another problem with designing your own cover is that you may be tempted to throw everything into it: to include all the elements of your book (or to get so subtle that while the cover makes sense to you, it won't mean anything at all to a reader who knows nothing else about your book).
Even if it means delaying publication while you save up some money for the cover, go with professional help.
Keep in mind, though, that not all designers are necessary equal! Some designers may be fairly new, or they may not have specific experience with book covers. Take a look at their portfolio and see if their covers look "pro" to you as a reader.
If you're not sure, you might want to ask other authors for their recommendations (if you're a member of the Alliance of Independent Authors, their members' forum on Facebook is a great place to do this).
What Does It Cost?
Covers can cost almost anything, from $5 on Fiverr to $1,000 or more.
Realistically, you're probably looking somewhere in the $200 – $300 range.
With my own covers for Lycopolis and Oblivion, my very kind and talented friend Lorna Cowie created the gorgeous illustrations for free (thanks, Lorna!) I added the text – title, tagline, author name – myself: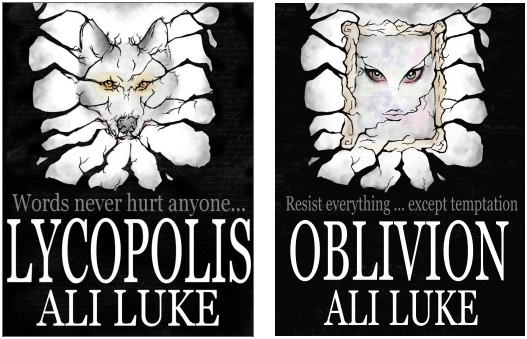 I felt, though, that they weren't as professional as I wanted them to be (typography is not my strong point), and a couple of months ago, I got them reworked by the lovely Andrew from Design for Writers: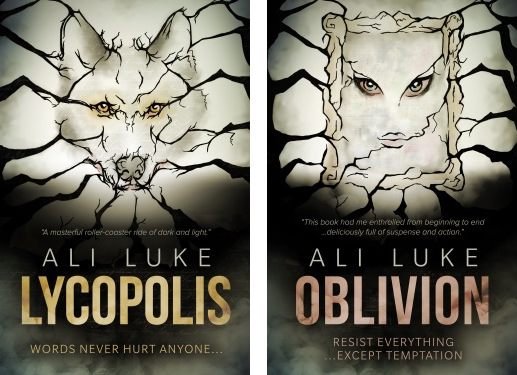 This cost me £89 (about $112) per cover (which included two versions of each one, with and without the taglines).
While I'd always recommend you get novels or full length non-fiction professionally designed, if you have virtually no budget for design, or if you just want a cover as, essentially, a placeholder, Fiverr might be an option.
With my free, short, non-fiction ebooks (available if you receive the Aliventures newsletter), I use Fiverr for straightforward and reasonably polished covers. I paid $5 each for the covers of Ten Powerful Ways to Make Your Blog Posts Stronger and Ten Easy Ways to Attract Readers to Your Blog … and Keep Them There.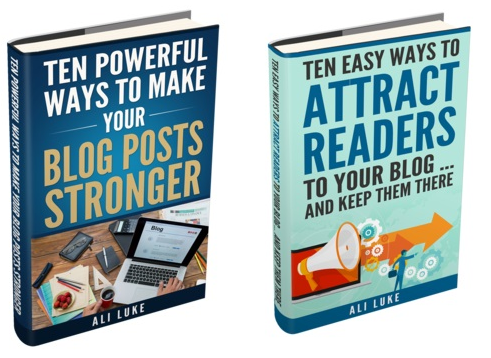 Though it may be unfair, there's still a perception from some people that self-publishing means shoddy, amateur-looking books that aren't really ready to be unleashed on the world.
There are, of course, many many self-publishers who are extremely professional, who invest a lot of time (and money) into their books, and who are rightly indistinguishable from traditionally published authors.
I know myself how easy it is, though, to be a little eager and gung-ho going into self-publishing – and while in some fields (e.g. blogging), it's good to get your best first effort out there and tweak it over time, if you're self-publishing, you need your book to look as professional as possible.
If you're looking for some help with cover design, try:
The Book Designer's blog – particularly the e-Cover Design Awards. Read Joel's comments on the various covers and try to figure out why some look good and some don't! Also, this can be a great place to find a designer whose work you like.
The Alliance of Independent Authors – I finally joined a couple of months ago and their members-only Facebook group is a fantastic source of advice. I've seen members share covers-in-progress for feedback, for instance.
Ultimately, of course there's no "rule" in self-publishing that says you can't publish with a cover you've designed yourself in ten minutes in Paint … but I'd strongly recommend getting your cover professionally designed. If all you can afford right now is a basic Fiverr gig, then go with that.
What do you think about cover design, either as a reader or as an author? Share your thoughts in the comments below.
About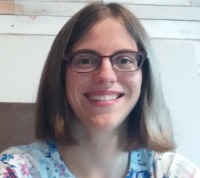 I'm Ali Luke, and I live in Leeds in the UK with my husband and two children.
Aliventures is where I help you master the art, craft and business of writing.
My Novels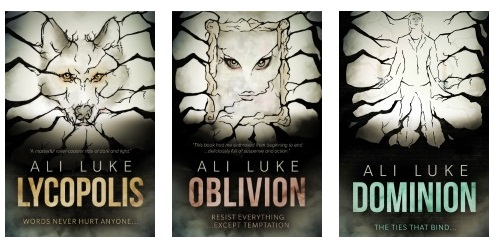 My contemporary fantasy trilogy is available from Amazon. The books follow on from one another, so read Lycopolis first.
You can buy them all from Amazon, or read them FREE in Kindle Unlimited.