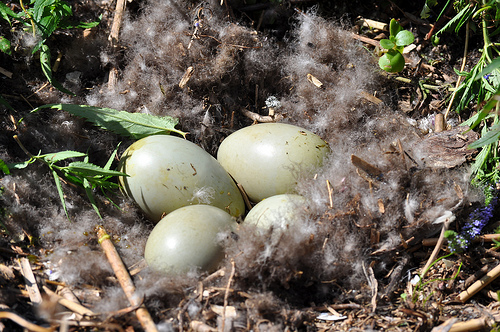 Image from Flickr by insane photoholic
After running a three-part series on guest posting, I'm thrilled to introduce a guest poster! Today's post is by Steve Maurer,  a very valued member of my Writers' Huddle site.
This is Steve's first guest post for Aliventures, though you can check out a couple of his other guest pieces at The Renegade Writer – For New Writers: 3 Power Tips For Becoming a More Better Writer and 6 Proven Tips for Getting Into the "Write" Mood.
---
It seems as though niches have been a hot topic of late, at least on the websites that I've been frequenting. In fact, I've read several blog posts and articles, and have been to webinars and teleseminars in which the niche has been discussed, dissected and debated.
It really doesn't matter how you say it – nitch, nish or gneesh (the "g" is silent here, by the way) – you just need to get yourself one to be more successful.
So, What's a Niche Anyway?
According to the online version of the Merriam-Webster Unabridged Dictionary, the etymology of the word derives from the Latin nidus, meaning "nest." In the third definition entry, a niche is described as, and I quote:
A place, condition of life or employment, or position suitable for the capabilities or merits of a person . . .
So, it sounds like a niche is a special place that is designed around you: who you are, what you are and what you can do.
The etymological explanation also suggested that the reader check out "nest" for more information. The definitions of nest are many and varied; however, one common theme stands out: a collection of like objects, things or ideas that are contained in one place.
Therefore, your niche is the collection of your best abilities, talents and expertise all in one place; it's your personal writing skill set.
Before we look at the implications this has for the freelance writer, let's observe a model from nature: birds. I walked out to the back yard this past spring and found a nest hidden safely in the hedge. I peered inside and discovered some pretty, blue eggs. Obviously this was a robin's nest. She had prepared it specifically for her hatchlings.
Farther down the hedge row I found a cardinal's nest. Note that the robin's eggs were in one nest, and the cardinal's in the other.
You see, birds have "niches" too.
Not only that, but in all of my years of back yard browsing I have never seen a puppy dog in a robin's nest. While they might be able to make a nest big enough, momma birds are just not equipped to nurture puppies. It's not their niche.
They grow what they know instinctively!
Does a Freelance Writer Need a Niche?
To be honest, you really should write for a niche market, especially if you're just starting out. There are some very important reasons for "niching" in the beginning. For example, it's easier to work with a topic that is familiar.
You should write what you already know!
And I already know what some of you are thinking right now because I used to think that way as well. You see, I was absolutely dead-set against limiting myself to one or two topics. I wanted to write about everything.
You're thinking that if you write for any and all markets or topics, you'll have a wider range of clients. After all, there are many more people that need writing done than there are those that need writing done in a specific area.
So your chances of finding good-paying clients are higher, right? In reality, this is an exercise in false logic. "Why is that?" you ask. This hypothetical example explains:
Let's say that I'm a manufacturer of reticulating fratistats. I need some web copy, informational articles and how-to instructions written to promote my product and to educate and assist my customers.
Writer "A" is an excellent writer, although a generalist, with no particular niche. He crafts pieces with perfect syntax and structure. He has the ability to research any topic and to write skillfully about it. I will need to spend quite a bit of time, however, to educate him in the specifics of my industry and product. And time costs money.
Writer "B" is a specialist in the industry in which reticulating fratistats are used. She knows the ins and outs of the industry and has actually worked on a reticulating fratistat assembly line. I merely give her the specs, throw in some product updates and "B" would be off and running.
Who do you think will get the job?
If I did a search for copywriters in the fratistat field, who do you think came up first?
When an editor looks for a copywriter, she's really looking for a copywriter who understands her company's industry. Copywriters that specialize, that have a niche, are more valuable to the editor looking for specific skill sets, so she searches for them in particular. If you have a specialty, a niche, you are more easily found.
Let's put it this way: If you're lost in the forest, are you more visible to the search team while under the tree canopy or in a clearing? Hmm, that's wood for thought!
Having a niche improves your own marketing efforts as well. Instead of shot-gunning LOIs (letters of inquiry) and marketing literature to a mass of folks who might maybe, possibly, could perhaps need some writing done someday perchance, you target specific people in specific industries who specifically need what you specifically offer, and today, to be specific.
Do you get the general idea that a niche helps you be more specific?
So, How Do I Get Me One of Those Niche Things?
Determining your niche is not that difficult, nor does it involve an inordinate amount of time. It can, however, lead to weeping and wailing and gnashing of teeth! It did in my case, anyway.
But not always.
You see, I turned to copywriting to escape from a job and an industry in which I had spent more than a quarter of a century (that's over 25 years, you know). The last thing I wanted to do was to write about it.
However, in distilling my niche options, guess which one came up as number one. Dad-gummit!
I didn't really hate what I was doing; I was just really burned out and really wanted out. And now, it turned out to be my best niche to write about. At first, I was heartbroken. Then I realized that the "prison" I was trying to escape was literally handing me the keys!
Yeah, buddy . . . I feel much better now, thank you very much!
Here's one way of determining your niche. First, get a piece of paper and a pencil. Yeah, I know that's old-school, but you tend to think more clearly and more in-depth when writing on paper than you do when typing on a computer. A pen works even better; it's something to do with the permanence of ink.
Begin by listing the topics in which you have good or above-average knowledge or interest. Try to list at least three or four or five. Even more would be great.
Under each topic, start listing the things you know about the topic in general.
List any practical experience that you have next.
The two topics with the most information under them are your top candidates.
Finally, research these two niches to determine how much demand there is for them. The highest-demand/highest-paying topic is numero uno! (Remember, if it doesn't pay well, even if in high demand, a particular niche may be a better foundation for a hobby blog than a business.)
Once you've determined your niche, don't throw out your work. If for some reason it doesn't work out, you already have a starting point for finding another niche. Additionally, markets change and you may need a backup plan.
By the way, your niche doesn't have to be something you're escaping from, as is was in my example. It can be something in which you have a lot of interest, something you are passionate about or something you dearly love and believe in.
Choosing a niche can increase your success as a freelance writer, no doubt about it. Moreover, there are other types of niches which we did not discuss, such as genre, writing type categories and publishing locations (print or Web). But settling on a topic or industry niche will give you a good start toward success. Once you've become established and successful, you can branch out to other areas.
And the next time you see a bird, safe in her nest, you can reflect, "Yeah, I have one too . . . my niche!"
I'd like to invite you to leave a comment in the section below. We all would like to hear about your own niche-pertise: your challenges, your successes and your questions.
Steve Maurer is a freelance writer in Fayetteville, Arkansas. He's been writing for the Web since 2001, including articles, ad copy and blog posts for clients around the globe and in some small towns. You can contact him at http://www.maurer-copywriting.com