How to Finish Your Novel (While Life Goes On)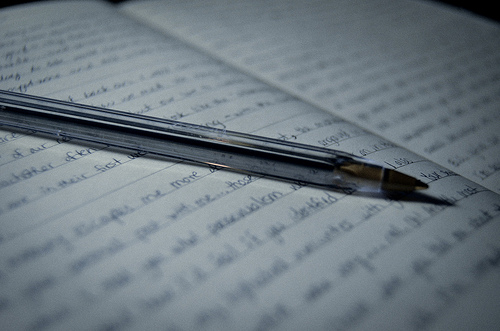 Maybe you've been working on your novel for months, or even years.
(Or maybe you've not started yet, because you're waiting for a chunk of free time to come along.)
Life is busy. You'd love to have all day, every day, to write, but of course you don't.
You have a day job or your own business or young kids or elderly parents or volunteering commitments or other hobbies or health issues … or quite probably a combination of several of those.
The good news is that you can do it. You CAN produce a finished novel – without your fairy godmother waving a magic wand and granting you six months away from your regular life.
And here's how I know …
A Brief History of Ali's Novel-Writing
I'm currently working on my fifth novel. I started my first one fifteen years ago, when I was thirteen. As you can imagine, my novel-writing has fitted around a bunch of different circumstances.
Here's a rough timeline:
1999 – 2001: Novel #1, near-future sci-fi. Wrote this while in school. Got as far as a full second draft.
2001 – 2004: Discovered online roleplaying. No novel writing. Oops.
2004 – 2006: Novel #2, fantasy, written when I was at uni (between 2004-6). Sent this one out to agents, got nowhere.
2007: Novel #3, Chick-lit (ish), written while I was working full time. I did this for NaNoWriMo in November 2007 and abandoned shortly afterwards. Got as far as a very scrappy first draft.
2008 – 2011: Novel #4, Lycopolis, contemporary fantasy, written alongside running Aliventures. Went through six drafts (and a professional editor).
2012 onward: Novel #5, a sequel to Lycopolis. Wrote the first draft while working on Publishing E-Books for Dummies and while pregnant. Redrafting now with a 4-month-old baby: currently 30,000 words in.
Here's what I've learned from writing those novels:
Your Home May Not Be the Best Place to Write
Today, most of my novelling happens at home, but in the past – when I was a slower, more easily distractible writer – I did a lot of writing in other places.
When I was in school, this meant handwriting my novel on sheets of lined paper in the school library, and working on it when I was babysitting.
In my third year at uni, once I'd got a laptop, I did a fair bit of my novel-writing in the English faculty library and in coffee shops. When I had a summer job, I spent my lunch hours on the novel.
If you find it hard to focus at home, write somewhere else.
You might not have access to a student library, but how about a public one? Or a coffee shop, or a picnic bench in your local park?
If you've got a job that requires you to be present but not to necessarily do much – like being a babysitter or a receptionist – then can you squeeze in some time on your novel? (I find it easier to edit rather than write if I'm going to get a lot of interruptions.)
You Can Write Little and Often – and Finish Your Novel in a Year
I have a tendency to make very optimistic plans, like:
I'll write a thousand words a day and finish my novel in three months!
This never happens. Much more realistic is finishing a first draft in a year.
The problem is, when I make a big goal, I get frustrated if I can't meet it. I might just about be able to make time to write a thousand words a day – but I often won't have the energy. And then I end up writing nothing for weeks, instead of doing the sensible thing and setting a small, manageable goal.
I've been reading Holly Lisle's Mugging the Muse this month – it's Writers' Huddle's Book Group read – and I think this is great advice about writing goals:
You're on the right track if, when you break down your big goal into smaller goals, you actually accomplish the smaller goals. If you're setting 3000 words a day as one of your goals, and you're writing 500 words a day, rethink. There's nothing like the forced failure of impossible goals to make you want to roll over and die. Or at least flush your dreams down the toilet and walk away forever.

(Holly Lisle, Mugging the Muse: Writing Fiction for Love AND Money, Amazon.com / Amazon.co.uk)
Let's say you're aiming to write an 80,000 word novel. You can carve out 20 minutes a day for your novel, and you can write 200 words in those 20 minutes.
Those 200 words might seem like a tiny drop in the bucket, and you might be tempted to skip them – but if you write them day after day:
You'll have 1,400 words after a week.
You'll have 6,000 words after a month.
You'll have 73,000 words after a year.
You'll have 80,000 words after slightly over a year and a month.
You Can Even Write Just Once a Month
Let's say the only time you can carve out for your novel is one Saturday afternoon, once a month. You can manage 3,000 words in the afternoon, if you really focus.
3,000 words a month might seem like almost nothing in the context of an 80,000 word novel. It might seem like so little that you're tempted to not even bother. But if you keep it up, month after month:
You'll have 36,000 words after a year.
You'll have 72,000 words after two years.
You'll finish your first draft after two years and two months.
Now, two years and two months might be longer than you want to spend. But that time will pass, whether or not you write a single word. Wouldn't you rather have a finished first draft at the end of it?
You Need to Find Out How YOU Work Best
Lots of tips apply to pretty much every writer. "Don't check Facebook and Twitter and emails while you write" and "Don't spend ten minutes editing every sentence as you're drafting" are pretty obviously good advice.
In many cases, though, there's no one true path to novelling success – you need to figure out what's best for you.
For me, that means preferring long writing sessions over shorter ones. I could structure my week so that I work on my novel for an hour on three separate days, but I prefer having three hours on one day.
For me, that means writing in the afternoons. I used to prefer mornings, but now I find it easiest to settle into my novel on Friday afternoons, when I know I can get lost in the story and not worry about stopping and switching to other types of work.
For me, that means listening to Metallica while I write. (With a bit of Turisas and Disturbed thrown in.) When I'm in the flow of writing, I don't notice the music, but it blocks out background distractions, and it keeps me in the zone.
You might well be totally different.
Maybe you want to write every day, even if that means only writing for a few minutes, so you can stay in touch with your story.
Maybe you write best at 6am, before the demands of the day have crowded in. Or perhaps you prefer writing long into the night.
Maybe you need silence to write, or classical music. You might burn incense, drink your favourite tea, or turn off the lights and write by the glow of the computer monitor. Some writers even have a special hat / mug / pencil that they use.
If you're not sure what works for you, then experiment. Try out different ways of organising your writing sessions – different lengths, different times, different backgrounds – and see what helps you be there with your writing, undistracted.
You Have to Love Your Novel
Don't ever choose your genre or your characters or your plot because you think it will be popular.
Writing a novel needs your heart, not just your head. Yes, it might be sorely tempting to churn out a few romance novels for a popular series – after all, how hard can it be?
Even if you finish (and you'll probably lose the will to write somewhere along the way), you'll struggle to sell a novel that you don't genuinely love.
Write the story that calls to you.
Write the novel that you would love to read.
My NaNoWriMo novel of 2007 was unpublishable and probably unreadable. I had no interest in pursuing it once I'd "won" NaNo.
In writing it, I discovered that I'm just not cut out to be a mainstream writer. Every other novel I've written has involved some sort of magical element (#1 had telepathy and mind-control, #2 had magicians and spirits, Lycopolis had an evil demon). For me to stay interested, I need that.
You Write a Novel Word by Word
Sometimes, life is hectic and chaotic and just plain hard.
There'll be times when you don't write, and that's okay. Maybe you've not worked on your novel for months, or for a year.
You can pick it up again. And you can finish.
Your novel is written word by word. It's written around other commitments – your day job, your kids, your friends, your other hobbies. But so long as you make a regular writing appointment with yourself, and sit down and put those words on the page, you will finish.
I know it's not easy. I know it's probably taking longer than you hoped.
But you can get there.
And if this is your first novel – trust me, it's worth the journey.
I'd love your tips on writing a novel around other commitments – whether you're a writer with a day job, with children, with your own business, with volunteering commitments, or anything else. The comments are open below!
About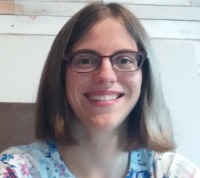 I'm Ali Luke, and I live in Leeds in the UK with my husband and two children.
Aliventures is where I help you master the art, craft and business of writing.
My Novels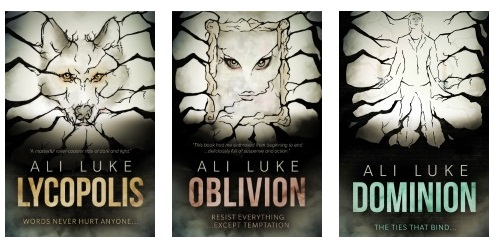 My contemporary fantasy trilogy is available from Amazon. The books follow on from one another, so read Lycopolis first.
You can buy them all from Amazon, or read them FREE in Kindle Unlimited.