If You've Only Got 15 Minutes, Is It Even Worth Writing?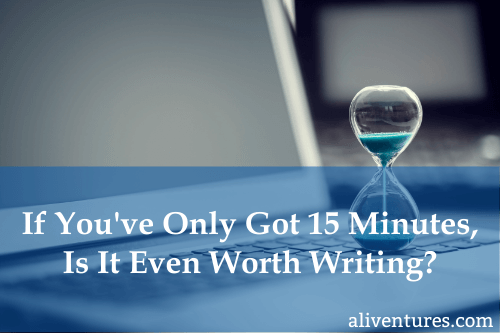 Sometimes, life is so busy that it's a real challenge to find any writing time at all.
Right now, my two delightful little ones take up a lot of time and energy. We're also about to move house and writing time has been hard to come by. [Edit: I spent so long trying and failing to get time to work on this post, we've now moved!]
So, instead of trying and failing to find a couple of hour-long sessions every week, I decided to go back to something that was working for me a few months ago, when Nick was a newborn: writing for just 15 minutes at a time.
It's not ideal. But it's considerably better than not writing at all. And if your life is manic right now, maybe something similar could work for you.
Why Fifteen Minutes?
Finding a solid half-hour to write can be almost impossible … but fifteen minutes is more realistic. Getting up 15 minutes earlier, or taking 15 minutes of your lunch break, or writing for 15 minutes after dinner, hopefully seems like a realistic commitment … and one that you can easily justify to yourself (and others).
I also found – and you'll see this later on – that even when I didn't feel like writing, if I managed to sit down and work for 15 minutes, I often did a little bit extra.
Is it Even Worth Bothering?
Absolutely!
It's easy to think that 15 minutes won't make any difference. Maybe you'll get a paragraph written, or a few pages lightly edited – not much in the context of a full novel or a blog.
But it's a bit like dieting: each individual effort is small, but quickly adds up.
Here's my log for two weeks of 15 minute writing sessions:
Week One
Monday 6th
Wrote: 2.03pm – 2.25pm: 371 words (new material). I really did not feel like writing! I set my timer for 15 minutes but didn't realise the volume was muted, so got an extra few minutes in.
Wrote: 9.29pm – 9.47pm: 78 words (new material); edited a chapter, incorporating suggestions from my editor. Looked back at some previous material to see if a section of the chapter would fit better there (nope: I rewrote it slightly instead).
Daily totals: Wrote for 40 minutes. 449 new words; 1 chapter edited.
Tuesday 7th
Wrote: Lost my note about the first session on Tuesday (whoops). Wrote for around 15 minutes, some new words.
Wrote: 9.32pm – 9.43pm: Didn't get far and gave up early! I added a few notes, trying to figure out whether or not to add an extra chapter (I think the plot / second half of novel is moving too fast) and if so, what it should include.
Daily totals: Wrote for 25 minutes (or so).
Wednesday 8th
Wrote: 12.40pm – 12.57pm: 325 words (a new section) plus a tiny bit of editing. This was the first time I'd written fiction in McDonald's with Nick in the pushchair next to me – that's where we go when Kitty's in nursery in the afternoon!
Wrote: 21.05 – 21.20: finished editing a chapter (24), incorporating editor's changes and some location / timescale changes.
Daily totals: Wrote for 32 minutes. 325 new words, 1 chapter edited.
Thursday 9th
Wrote: 14.24pm – 14.40pm: a short section of editing, and 259 new words.
Wrote: 21.15pm – 21.31pm: 238 new words, incorporating editor's changes. Finished editing the chapter. (25).
Daily totals: Wrote for 32 minutes. 497 new words, 1 chapter edited.
Friday 10th
Wrote: 12.45pm – 12.59pm, then 10 minutes or so from 2.15 – 2.25pm. Edited a short chapter (26), began editing next chapter (27).
Wrote: 21.47pm – 22.07pm: finished editing chapter 27. Wrote 200 new words.
Daily totals: Wrote for 44 minutes. 200 new words, 2 chapters edited.
Saturday 11th
Didn't do daytime writing session.
Wrote: 21.05pm – 21.23pm: editing chapter 28 (some cuts / additions as well as minor changes).
Daily totals: Wrote for 18 minutes, half a chapter edited.
Sunday 12th
Didn't do daytime writing session.
Wrote: 21.22pm – 21.42pm: finished editing chapter 28; started editing chapter 29.
Daily totals: Wrote for 20 minutes, 1.5 chapters edited.
I won't say that it was easy to stick to writing this week. I was in part motivated by wanting to share my log here! It often felt like it wasn't even worth sitting down to edit a little bit or write a few words, but the weekly totals impressed me.
Weekly totals:
Wrote for 211 minutes – 3 hrs 31 minutes.
1,471 new words. (Plus whatever words I forgot to log on Tuesday!)
7 chapters edited.
I've often thought it's inefficient to write for short sessions – that I get more into the flow, and make faster progress, with longer sessions. From the figures, I'm not sure that's true. If I'd have a single three and a half hour session (and I've no idea where I'd have fitted that into my week!), I doubt I'd have written or edited more and might well have done less.
Week Two
Here's how week two went. Spoiler alert: not very well! House moving action hotted up unexpectedly so some of the time I'd normally have spend working/writing got curtailed.
Monday 13th
I failed to write during the daytime, due to a combination of the children and cleaning the house!
I also failed to write during the evening – I realised my novel file (on Scrivener, in Dropbox) was open on the desktop computer in my study, where Nick was sleeping.
[Edit: Now we've moved, Nick has his own room instead of a cot crammed into the corner of my study – a vast improvement!]
Daily totals: None.
Tuesday 14th
It was tempting to give up, but I managed to snatch some time in the evening.
Wrote: 21.22 – 21.45: finished editing Ch29, onto Ch30 – merging in (already written) new material here.
Daily totals: Wrote for 23 minutes; edited 1 chapter.
Wednesday 15th
Wrote: 12.52 – 13.09: finished editing Ch30 and Ch31, though might go back to make more changes.
Daily totals: Wrote for 17 minutes, edited 1.5 chapters.
Thursday 16th
Failed to write anything.
Friday 17th
Wrote: 13.37 – 14.15: making some tweaks to timescheme, editing Ch32.
Wrote: 21.47 – 21.56: editing Ch32, Ch33.
Daily totals: Wrote for 47 minutes, edited 2 chapters.
I don't think I wrote anything at the weekend (had a partial entry in the log but no idea if I actually wrote or just noted a starting time).
As you can tell from the log, this was a pretty bad week, writing-wise. I'm rather embarrassed about sharing it – but I want you to know that I'm far from perfect, that all writers have weeks like this (and my next two were worse!) and that it's OK for your great writing intentions to not quite pan out.
Yet even on this bad week, the little bits of writing I managed did add up.
Weekly totals:
Wrote for 87 minutes – 1 hr 27 minutes.
4.5 chapters edited.
I don't think short writing slots are ideal. I enjoy having the freedom to write for hours at a stretch; to really get into what I'm doing; to let the story-world take over my thoughts.
And yet …
It's easy for me to use that as an excuse. (Perhaps you've fallen into the same trap.) It's easy to think that if I can't write for an hour, or preferably two or three hours, then it's not worth writing at all.
I was surprised just how much I achieved in 15 minute sessions. I was surprised to find that with two sessions per day, I did get a sense of momentum building up – despite not writing for long each time.
I also found myself planning what I was going to write, in a way that I've always struggled with before: I couldn't rely on keeping the whole thread of a scene in my mind, so I roughed each new section out with bullet points. This is something I definitely need to keep working on, but it does give me hope that I'll gradually become better at planning my scenes, not just the broader strokes of my plot.
So even if you don't have much time available at all, just 15 minutes writing, once or twice a day, is well worth doing.
About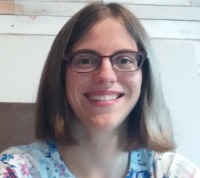 I'm Ali Luke, and I live in Leeds in the UK with my husband and two children.
Aliventures is where I help you master the art, craft and business of writing.
My Novels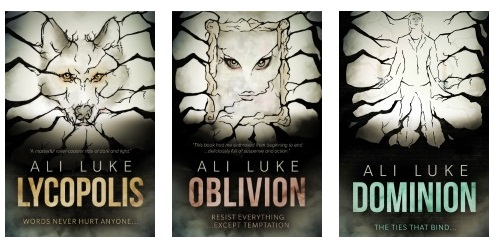 My contemporary fantasy trilogy is available from Amazon. The books follow on from one another, so read Lycopolis first.
You can buy them all from Amazon, or read them FREE in Kindle Unlimited.