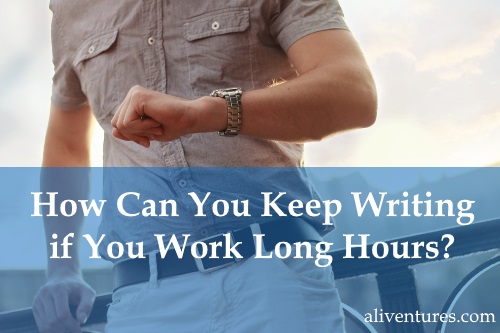 "I currently run an IT staffing agency and work in excess of 60 hours during the week, not to mention what gets handled on the weekends. So my question is this: how would you balance that with a love and desire to write?"
This is what Bryan wrote to me a few weeks ago … and I wanted to address his question on the blog, because I'm sure he isn't the only person in this situation.
Maybe you're struggling with something similar. It might be a 60-hour week, or caring for small children, or looking after elderly relatives, or working two jobs to make ends meet … whatever's going on for you, there simply isn't much time to spare for writing.
And let's be honest: there are no easy fixes here. If there were, you'd have found them already!
For the sake of this post, I'll assume that you can't reduce your working hours (or get help with other areas of your life).
And yet you really want to write.
A lot of the conventional, tried-and-tested writing advice simply doesn't apply to you. You simply cannot write for an hour every day, or block out two evenings per week to write. You don't have the time – and you definitely don't have the energy.
When I asked other authors about this in the Alliance of Independent Authors members' Facebook group, the general consensus was that:
It is hard to write when working long hours – cut yourself some slack!
You need to accept that you can't write much, or for long.
Use little scraps of time to write … five minutes here and there add up.
Here are the two solutions I've found in my own life when time (or energy) has been at a premium:
Continue reading »