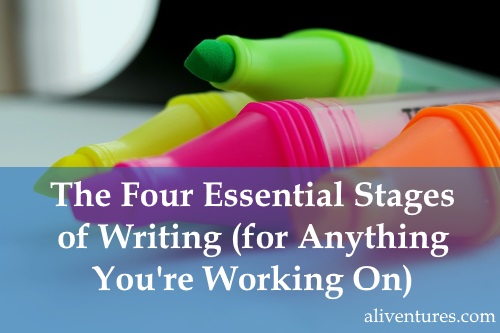 Note: This post was first published in 2011, and updated in July 2018.
Do you struggle to focus when you're writing, or do you find yourself starting and stopping a lot? It might be because you're skipping certain stages of the writing process without even realising.
In my post, 7 Habits of Serious Writers, I cover the importance of actually writing, plus the need to redraft. But writing and redrafting aren't the only stages you need to go through to produce an effective piece of writing.
Every finished writing project, big or small, passes through four stages:
Planning
Drafting
Rewriting
Editing
Sure, you could potentially publish a blog post without doing any planning, or any rewriting and editing. Unless you're very lucky, though (or writing something extremely short), you'll be lacking a clear focus, the structure won't quite work, and there'll be clumsy sentences all over the place.
It wouldn't really be a finished piece. It would be a draft.
The four stages don't always have to be tackled in order. Sometimes, you'll find that they can be combined – rewriting and editing, for instance. They don't necessarily have to be carried out by the same person. (When freelancing, I've written blog posts based on other people's plans, and I've often had my work edited by others.)
But it's crucial to be clear about what each stage involves. If you're struggling with a particular piece of writing, there's a good chance that you've skipped a step somewhere – or that you've tried to do everything at once.
Continue reading »